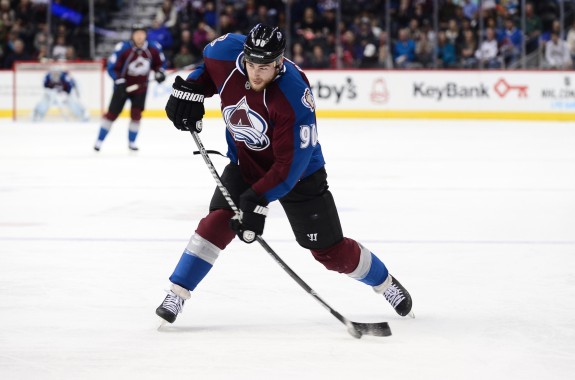 One of the more talked about rumors over the past two seasons has been that of the Buffalo Sabres making a trade with the Colorado Avalanche to acquire Ryan O'Reilly.
Ever since Tim Murray took over as Sabres general manager in January 2014, the belief was that he wanted to do whatever he could to grab O'Reilly. However, it's been a year-and-a-half since the rumors began, and still no deal has been completed to send O'Reilly to Buffalo. But why is that, and what would it take to actually get a deal done between the two teams?
First the why. It really comes down to two major issues, which can be easily guessed if you think about it.
The first main issue is, of course, the price. O'Reilly is only 24 years old, but the former All-Star has proven that he is capable to be a top level player in this league. Whether it's in the middle or on the wing, the former Lady Byng Award winner is someone who can enter a lineup and make a team instantly better. A player like that deserves to be held at high cost by whatever team looks to move him.
With no knowledge of the inner workings of the Avalanche front office, one would have to guess that the asking price for O'Reilly is a first round draft pick, a high level prospect and an NHL-ready player or two. The Sabres have the proper pieces to get a deal done, but it's the willingness to part with said pieces that could be hanging everything up.
There's also the aforementioned second issue – one that could actually alter the price – that plays into why a deal hasn't been done yet: his contract.
O'Reilly his entering the final year of a two-year, $12-million contract, and is heading into unrestricted free agency next summer. There's no doubt he'll want to be paid as much as, if not more than, he's getting paid now with his next contract. That alone could pose a major concern to any team looking to acquire his services. But there is also another contract issue with O'Reilly.
For the price that it'll likely cost to add him, the risk of him walking at the end of the year is always looming. Will he re-sign, or does he prefer to test the free agent market no matter what? Only the player fully knows.
Nevertheless, the main issues as to why an O'Reilly trade have been figured out, not like it was that hard to begin with. Now, it's time to figure out exactly what the Sabres would have to offer in order to bring the Clinton, Ontario native to Western New York.
Murray has a number of pieces to offer Avalanche GM Joe Sakic in the form of prospects, NHL players and draft picks. It just comes down to what players he's willing to give up in order to get what he wants.
There's no doubt at all that the 21st overall pick would have to be a part of the deal to get O'Reilly, but what about prospects and players? The first name that comes to mind is Mikhail Grigorenko.
Recent Sabres Posts:
[catlist categorypage=yes numberposts=3 excludeposts=this]
The 12th overall pick in 2012 hasn't gotten off to the greatest of starts when it comes to his NHL career. He's bounced between the QMJHL, AHL and NHL during his three years as well as head to learn under three different NHL head coaches (Lindy Ruff, Ron Rolston and Ted Nolan) thus far. That's a tough task for any player, let alone one who is just 21 years old.
He has the relationship with Avalanche head coach Patrick Roy from their time with the Quebec Ramparts in the QMJHL, which could lead to a nice resurgence, if you will, for the young center.
As for the other player going to Colorado, that's where it becomes a bit tricky. At least, that's what they want you to think.
The Avalanche need help on defense, especially with the belief that they will not be bringing back Jan Hejda nor Ryan Wilson. They are looking to get younger, and the Sabres can definitely help with that aspect. It's unlikely that Murray would put Mark Pysyk or Rasmus Ristolainen in a deal, but what about the other young defensemen under contract?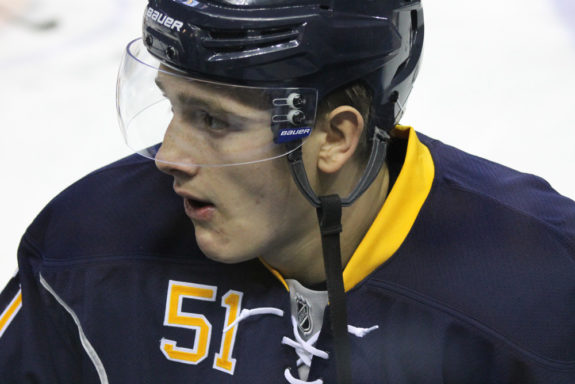 Nikita Zadorov made great strides for the Sabres during his rookie year last season, but he was criticized for not having the maturity that one would expect of an NHL player. But at 19 years old, that's the kind of thing one would let slide as a player comes into his own. Zadorov is a player that has shown he has the potential to blossom into a very good defensemen in this league, and could become a major piece to the puzzle that brings O'Reilly.
If Zadorov doesn't get the job done, what about Jake McCabe? The former Wisconsin Badger has proven to be a defenseman that is capable of being reliable in his own end while also producing on offense. If the Avalanche are looking for a young, true all-around defenseman to bring in, McCabe could be the guy.
So to recap, to get O'Reilly it would take the 21st overall pick, Grigorenko and a young defender like Zadorov or McCabe. Another draft pick may even have to be thrown in to make sure a deal gets done.
The one thing that Murray may request is the ability to negotiate with O'Reilly before a deal gets completed. That's one of the benefits of making a trade of this magnitude over the summer. Murray can request a couple of weeks to work out a long-term contract with O'Reilly before the deal becomes official, allowing him the chance to feel better about the package he'd be sending away to Colorado.
At the end of the day, it's going to take a lot to get the Avalanche to send O'Reilly to the Sabres. And while it's nowhere near close to happen, or even being discussed at the moment, there is no doubt that it's fun to think about.