There was no better option for the Detroit Red Wings.
The storied franchise named its 27th coach in team history on Tuesday, awarding the job to Jeff Blashill, who has been with the organization since the 2011-12 season. After serving as former coach Mike Babcock's assistant in 2011-12, Blashill took over as head coach of the Grand Rapids Griffins of the AHL the following season. Under the native of Michigan, the Griffins won the 2013 Calder Cup as AHL champions. After losing in the conference semifinals last season, Grand Rapids returned to the Western Conference Final this past season. All of this success blossomed after the Griffins did not qualify for the postseason from 2010 to 2012.
Blashill is familiar with many players on the Detroit roster, due to his time in the AHL. Gustav Nyquist, Brendan Smith and Tomas Tatar highlight some of these players, but none are more important than playoff starter Petr Mrazek. In 24 games of the 2013 AHL playoffs, Mrazek posted a 2.31 GAA and .916 save percentage, to go along with four shutouts. Although the head coach will rely on goaltending boss Jim Bedard to work with Mrazek closely, it's not an absurd conclusion to think that Mrazek can thrive under a Blashill system.
Another reason Blashill is the perfect fit? He is ready to take on the lofty goals of the organization.
The Red Wings are riding a 24-year-long playoff-appearance streak, which is currently the longest in sports. However, the franchise has not reached the conference finals since they lost in the Stanley Cup Final in 2009 to the Pittsburgh Penguins.
Just advancing past the second round again does not seem to be Blashill's goal, though.
"It's not about the streak per se, it's about you have to get into the playoffs in order to ultimately compete to win a Stanley Cup," he said on Tuesday. "Every team I've coached, we've basically had two goals – one was to win the championship at the end of the year, and one was to help our players become the very best players they could. That's no different here."
For more on the Blashill hire and the rest around the NHL, here are your Wednesday headlines:
What does Blashill bring the Red Wings? [Octopus Thrower]
Mike "Doc" Emrick is earning an award for his achievements in his field. [ESPN]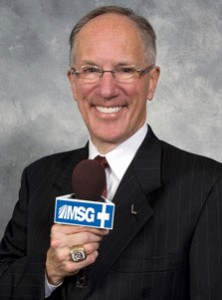 Victor Hedman has become one of the best NHL defensemen in the biggest spotlight. [Puck Daddy]
There has been plenty of come-from-behind drama in the Stanley Cup Final. [NPR]
NBC Sports chairman wants players to shave their beards. [Deadspin]
Dale Tallon is preparing for the Draft in Sunrise. [Miami Herald]
Drug use is affecting the NHL and NHLPA in more ways than one. [Lighthouse Hockey]