With no games being played once again in the National Hockey League last night, and NHL teams keeping to themselves with nothing to report, it was left to other sources to make hockey news yesterday and today.  And the news being reported is not quite what the NHL would like the general public to be reading about these days.
MP's consider Parliamentary investigation into amateur hockey
Item one comes out of Canada's capital, Ottawa, where two Members of Parliament said yesterday that it might be a good idea to have a parliamentary committee investigate the control that professional and amateur hockey organizations exercise over young players,  While the two MP's are from the same political party (the ruling Liberals), each is looking at the issue from a different perspective.
Red Kelly likes the idea of an inquiry
Leonard (Red) Kelly is the Liberal member representing the riding of York West.  He is a long-time NHL star, presently playing for the Toronto Maple Leafs, in addition to his governmental duties.  Mr. Kelly supports the idea of an inquiry, saying that a great many people in Canada feel that there is something wrong with a system that can tie a young boy to an NHL organization in his early teens.  Unless released by the NHL team, the boy is tied to that organization for life.  Mr. Kelly said that many people have misgivings about the degree of influence that professional hockey has over amateur organizations.  When asked whether the entire matter should be investigated by a parliamentary committee.  "I think it might be a good thing.  I think the committee might look into Olympic organizations too."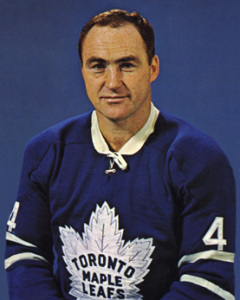 The other MP is Jack Roxburgh, member from Norfolk.  He is a former president of the Canadian Amateur Hockey Association and of course, he defends the present system.  Mr. Roxburgh says that an inquiry would "set the facts straight." He says he is aware of some hard feelings among parents of young hockey players who are prevented from jumping from club to club because of their registration commitments.  In defending the current system of CAHA and affiliated provincial associations, he said, "A committee might not do any harm.  An Investigation might be of value in pointing out to the public the facts of the matter.  I personally feel there is nothing wrong with the setup."
Winnipeg MP says hockey associations have too much control over youngsters
The two MP's were responding to comments from Justice Minister Guy Favreau, who has stated that he will ask the combines investigations branch to consider where amateur hockey regulations fall in the scope of the Combines Investigations Act.  This comes in response to a question posed by Winnipeg North MP David Orlikow, who asked the minister to break up a monopoly and combine that professional hockey holds over the lives of young people.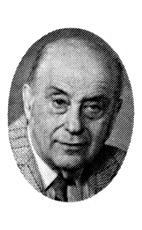 Mr. Orlikow referred in his question  to two situations he says involved 10-year-old boys who wanted to play organized hockey and were forced "to sign contracts which tie up their entire hockey careers for life."  The MP later clarified that the two boys in question are now 16 and 17 years old, and are being prevented from playing for the Flin Flon Bombers by the Manitoba Amateur Hockey Association.  Quoting from letters submitted by the boys' parents, the MAHA dismissed appeals by the families and ordered the boys to play for Winnipeg junior teams, or not at all.  The letters indicated that the two boys had signed with the Winnipeg minor hockey organization and now, upon graduating from the midget classification, have been drafted by Winnipeg junior teams.
George Forgie, 16, attended a hockey camp run by the Detroit Red Wings of the NHL and there was advised to seek to jump to the Flin Flon junior team.  Bill Fraser, 17, also has been approached by Flin Flon.
Campbell: Nothing to do with pro hockey
Meanwhile, NHL president Clarence Campbell checked in with his views on the matter.  He said that professional hockey clubs do not claim young hockey players before their 18th birthdays.  He said that the Winnipeg complaint arises from a case that has nothing to do with professional hockey.  He offered the NHL's full cooperation into any parliamentary investigation and said that he feels the present system has worked very well for six or seven years.  He made no mention of the C-form that young players sign in their early teens, or of the practice of NHL clubs sponsoring entire minor hockey systems in order to gain the rights to a particular young player.
West wants in
In another area which has to cause at least a little aggravation for Campbell, the Globe and Mail's Dick Beddoes had an interesting chat with former Toronto Maple Leafs player Norman (Bud) Poile, now the general manager and coach of the San Francisco Seals of the Western Hockey League.  According to Beddoes, Poile is no fan of the tight-knit, closed society that is the National Hockey League.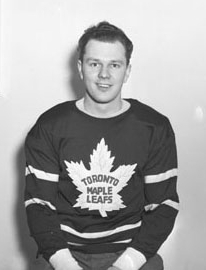 Poile believes that at least two member cities of the WHL are of major-league calibre and should be admitted to hockey's top league.
Poile: Los Angeles and San Francisco are big-league
"At least two cities in the WHL are big-league towns. I mean Los Angeles and San Francisco.  But we've never received any encouragement from the NHL in our hopes of getting big-league hockey.  Hell, guys like Stafford Smythe come out here and disparage us as small-timers.  That means war."  Poile is referring to a recent trip west by Toronto Maple Leaf executives Stafford Smythe and Harold Ballard, who were allegedly looking at western sites for possible NHL expansion.
Poile went on to comment about the NHL's extreme control over hockey's other two professional leagues, the Central Professional Hockey League and the American Hockey League.  All teams in the CPHL are controlled by NHL clubs, while only Springfield in the AHL is completely independent.  In the WHL, of the six member clubs, only Vancouver (New York) and Victoria (Toronto) have NHL affiliations.
Poile says that the independence from the NHL is allowing the WHL to begin to develop its own players.
"San Francisco has moved into Edmonton's south side with a five-year contract to sponsor boys from 12 to 18.  Los Angeles is pretty active in grooming kids in Saskatoon."
Beddoes mentioned that the NHL claims there is a paucity of big-league talent, and that is a major stumbling block to expansion.  Poile had an answer for that as well:
"Okay, suppose the NHL took in Los Angeles and San Francisco.  Why couldn't the six teams in the NHL sell us, three players each? Guys on Toronto's fourth line don't get much time under Imlach anyway.  They might as well get it with us."
WHL teams would raid NHL for players
Poile cites Dan Reeves, co-owner of the Los Angeles Blades, and Mel Swig, the Seals' owner, as two WHL owners with the resources to actually poach players from the NHL, if expansion continues to be denied to the west coast cities.
"I don't think Reeves and Swig would hesitate to raid the NHL for players.  They'd make a pitch to people like Bobby Hull to jump west for a big fee."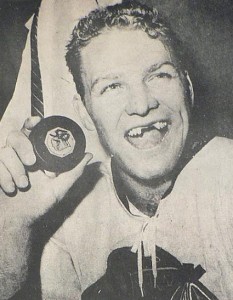 Four WHL cities have arenas that would be suitable by NHL standards.  Seattle and Portland have capacities of 10,000.  San Francisco has 12,000 seats at the Cow Palace and Los Angeles can fit 14,500 into the Sports Arena.
Smythe, Vancouver doing the dance
Vancouver is an interesting case.  Their present rink is old, decrepit and definitely not of NHL calibre.  However, Smythe and Ballard met with the mayor of Vancouver on their western swing and offered to build a new $8-million, 20,000 seat coliseum in the downtown core.  All the city of Vancouver has to do is donate at six acre parcel of land on which to build the new rink to the Torontonians.
Yesterday, Smythe approved a the draft copy of a by-law that will be put before the citizens of Vancouver in December's civic elections.  The by-law states that the city is seeking approval by the ratepayers in order that a two-block site in the down town could be turned over to Smythe for the purposes of building the NHL-quality coliseum.  City council has been waiting on Smythe to approve the terms of the by-law, which he did yesterday.
Campbell continues to claim that NHL expansion is not under consideration at this time, despite the efforts of Smythe and Ballard to secure land to build a rink in the B.C. city.
Retired police detective, involved in hockey at all levels for over 50 years. Member of Society for International Hockey Research and presently a video analyst for the leader in advanced hockey analytics (we work exclusively for 2 NHL clubs, and provide advice on an ad hoc basis to many other clients). Currently the Assistant General Manager for the Pelham Pirates of the Greater Ontario Junior Hockey League. Previously owned the Faceoff computer hockey simulation and also provided all player ratings for the EA Sports series of NHL computer games from the late 90's into the mid 2000's.