With all the talk of National Hockey League expansion, one has to wonder where the players will come from when one of the six present teams can't even field a full squad.  That situation has arisen in Boston, where the last-place Bruins have run out of goaltenders.
All NHL teams must carry two goalies
The League's governors recently approved a rule that stipulates that all NHL teams must carry two netminders.  While the second man need not be dressed, he must be with the club and ready to play.  When Boston regular goalkeeper Ed Johnston recently suffered a broken hand,  the Bruins were left with only 22-year-old Jack Norris to protect their goal.
Toronto Maple Leafs general manager Punch Imlach has decided to help the Bruins out by loaning them goalie Gary Smith.  The lanky 21-year-old  led the Toronto Marlboros to their Memorial Cup victory last spring and turned pro this semester.  Standing 6-4 and weighing in at nearly 200 lbs, he covers much of the net by just standing there.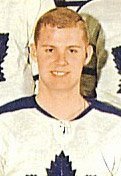 In his first pro season, the youngster has seen little playing time.  He started out in Tulsa, where veteran Don Simmons is the regular on an extremely young team.  Moved to Victoria of the WHL, another grizzled veteran, Al Millar, stood in his way.  Toronto's other farm team, the Rochester Americans of the AHL, is no solution for Smith, as another young goaltender, Gerry Cheevers, has developed into the best puckstopper in the league.
Bruins need permission to use Smith in NHL
So a move to Boston, if only to work out with an NHL team, would seem to be a nice fit for Smith.  The Bruins would need to receive permission from the Leafs to use him in an NHL game and it seems they are going to seek that clearance from Toronto.  The Bruins do have Cesare Maniago at Minneapolis of the CPHL, but he is also on loan (from Montreal) and they do not have permission to use him at the NHL level.
Imlach will likely allow the Bruins to use Smith, but anyone who knows the wily Leaf general manager will realize that he will likely extract a price from Boston for doing so.  Boston writers continue to suggest that the ulterior motive for Imlach's largesse  would be to secure the services of left-winger John Bucyk from the Bruins.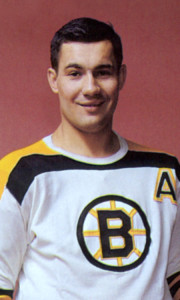 The Leafs are woefully short on the left side, and had to use captain George Armstrong on that wing in their game against Detroit on Sunday night.  Armstrong acquitted himself quite well on his wrong wing, but using him there on a full-time basis is something Imlach would prefer to avoid.  However, as of now, Imlach feels Boston's asking price for Bucyk, 29, is far too expensive.
Imlach has until this Sunday at midnight to either recall a player from Rochester or acquire someone like Bucyk from another organization.
AHL Aces offer $30,000 for Ranger goalie
The Quebec Aces of the American Hockey League said today that they have offered the New York Rangers $30,000 in cash for one of their two National Hockey League goaltenders.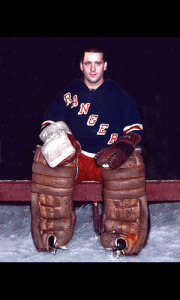 Gerald Martineau, general manager of the Quebec club, says his team needs to find an adequate goalkeeper before their next game, this coming Sunday.  He has the cash available and would take either of the Rangers' backstops, Jacques Plante or Marcel Paille.
Martineau says that he and Sam Pollock, Montreal Canadiens GM, will meet with Emile Francis, manager of the Rangers.  The Aces have a working agreement with the Canadiens.
The Aces have been thin between the pipes since the Canadiens recalled Gump Worsley from the AHL team.
Lady Byng Trophy lost in fire
The original Lady Byng Trophy was lost this weekend in an Ottawa-area fire.  Numerous other trophies, antiques and pieces of hockey memorabilia were destroyed in the blaze that swept through a Kemptville, Ontario home owned by NHL legend Frank Boucher.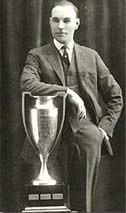 Mr. Boucher lives in Regina, where he is Saskatchewan's commissioner of junior hockey.  The home was occupied by his son Earl and his family.  They all escaped without injury.  The fire may have been caused by mice chewing through electrical wires, and damage is estimated at $25,000.
Frank Boucher was elected to the Hockey Hall of Fame in 1958 after an illustrious hockey career.  He was given permanent possession of the Byng trophy after winning it seven out of eight seasons between 1928 and 1935 while playing for the New York Rangers.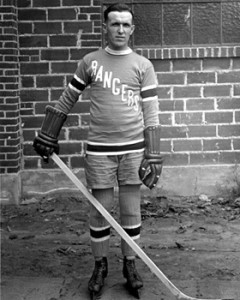 Mr. Boucher had intended to leave the trophy to the Hockey Hall of Fame.
Canadian-American NHL divisions impossible
NHL President Clarence Campbell says that two NHL divisions, one Canadian and one American, would be an impossibility for the League.  He was responding to a suggestion by hockey commentator Jacques Revelin of the Quebec French-language newspaper Quebec L'Action.
Revelin: Add 4 Canadian cities, 2 more American
Revelin proposes that four Canadian and two American cities be added to the league, which would then be divided into two divisions, based on country.  His suggestion would see Los Angeles and San Francisco join with New York, Boston, Chicago and Detroit in an American Division.  Revelin's plan would see new Canadian Division franchises in Quebec, Winnipeg, Vancouver and one other centre, joining Toronto and Montreal.
Campbell had one word for the plan – "Ludicrous."
"Why would we ever stretch our lines of communication thousands of miles  east-west when we can do it within hundreds of miles north-south?  If we ever divide the NHL into divisions, it will be on that basis and not by country."
Campbell went on to say that he wasn't optimistic about any Canadian cities joining the league in the foreseeable future.  He said that Vancouver was the only community with any chance at all, but "that won't come in our lifetime."
Campbell described cities such as Hamilton and Ottawa as good hockey cities with a chance to be successful American Hockey League centres if they could acquire a proper rink and other facilities.
Notes
Rumours have both Milt Schmidt of Boston and Red Sullivan of New York very close to losing their coaching jobs.
Hal Laycoe, coach of Portland of the WHL, is thought to be an eventual successor to Schmidt in Boston.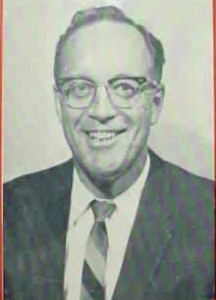 New York hockey writer Stan Fischler says that Bert Olmstead will replace Sullivan with the Rangers.
Punch Imlach says he may call up forward Gerry Ehman from Rochester if he can't find a suitable left-winger via the trade route.
CPHL president Jack Adams fined 21 players a total of $225 for their parts in a brawl in Memphis last Thursday.
For the first time in history, the Vezina Trophy may go to two goaltenders.  Terry Sawchuk and Johnny Bower of the Leafs now lead with a goals-against average of 2.38.
Gordie Howe's sons Mark and Marty had a hand in all five goals scored by their team yesterday at the Quebec pee-wee hockey tournament.
Junior A star Andre Lacroix of the Peterborough Petes, who suffered a serious eye injury last week, will not experience permanent damage according to team doctors.  He will stay in hospital for at least a week.