In July 2013, GM Marc Bergevin traded prospect Danny Kristo to the New York Rangers in exchange for another prospect in Christian Thomas. At the time, the trade made little shock waves as it was during the busy time of free agency and neither player was considered a top prospect. Two years later, Thomas made his Canadiens debut and has suited up in 17 NHL games so far this season. On the surface, Thomas looks like just another small, speedy player in an organization filled with them but he has started to make his mark with the Habs.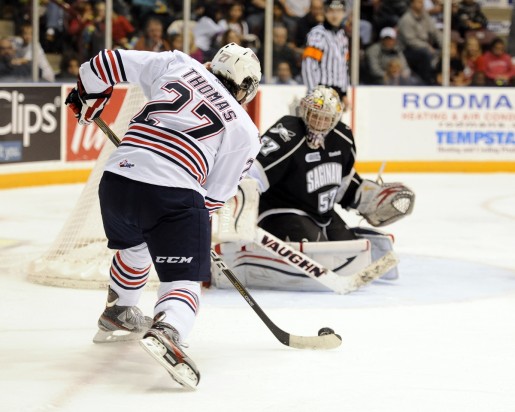 Who is Christian Thomas?
As a major junior player, Thomas was a goal scorer much like his former NHLer father Steve. They are the only father-son duo to both score 50 goals in a single OHL season. Thomas's speed and shot are his best assets and he has fit in well in Montreal's bottom six. While he isn't ideal checking size at 5′ 9″ and 176 LBS (according to NHL.com), he gives opponents fits with his speed and is willing to battle. In a recent game versus Columbus, Thomas proceeded to drop the gloves against Matt Calvert after taking a hit he didn't take kindly to.
Trying to stand out
Thomas has drawn a few comparisons to current Hab Brendan Gallagher as both are around the same size and were big time goal scorers in junior but Thomas isn't quite as tenacious as Gallagher nor has the offense translated to the NHL for him just yet. Montreal's prospect pool has a ton of small players such as Sven Andrighetto, Charles Hudon, Martin Reway and Daniel Audette with David Desharnais and Gallagher already on the NHL roster. It is crucial for any young player to stand out if they want to stick in the NHL but it is even harder when surrounded by fellow prospects in the same age group with similar skills.
The offense hasn't come for Thomas yet as he only has one goal in 17 games in the NHL but considering he plays primarily on the fourth line with less than 10 minutes of ice time per night, the production isn't surprising. Thomas hasn't been a defensive liability to his credit as coach Michel Therrien is staunch about young players playing solid defensive hockey.
Looking at his future
With trade deadline next week, it is unknown whether Thomas will remain a Montreal Canadien. Youngsters have been showcased at the NHL level over the past few months in Montreal and some expressed surprise at his call up considering others were having better seasons with the farm team. Whether management liked what they saw or they wanted to showcase him to other teams, Thomas has shown he can be useful at the NHL level. He has a lethal shot and his speed gives him opportunities and it seems like only a matter of time before he breaks out.
I have a Bachelor's Degree in Journalism from Ryerson University. I am a freelance journalist and a Montreal Canadiens writer for The Hockey Writers. I previously wrote for Simcoe.com and Last Word on Sports as well as interned at TSN.