This week the Russian National Hockey team will begin a Canadian tour in which they will engage a variety of opponents.  The team arrives in Canada tomorrow and will play the Montreal Junior Canadiens, who will be bolstered by several American Hockey League professionals from the Quebec Aces, on Friday.
Tarasov: Canadians will be surprised
Russian coach Anatoli Tarasov thinks Canadians will be surprised how his team has added elements of physicality to finesse aspect of their style.  Before leaving for Canada, Tarasov spoke with the Novosti Press Agency (APN) about the development of hockey in Russia.  Here are some excerpts from that interview.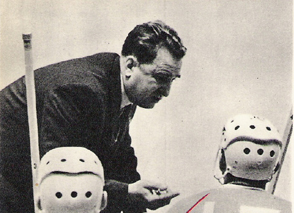 APN: How has the USSR hockey team got ready for a new international season?
Tarasov:  All the selected international players are busy now in  league club games and, at the same time, are preparing for the coming international matches in their own clubs.
APN:  What is the line-up of the USSR hockey team and has it changed greatly since the last year?
Tarasov:  The league games held so far give us hope that the USSR team will be sufficiently strong.  There will be very few changes in the line-up in comparison with that of last year.  We coaches have no moral right to reject any player who saw action in the Olympic games in Innsbruck last winter.  They have all played well there and deserve to be retained in the squad this winter as well.  They are presently living up to their Olympic laurels.
As last year, the men setting the pace in the Central Army aggregation are the Soviet international forwards : Loktev, Almetov, Alexandrov, L. Volkov and Firsov; guards Ragulin, Ivanov, Kuzkin and O. Zaltsev.  Moscow Spartak's leading trio of forwards – B. Mayorov, Starshinov, and Y. Mayorov are in good form.  Five USSR international from Moscow Dynamo – goalie B. Zaltsev, guard Davydov, and forwards Yurzinov, Petukiev, and Y. Volkov looked somewhat weaker at the beginning of the season, but they are now reaching proper form.  Konovalenko, our number one netminder, remains as such this year as well.  He is doing a reliable job in front of his club team goal (Gorky Torpedo).
The men I have mentioned above made up the backbone of the national team which faced Czechoslovokia.  We also hope to try out several new players and first of all, Central Army's goaltender Viktor Tolmachev, and two forwards, Valentin Senyushkin (Central Army) and Yuri Paromoshkin (Moscow Dynamo).
Russian style has evolved
Tarasov also mentioned a change in the style the USSR team employs.
"For many years we followed a pattern of high speed and manoeuvring but, probably, too elegant hockey.  After we became more acquainted  with hockey as played in other countries and acquired greater experience, we enriched our knowledge of tactics and added a sizeable portion of zeal and body-checking pressure.  Our leading teams have learned body-checking to perfection."
Gump is worried
Meanwhile, goaltender Gump Worsley, one of the professionals who will be with the Junior Canadiens this Friday to play the Russians, thinks the juniors will have their hands full with the European visitors.
"The game will be played under international rules and this is automatically a drawback for our club.  In pro hockey and to a certain extent in junior hockey, taking a man out and running him into the boards seems to be the prime concern.  And this is where we may have problems because you're not supposed to do that under international rules."
Worsley is looking forward to the game but he would have preferred to see his entire Quebec Aces AHL team face the Russians.  "Then we would get a better idea of just how good they are."
Worsley has only seen the Russians play on television, but he did give this assessment of their play:
"They play the type of game which thrives on passing and positional hockey.  They seem to be fair skaters and shoot fairly well.  I know they are the best amateurs in the world but they'll have to be really good to be better than Harvey, Jimmy Morrison, Leon Rochefort, Red Berenson and Billy Sutherland."
"Red is probably one of the fastest skaters in the game.  Leon is a top flight prospect with a tremendous burst of speed to along with a better than average shot.  It should be quite a game."
OHA Black Hawks bomb Flyers
The St. Catharines Black Hawks ran roughshod over the slumping Niagara Falls Flyers last night in Niagara Falls.  Over 2,000 fans saw their hometown Flyers drop a 6-2 decision to their neighbours down the QEW.
Brian McDonald fired a hat trick for the Hawks, supported by two goals from Ken Hodge, and a single by Garry MacMillan.  Gilles Marotte and Bill Goldsworthy replied for Niagara Falls.  Falls goalkeeper Doug Favell was spectacular in a losing cause, especially in the final frame in which the Hawks outshot Niagara by a 20-4 count.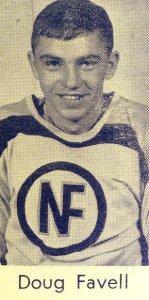 In the other OHA Junior A game, Oshawa Generals defeated the Peterborough Petes by a 5-2 score.  Ron Buchanan was the star for Oshawa, as he had a hand in every Generals goal.  Buchanan scored once and assisted on goals by Bobby Orr, Chris Hayes, Bill Little and Bill Bannerman.  League-leading scorer Andre Lacroix and Danny Grant had the Peterborough goals.
Aces increase AHL lead
The Quebec Aces increased their lead in the AHL's Eastern Division to nine points last night with a convincing 5-2 win over the Cleveland Barons.  Five players shared in the Quebec scoring with Leon Rochefort, Terry Gray, Guy Rousseau, Red Berenson and Bill Sutherland each netting a single.  Bob Ellett and Billy Hicke were the Barons' goal-getters.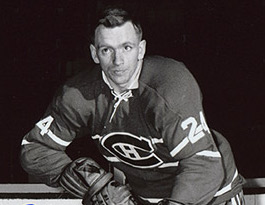 In Baltimore, rookie centre Ulf Sterner fired a pair of goals to lead the Clippers to a 7-2 thumping of the Springfield Indians.  Other Baltimore scorers were Sandy McGregor, Ted Taylor, Ron Ingram, Gord Labossiere and Dave Richardson.  Veteran Jimmy Anderson scored both Springfield markers.
Beliveau likes Punch
Jean Beliveau, who played for Punch Imlach when he was with Quebec in senior hockey, was asked at yesterday's Hot Stove Luncheon to compare the Leafs' bench boss with his current coach Toe Blake. Big Jean says that Blake likes to scrimmage while Imlach tried to avoid such workouts.  He also said that Punch could get more out of players, especially veterans, than any other coach he knew.
Retired police detective, involved in hockey at all levels for over 50 years. Member of Society for International Hockey Research and presently a video analyst for the leader in advanced hockey analytics (we work exclusively for 2 NHL clubs, and provide advice on an ad hoc basis to many other clients). Currently the Assistant General Manager for the Pelham Pirates of the Greater Ontario Junior Hockey League. Previously owned the Faceoff computer hockey simulation and also provided all player ratings for the EA Sports series of NHL computer games from the late 90's into the mid 2000's.