We are now officially in full holiday mode, with Thanksgiving just past and Christmas around the corner, I think its time Colorado Avalanche fans take a moment to be thankful. There could be numerous things to be thankful for as a Colorado Avalanche fan, but I guess that can depend on how long you have been a fan of this team.
I cannot list everything Avalanche fans should be thankful for, but here is a reminder to some who may not realize how lucky they are to be a fan of such a great organization. If ever there comes a time when you think the sky is falling and want to drop the gloves, I want you to look at this list of 5 things Avalanche fans should be thankful for. Look at it and remember, that not many other teams' fans can do the same.
1. Joe Sakic and Patrick Roy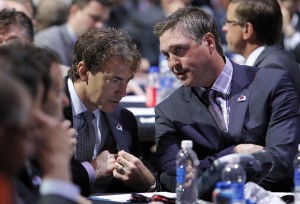 The first thing Avalanche fans should be thankful for is Joe Sakic and Patrick Roy. These two guys are legends of the game, not just in Denver. They only really care about one thing, and that is winning. Both are doing great jobs so far in their new positions. For us to have Joe Sakic and Patrick Roy running the team we love, as Avalanche fans, it doesn't get any better. Until Peter Forsberg joins in and becomes the head of European scouting that is.
In his first year as a coach in the NHL, Patrick Roy won the Jack Adams award for best coach. Both Roy and Sakic are very passionate about bringing back the winning culture to Denver, and they have started off very nicely. So far this season hasn't lived up to expectations, however the team is very young and is having to deal with a lot of injuries. No reason to panic however, which is one thing I am sure Sakic and Roy are not doing.
2. Francois Allaire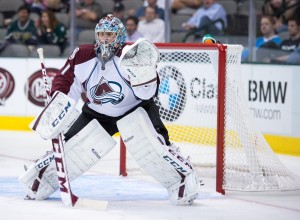 If it wasn't for this man, we would not have the Semyon Varlamov we have today. Varly is one of the best goalies in the entire league, still learning and improving under the coaching of Allaire. Varlamov was told by Allaire to keep his glove raised in a higher position when he gets into his stance. As you can see from the picture, Varly is constantly holding up that hand. This slight change to his game has worked extremely well for Varlamov and the Avalanche.
The hard work put in by both Varlamov and Allaire over the past couple of years has been fantastic. Varlamov proved his hard work with Allaire pays off, as he finished second in voting for the Vezina trophy last season. The Colorado Avalanche might not even have two Stanley Cups, since after all, Francois Allaire was the goalie coach for Mr.Patrick Roy as well. From Avalanche fans everywhere, thank you Francois Allaire(yes that rhymes, and yes that was on purpose, tis the season).
3. Very Exciting Young Core
Gabe Landeskog, Matt Duchene, Nathan MacKinnon, Ryan O'Reilly, Tyson Barrie, Erik Johnson, and Semyon Varlamov. That's a very solid core to build around. All of them except for Johnson and Varlamov, who are both 26, are aged 23 or younger. You'd be hard pressed to find a better core to build around in the league.
These guys are exciting to watch and ooze with potential. Each of them possess unique skill sets that mesh well with each other and all of them get along very well on and off the ice. So thank whoever you'd like Avalanche fans, because that is one talented core for the near future. They are poised to become real contenders to win Championships in the upcoming years.
4. Bright Future Ahead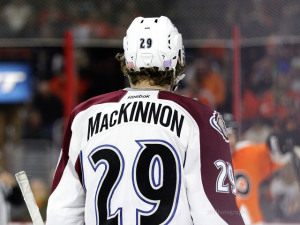 Next up on the list of things Avs fans should be thanking the hockey gods for, is the very bright future they have ahead of them as a team. Colorado want to be competing for the Stanley Cup again, and with a couple more pieces to the puzzle, they will achieve that goal. Finding the missing pieces will be tough, but no doubt Sakic and Roy have a plan in mind.
With the future looking so nice, Avs fans should constantly remind themselves of these things. After such a successful start to the new era of Avalanche hockey, people expected a smooth ride to the top. No team has a smooth ride to the top without going through some testing times. Colorado is no different, as they are currently experiencing those testing times right now, but the team needs that and will learn and grow from it. Adversity will make the Avalanche stronger, and all the young guns will be better off because of it. They have built a strong foundation, now its time to build on it further to become part of the NHL elite once again.
5. Amazing Memories
Obviously I cannot list all the great moments and memories of the past right here, because there are just way too many of them. For such a young franchise, Colorado has been treated to some magnificent hockey. For a decade, since their first game in Denver, the Colorado Avalanche were one of the most exciting and dominant teams in the entire NHL, year in, year out. During that time period the Avs won 2 Stanley Cups and 8 consecutive division titles.
Avalanche fans should know how lucky they are to have seen all of these great players wearing the Avalanche sweater. Here is a reminder that Joe Sakic, Peter Forsberg, Milan Hejduk, Patrick Roy, Adam Foote, Rob Blake, Ray Bourque, Sandis Ozolinsh, Valeri Kamensky, Chris Drury, Claude Lemieux, Paul Kariya and Teemu Selanne(not so much these last two, but that was just bad luck) amongst many others all played great parts in Colorado Avalanche history.
On top of those superstars and hall of famers that have worn the Avalanche sweater, the fans now have young budding superstars who are currently wearing it, and are ready to carry on the tradition of Colorado Avalanche hockey. Pout not, Avalanche fans, for you have many many things to be thankful for, from the past, the present, and the future.
Sebastian Noble is currently in his third year with The Hockey Writers covering the Colorado Avalanche and Florida Panthers. Liverpool, England, and of course Colorado Avalanche & Florida Panthers supporter. You can follow him on Twitter @SebastianHNoble