The Chicago Black Hawks celebrated the return of two key performers from injuries with a stirring 3-1 win over the Montreal Canadiens in game three of the Stanley Cup final last night in Chicago.  Montreal now leads the best-of-seven series two games to one.
Wharram, Pilote return
Kenny Wharram and Pierre Pilote, both of whom did not play in the first two games, played major roles in the Chicago victory.  Wharram scored the game-winning goal early in the third and seemed to be the driving force behind his Scooter Line's improved effort.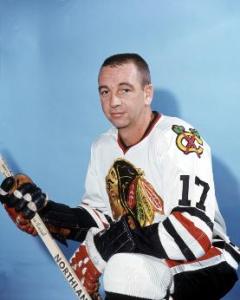 Pilote resumed his customary spot as the quarterback of the Chicago defence corps.  Despite a partly separated shoulder, he showed few ill effects of the injury and was his usual smooth-skating self.
After a scoreless first period, Montreal took a 1-0 lead at 4:16 of the second period.  John Ferguson was the marksman, as he tipped in a J. C. Tremblay shot past a helpless Glenn Hall in goal for Chicago.  Other than that one play, Hall was extremely solid for the Hawks
Esposito's goal disputed
Less than a minute later, Phil Esposito found the range for the Black Hawks to knot the score at 1-1.  The goal sparked an intense protest from Montreal goalkeeper Gump Worsley, who insisted, even after the game, that the big Chicago centre had kicked the puck into the net.  Worsley chased referee John Ashley around the ice in an effort to further his argument, but Ashley would have none of it.  That goal seemed to deflate the Montreal balloon and the Hawks were in control from that moment on.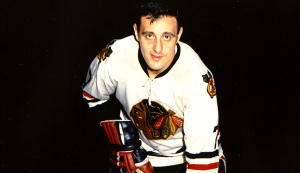 Wharram's winning tally came early in the final frame, thanks to a fine play by Stan Mikita.  Mikita, playing his standard game, belligerent and physical, for the first time in this series, out-raced Montreal defenceman Terry Harper to a loose puck at centre.  He fired a quick pass to Wharram at the Montreal blue line.  Wharram skated in alone on Worsley and beat him with a backhand shot.
Montreal lifted Worsley for an extra attacker in the final minute of play in a last-ditch effort to tie the score.  As so often happens, the strategy backfired when Chico Maki took a pass from Bobby Hull and deposited the puck into the unguarded Montreal cage with 36 seconds left in regulation time.
Ashley lets them play
The majority of the game was played with a high level of intensity, but that boiled over somewhat in the third period.  Referee Ashley appeared to want to let the boys play, handing out roughing penalties when fighting majors may have been more appropriate to Mikita and Montreal's Ted Harris with just over five minutes to play.
Mikita and Henri Richard had started to exchange blows when Richard went down from a Mikita punch.  That prompted Harris to rush to Richard's defence, and he and Mikita squared off.  Hawks' Doug Mohns jumped in to pull the much larger Harris off Mikita and was also tagged with a minor for roughing.  Mohns didn't think he deserved to be penalized at all.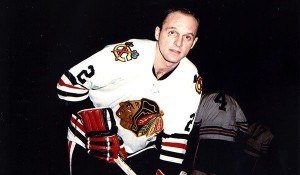 Thirteen seconds after Maki's goal, a brouhaha broke out in the Montreal zone, with everyone on the ice, save the netminders, grabbing a partner.  Roughing minors were assessed to Tremblay, Harris, Matt Ravlich and Eric Nesterenko by Ashley, who again was reticent to tag anyone with a major.  He did add a 10-minute misconduct to Tremblay's total, after the Montreal defenceman allegedly questioned Ashley's parentage.
Fans got into the act
Chicago fans got into the act, showering Worsley with all sorts of debris, including a wooden slat from a stadium seat.  Worsley skated to the Montreal bench, but not before defiantly challenging the over 20,000 fans with his stick, daring them to come down and face him one-on-one.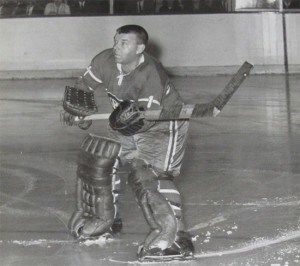 At the same time, players on the Montreal bench were swinging their sticks at heckling Chicago fans.  One Montreal player commented that the fans were even needling the Montreal players in French.
Worsley said after the game, "They should ban the sale of beer in that rink.  The fans get souped up and go wild."
Reay: Pilote the key
Chicago coach Billy Reay felt that the return of Pilote was the key for his team.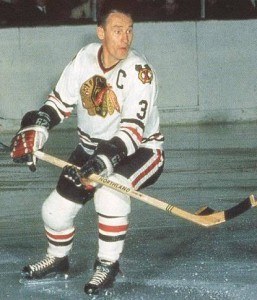 "The whole story is Pilote.  With him back there to organize our rushes, we're a poised club.  But I didn't think he'd play until a few minutes before the game, and he's still a doubtful starter for Sunday."
Reay said that the decision to play was all Pilote's.  "He said he'd give it a shot, and once he got out there, he took a regular turn."
Rumours circulated around the Chicago Stadium before the game that Montreal's Jean Beliveau had suffered a broken leg in an automobile crash earlier in the day.  The rumours, of course, proved to be false and Beliveau played his usual strong game.
Flyers eliminate Native Sons
The Niagara Falls Flyers completed their sweep of the Memorial Cup Eastern semi-final series last night with a resounding 13-0 drubbing of the Garson Native Sons.    After a lethargic performance in game three, the Flyers responded to a pep talk from manager Hap Emms and played to their true potential in as lop-sided a game as you will ever see.
The Flyers took no pity on Garson goalkeeper Bob Whidden, as they fired 78 shots at the NOHA champions' goal.  Whidden, who is only 17 and property of the Toronto Maple Leafs, put in a valiant effort and should be congratulated for finishing the match.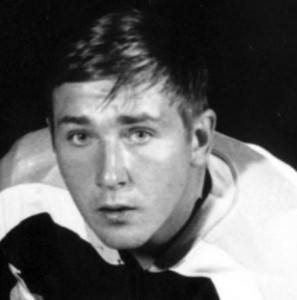 Brian Bradley, Derek Sanderson, Jim Lorentz, Bill Goldsworthy and Bud Debrody had two goals apiece for Niagara.  Singles came from Dave Woodley, Don Marcotte and Jean Pronovost.
Niagara now faces Lachine, Quebec in the Eastern final.