This week the Hockey Hall of Fame inducts the class of 2015-16, which features former NHLers Sergei Fedorov, Niklas Lidstrom, Chris Pronger and Phil Housley . They'll be joined by U.S. women's hockey player Angela Ruggiero, Carolina Hurricanes owner Peter Kamanos, Hall of Fame exec Bill Hay, the great hockey writer Bob McKenzie and famed Los Angeles Kings broadcaster Nick Nickson.
It's an impressive class of inductees that's hard to argue with (though many have been vocal about Pronger's history or the rule change that allows Pronger to be inducted while still on the Arizona Coyotes payroll as a player).
However, there are many players who haven't yet found their bust in the Hall of Fame and are probably overdue for recognition.
Here are six players who have been overlooked so far who most deserve to be inducted in the next few of years.
Roenick, who appeared in nine All-Star Games, has been eligible for induction since 2012. With three-straight 100-point seasons behind him, he accumulated 513 career goals and 1,216 career points (both are fourth most among Hall of Fame eligible players who have not be inducted), as well as 92 game-winning goals, 12th most all-time.
In addition to some impressive scoring, he grabbed an Olympic silver medal in 2002 and was named to the All-Star team for the 1989 World Junior Championship and the 1991 Canada Cup. The only American player to cross 500 goals and not find his way into the Hockey Hall of Fame, he was inducted into the United State Hockey Hall of Fame in the class of 2010-11.
The Case Against Roenick: He peaked early, even if a lockout arguably came when he could have had a huge year. His three straight 100-point seasons came by the time he was 23 and in the three seasons prior to the 1994 lockout. He never crossed 80 points after the lockout.
He also never won a Stanley Cup despite making a couple deep playoff runs with Chicago, the Philadelphia Flyers, and San Jose sharks.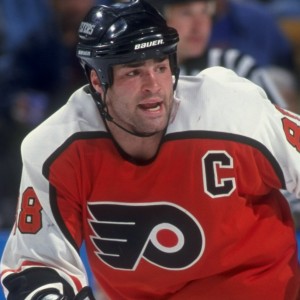 The best argument for Lindros is simply that he's the only Hall of Fame eligible player who has won the Hart Trophy in the last 60 years and isn't in the Hall of Fame. The number one overall pick in the 1991 draft appeared in seven All-Star Games and captained the Flyers for six seasons. His scoring prowess doesn't come across quite as well in his raw totals of 372 goals (113th all-time) and 865 points (119th all-time) because of his relatively short career, but you get a sense of how strong he was offensively with his 1.138 points per game over the course of his 760-game career. That's the 19th best mark all-time.
He wasn't just a good scorer, but was an elite player that teams had to plan for and he was elite for a good stretch of time.
Outside the NHL, he had a decorated international career with Olympic gold in 2002, golds in the World Junior Championships in 1990 and 1991, a Canada Cup Championship in 1991, a runner-up spot in the 1996 World Cup. He also led his junior squad, the Oshawa Generals, to an OHL Championship and a Memorial Cup Championship.
The Case Against Lindros: He had a tendency to rub others the wrong way, starting from day one of his NHL career when he refused to report to the Quebec Nordiques who had drafted him first overall. However, if having a tendency toward some dirty play was grounds to keep a player out of the Hall we wouldn't see Pronger getting inducted this year.
Also working against him is that despite many decorations through junior hockey and international play, Lindros never won a Stanley Cup. But part of how we look at players who haven't won a Cup should be how they performed in the postseason and Lindros was good. He averaged 0.453 goals per game (28th all-time) and 1.075 points per game in the playoffs (18th all-time).
Andreychuk may be the most low-key and underrated of the players on this list. Some believe he was just a front of the net guy whose talent didn't extend far enough beyond that, but the credentials are all in place for Andreychuk to get admitted to the Hall.
He has impressive totals with 640 goals (14th all-time), 1,338 points (28th all-time), 274 power play goals (1st all-time), and a whopping 1,639 games played (6th all-time). He won a Stanley Cup as the captain of the Tampa Bay Lightning late in his career, but he got it done and was inducted into the Buffalo Sabres Hall of Fame just a couple of years later.
The Case Against Andreychuk: Playing that many games is quite a feat, but it can also be used against a player. If you play that many games, the argument goes, it diminishes how impressive your career totals are. But it shouldn't. Andreychuk was productive from 1983 to 2006 and that's pretty incredible.
The other part of that argument is that Andreychuk wasn't elite, which may be true. Teams didn't have to game plan for Andreychuk, but that doesn't mean he didn't ruin an evening for many teams. He crossed 50 goals twice, including in his 30-year-old season, bested 40 goals four times and crossed the 30-goal threshold nine times.
If your reaction to CuJo's inclusion is Where's his Cup?, you aren't paying attention. He played the fifth most games of any goaltender all-time (943), has the fourth most wins all-time at 454, which is the most by any goaltender not in the Hall of Fame. The next highest player who isn't in the Hall has more than 50 fewer wins.
In addition, he played in a time that wasn't as kind to goaltenders, so his placement at 47th all-time in save percentage is significant, as is his rank of 11th in most goals save above average at 126. The lack of a Cup? Probably not entirely on him. The 1999-2000 King Clancy Memorial Trophy-winner's 63 playoff wins are sixth all-time, the 24th best playoff save percentage at .9167 and the third most playoff shutouts at 16.
CuJo accumulated accumulated accolades on the international stage as well. He suited up for Canada in 1996 at the World Cup, earned a silver medal at the 1996 World Championships, a gold medal at the 2002 Olympics and a Spengler Cup championships.
The Case Against Joseph:
There really isn't much of one. He never won the Stanley Cup and never carried a team on his back the way Martin Brodeur or Dominik Hasek did. But if you have to lug the dead carcass of your team up a hill through a playoff series to gain admission to the Hall of Fame, there won't be many goaltenders that make their way in.
Kariya's accolades are lengthy and impressive, despite a career cut short by injuries. He was named a First-Team All-Star in the NHL twice and a Second-Team All-Star twice. He won the Lady Byng Trophy for Gentlemanly Conduct twice and captained the Mighty Ducks for seven straight years. He played in seven All-Star games and was a runner-up for the Hart Trophy in 1997. His offense wasn't anything to scoff at either, averaging a point per game throughout his career.
Outside of his offensive skills, it's hard to deny the impression he made on others, winning countless awards for his sportsmanship and leadership on top of that pair of Lady Byngs. In the BCHL he won Most Sportsmanlike Player and Most Valuable Player two years in a row before heading to the NCAA ranks where he lead the University of Maine to a National Championship. In that same year he was named to the First All-American Team, Hockey East All-Academic Team, Hockey East All-Rookie Team and Hockey East First All-Star Team. There was also the Hockey East Player of the Year and Rookie of the Year honor that year and a Hobey Baker award for the best player in collegiate hockey.
Also that season, he was named to the World Juniors All-Star Team after helping Canada win gold.
He then helped Canada to a silver medal in the 1994 Olympic games and a gold in the 1994 World Championships, where he was named the tournament's Best Forward. He also grabbed silver in the 1996 World Championships and a gold in the 2002 Olympics.
The Case Against Kariya:
The case against him really hinges on his longevity being a liability. He's a guy who played through the dead puck era and still put up impressive totals. He hit 50 goals once, crossed 30 goals seven times and broke 100 points twice. The case against him feels flimsy when other players with short careers made their way in. Cam Neely (726 games), Peter Forsberg (708 games) and Pavel Bure (702 games) are in and all played fewer than Kariya's 989 games.
Of anyone on this list, he feels the most like the guy who should elicit the reaction, Are you sure he's not in already? The short version: His career total are impressive with 577 goals (20th all-time), 956 assists (14th all-time), 1,533 points (12th all-time), 91 game-winning goals (15th all-time), 1,652 games played (fourth all-time).
He has the most points by a Hall-eligible player who isn't in already. He has three Stanley Cups and he's an incredible talent who wore a letter on his jersey as a team leader for 13 seasons.
The Case Against Recchi:
It's thin. It really just feels like it's a matter of time here. The only real knock on him comes in comparison with guys have have been brought in to the Hall in their first years of eligibility who were truly elite. (Martin Brodeur and Teemu Selanne will be eligible soon. Federov, Lidstrom, Hasek, Scott Niedermayer, and Mike Modano fit that description as well for players inducted in the last few years.) Recchi wasn't ever really elite, but was very good for a very long time.
The Hall of Fame Debate Series:
Dave Andreychuk
Curtis Joseph
Paul Kariya
Steve Larmer
Eric Lindros
Sergei Makarov
Alexander Mogilny
Jeremy Roenick