The Edmonton Oilers defeated the San Jose Sharks in a best-of-seven series in six games. Saying that feels a touch odd after a decade out of the playoffs and the Oilers finally making it to the postseason on the backs of Connor McDavid, Leon Draisaitl and Cam Talbot. Not exactly the trio fans would have expected when Edmonton drafted Taylor Hall back in 2010. Still, Edmonton was the better team, using their youth and enthusiasm to outlast a more veteran and experienced Sharks roster.
The Oilers will now move on to face the Anaheim Ducks. The Ducks were the Pacific Division Champions and proved that a hot team to end the regular season can stay hot as they defeated Calgary in a four-game sweep. Edmonton will have its work cut out for them, but if they can beat the Ducks, it will be because of the eight things we learned from the San Jose series.
#8. Important Oilers Were Ill For Much of the First Round
Oscar Klefbomb couldn't finish Game 6 on Saturday. Coach Todd McLellan explained later that it was because Klefbom was battling illness (namely the flu). It explains why earlier in the series Leon Draisaitl was largely ineffective and in postgame interviews was coughing and didn't look well.
This illness is not an excuse for poor play or suggest that players won't have poor games from time to time, but if the team can get healthy by the start of the second round, they'll be in much better shape.
Klefbom is dealing with an illness, Coach McLellan says. "It's important for us to get healthy before we get to Anaheim."

— Edmonton Oilers (@EdmontonOilers) April 23, 2017

#7. Edmonton Can Deploy Six Very Useful Defensemen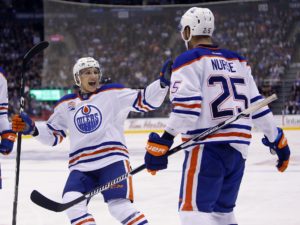 It was never going to be a case of the Oilers having a top-tier blueliner like a Brent Burns or an Erik Karlsson they could call on to eat big minutes. Instead, the team was going to have to deploy its defensemen by committee and that they did. Four of the Oilers top blueliners played between 21 and 23 minutes per game — that being Klefbom, Adam Larsson, Kris Russell and Andrej Sekera. The other two (Darnell Nurse and Matt Benning) were at 16 to 18 minutes.
As the series wore on, Nurse and Benning were vital to the overall success of the team. They were given larger roles, more responsibility and they relished those roles, making the most of their opportunities. Keep in mind, this is a blue line that has very little playoff experience. They aren't necessarily showing it.
#6. McDavid Is About Ready to Stand Up
It's hard to complain about what Connor McDavid has done. After all, he's leading the team in points in the playoffs with four. Still, by the standards he set in the regular season and the way he was asked about his personal performance after the first round came to a close, you can tell, McDavid cares about the team, but he's frustrated he hasn't been more "McDavid".
This bodes well for the Oilers who are waiting for their captain to break out with a single-game three or four point performance — something he's more than capable of doing. To try and limit his effectiveness, McDavid was pitted against Marc-Edouard Vlasic at almost every turn in the series against the Sharks. Vlasic is amongst the best at shutting down a player of McDavid's speed and skill. Does Anaheim have that type of defender? They have speed and skill, but is Hampus Lindholm that guy?
#5. Edmonton's Second Line Is Ready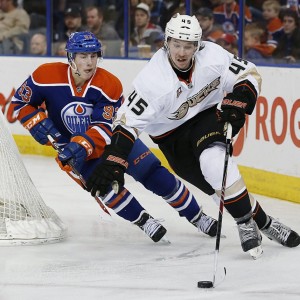 When it comes to points, the second line was quiet for the Oilers. On paper, that doesn't look great. That said, when you consider the areas to which they contributed in other facets of the game, Ryan Nugent-Hopkins, Milan Lucic and Jordan Eberle found ways to make their presence known.
All three were vital in the two-way play game that shut down the Sharks for most of the series. Notwithstanding a 7-0 thumping that Edmonton took hard as a team, these three were able to line up against the Sharks top players and keep them relatively quiet. Take away that seven-goal game and the Sharks scored only seven goals in the remaining five contests. That's only 1.4 goals per game and that's no small feat.
Should the second line continue this strong defensive play, but add a bit more to the scoresheet, Edmonton will offer a very strong two-prong attack that may be too much for the Ducks to handle.
#4. Oilers Employ Unsung Heroes
Perhaps the play of the series for Edmonton was the overtime goal by David Desharnais that gave the Oilers a 3-2 lead in the series and put them in a position to finish the Sharks in six games. One of the biggest goals in franchise history over the last decade and from a player people thought might not even play.
The Oilers don't need the unsung heroes to be game changers every game, but if players like Desharnais and Slephyshev can step up when needed, as they have so far, Edmonton is the type of team that can surprise the Ducks with any line.
#3. Kassian Is a Monster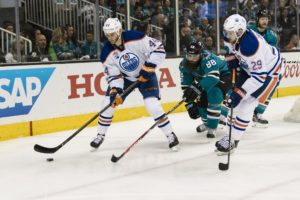 While you're watching for McDavid or Draisaitl's skill, you better be watching for Zack Kassian's body. If you aren't, he might surprise you with a monstrous hit. When you've finally realized you might get creamed, he'll beat you with his skill. At least, that's what he did against San Jose.
What's so dangerous about Kassian's play is that he's explosive and mindful. If there was ever a player who might lose control, most of the money bet would have been on Kassian taking penalties that cost the team. Instead, of the 63 penalty minutes taken by the Oilers in the first round, Kassian only took six. That's incredible considering he had 18 hits and some of them were highlight reel material.
#2. Klefbom / Larsson Is a No. 1 Pairing
Oscar Klefbom has been a strong defender for the Oilers this season. There isn't much doubt that the 2016-17 campaign was his strongest to date and that he's rounding into his own. Something in the last month of the season and into this postseason has clicked for the Swedish defender and he's becoming one of Edmonton's most dangerous weapons. He's tied for second on the team in playoff points and limiting his defensive mistakes in a major way.
Meanwhile, Adam Larsson has solidified himself as the perfect defense partner. While Klefbom is becoming the flashier player of the two, Larsson quietly leads the team in time on ice per game and hits. Larsson was once described by some in the media as a passenger. The comment itself was quite ignorant, but if there was ever a time Larsson would prove that theory wrong, this is it and he's making the most of it.
#1. Leon Draisaitl Can Take Over a Hockey Game
'It was a stupid play': Oilers forward Leon Draisaitl fined for spear to groin of Sharks player https://t.co/piGBs7Oxvd pic.twitter.com/YmhKBT59Vd

— HockeyNightInCanada (@hockeynight) April 20, 2017

All eyes heading into the series against the Sharks were on McDavid. That makes sense considering he'll win the Art Ross Trophy and likely the Hart Trophy for this past season. The fact that Draisaitl started the series with only one shot on net in the first handful of games emphasized that fact. When he was booted for spearing in Game 4, it could have gone from bad to worse.
In the final two games, Draisaitl was the Oilers best player. He was tenacious, created opportunities and set up the game-tieing goal and overtime winner in Game 5. Draisaitl has proven he's capable of producing at key moments and his lack of playoff experience doesn't seem to phase him. The pressure of not performing in a big game situation could have gotten to anyone else. Draisaitl calmly went about his business and changed the momentum of the series.
The Oilers have a number of lessons and positives they can take from their series with the San Jose Sharks. For a team that lacks playoff experience, these lessons are extremely valuable for each continued game and series the Oilers find themselves a part of. We know now, that will be at least four more games.