After failing to qualify for the NHL Playoffs the previous ten seasons, it only seemed fair to keep expectations at a minimum for the Edmonton Oilers heading into the 2017 post-season. Be it an early exit, a lengthy run or anything in between, this group was in a no-lose situation. With that said, absolutely no one could have predicted how things were going to unfold during their first round match-up against the San Jose Sharks.
Oilers' Leon Draisaitl joined @CassieCampbell to talk about a tough series against the Sharks. #StanleyCuphttps://t.co/ihqTMmuu4p pic.twitter.com/IEeKjsO6Vi

— Sportsnet (@Sportsnet) April 23, 2017
From the disappointing but rather predictable misstep in the series opener. To the 7-0 thrashing in Game Four and all the highs and lows which followed over subsequent two games. These players and their coaching staff found a way to not only win the series but did so in a rather surprising fashion. In a matter of just eleven days, the Oilers have transformed into a team who now seem poised to give any and all comers more than they can handle.
There is no question Edmonton received the level of goaltending from Cam Talbot which has become almost mandatory for teams at this time of year, as he out-dueled his counterpart Martin Jones over the course of the series. However, what they did not receive was that signature performance from Connor McDavid which many felt, yours truly included, was essential for this group to get past the Sharks.
Sharks Kept McDavid In Check
San Jose did a masterful job of not allowing No. 97 to dictate terms over the course of the series.  To his credit, McDavid still played well, leading the team in scoring with four points, but Pete DeBoer's approach was obvious. If his side would be the one to drop four games first, he was going to make the Oilers earn it as a group and not by riding the coattails of the league's leading scorer…and earn they did.
Edmonton had nine different players score their twelve goals, with Zack Kassian, Oscar Kelfbom, and McDavid leading the charge with two apiece. One could easily make the argument Ryan Nugent-Hopkins was one of the Oilers' three best forwards in the series and yet the former first-overall pick was held off the scoresheet. From top to bottom, Todd McLellan saw his entire forward group commit to playing a two-way game and every one of them made an impact over the course of the six games.
Oilers gut it out!
Helluva series vs battle-tested opponent.
Talbot-stellar..again, 27 saves.
Larsson shut-down D 26:10, 4 hits, 2 blocks

— Bob Stauffer (@Bob_Stauffer) April 23, 2017
As big as Leon Draisaitl's ice-breaker was during yesterday's series clincher, Anton Slepyshev's marker was the one that changed the entire complexion of things and it was a theme that ran throughout the series. In all but one of their wins, it was a combination of top flight guys and so-called lesser likes chipping in on the offence. Be it veteran David Desharnais, Kassian or Slepyshev, secondary scoring wasn't an issue for the Oilers and it was arguably the difference in the series.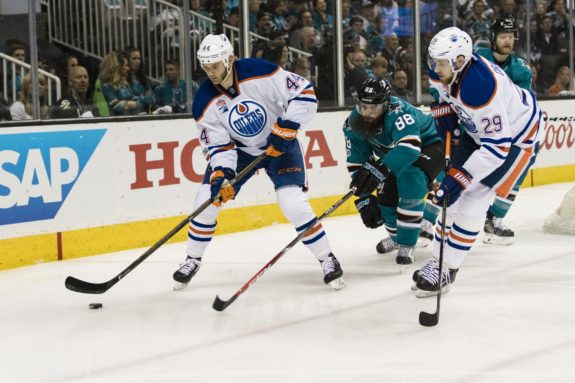 Oilers Depth Was the Difference
The backend certainly had its challenges, as the trio of Matthew Benning, Darnell Nurse and Kris Russell had their fair share of ups and downs but in the end, the collective unit got the job done. Klefbom was by far and away the Oilers best defenceman over the course of the series and when he was unavailable to go during the third period of yesterday's 3-1 victory, Edmonton looked to be in deep trouble and yet they still prevailed.
Make no mistake, Talbot played a huge part in them being able to survive those final 20 minutes but he was not left to simply fend for himself. Adam Larsson and Andrej Sekera, who were also solid throughout the series, kicked up their level another notch or two during that final frame and the aforementioned trio of Benning, Nurse and Russell did yeoman's work in helping hold off the Sharks late barrage. Add to that a committed approach from the entire group up front and the result was far from surprising.
Onto Round 2….key wasn't McDavid, it was balance. Kassian (2), Desharnais, & Slepyshev w/game-winners. Talbot rock solid, Larsson awesome.

— Jack Michaels (@EdmontonJack) April 23, 2017
It certainly wasn't easy but the NHL Playoffs and easy are two things don't go together. Again, the fact this team was able to win a six-game series while scoring just twelve goals says quite a bit about how far this group has come since October. Believe it or not, with the Western Conference there for the taking and no perennial powerhouse standing in their way, the Edmonton Oilers have as good a chance as anyone at grabbing that crown and making this a year Oil Country won't soon forget.