In 11 more games, Calgary Flames blueliner Robyn Regehr will play in his 800th National Hockey League regular season contest.
Robyn Regehr – Humble Beginnings
Regehr came to the Flames in a trade on February 28, 1999. The team was in dire financial straits and the on-ice product was pretty terrible, vintage Young Guns-era hockey. To make matters worse, the team's all-time leading scorer, Theoren Fleury, was about to become an unrestricted free agent. Fearing that the team would lose its best asset for nothing, general manager Al Coates swung a deal with division rivals, the Colorado Avalanche. Fleury was shipped along with winger Chris Dingman to the Avs in exchange for forward Rene Corbet, defenseman Wade Belak, the rights to junior defenseman Robyn Regehr, and a draft pick.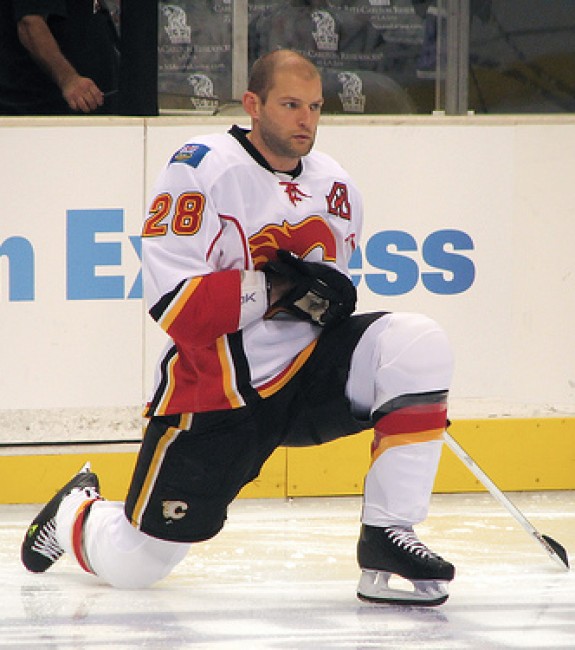 At the time, a lot was made about the trade. Little was said about Regehr, except that the Flames should've gotten more for their former captain. Corbet and Belak gradually faded away into NHL obscurity. The draft pick was used to choose Jarret Stoll, who went unsigned and re-entered the draft two years later. Nobody really knew what to expect from Robyn Regehr.
Summer of Tragedy
Following the end of the WHL season, Regehr's last anticipated season in major junior, he went home to Saskatchewan to relax. What happened was probably the exact opposite.
Shortly before 11 p.m. on July 4, Robyn was driving to his boyhood home in the Saskatchwan farm town of Rosthern. His car was traveling about 55 mph when an oncoming car swung into his lane without warning, and a head-on crash occurred. Robyn suffered a head bruise and multiple fractures in his left leg and a puncture wound in his right leg. Dinho, 21, who was in the front passenger's seat of Robyn's car, and the two young women in the backseat were briefly hospitalized with non-life-threatening injuries. Two people in the other car, Paul Wolfe, 18, and Eric Turenne, 20, were killed, while two other passengers, whose names were not released by police, survived. [Sports Illustrated; November 15, 1999]
Functionally-speaking, Regehr broke both of his legs just over two months before training camp was scheduled to open in Calgary. After the injury, he wasn't expect by doctors to skate until at least Christmas, and it was questionable as to whether he would ever play hockey again. Against the odds, Regehr recovered enough to skate by early September. He was able to take part in non-contact practices with the Flames before the end of training camp. He gained medical clearance and began a two-week conditioning assignment with the AHL's Saint John Flames in mid-October.
He made his National Hockey League debut on October 28, 1999 against the Ottawa Senators.
Flash Forward
Eleven years (and 10 NHL seasons later), Regehr is regarded as one of the pre-eminent shutdown defenders in the league. He stands fourth in Flames franchise history in games played (behind Flames captain Jarome Iginla, Hall of Fame defenseman Al MacInnis and the player he replaced, Theoren Fleury). Since his NHL debut, he's played in the World Championship, the World Cup, the Olympics and the Stanley Cup Finals. He's also served as the Flames' NHLPA representative and alternate captain.
Nowadays, with the ascent of young Mark Giordano and the way the game has changed (in terms of speed), Regehr is constantly spoken of as a guy who'll be traded. Like 10 other Flames, Regehr has a no-trade clause in his contract, but it's suspected he would waive it to go somewhere he felt needed. However, before Regehr's shuffled off to a Los Angeles or New York, it's important to note his accomplishments and what he meant to the Flames franchise.
Regehr replaced the Flames all-time leading scorer and final member of the 1989 Cup team, Theoren Fleury, at a time where fan cynicism was at an all-time high. Of course the Flames got a boring defenseman for a 50-goal guy, was the notion. These were dark days. Regehr ended up being a steady defenseman that other defensemen admired and his "Tunnel of Death" hits became feared throughout the league. He ended up playing 800 games in the Flaming C, despite never being a fiesty offensive presence like Dion Phaneuf or having a booming shot like Al MacInnis, nor was he considered a top-flight talent. But, much like famed Flames bruiser Tim Hunter – an essential part of the 1989 team – Regehr made the Flames a tough team to play against at a time when the "Young Guns" surely needed some grit.
Robyn Regehr provided that grit.
Sooner or later, his tenure with the Flames will come to an end. But until then, hats shall be tipped through the west to Robyn Regehr – he came back from two broken legs to play 800 games (and counting) with the Calgary Flames, and became the lord and master of the "Tunnel of Death."
Ryan Pike has covered the Calgary Flames and the NHL Draft extensively since 2010 as a Senior Writer for The Hockey Writers and Senior Contributing Editor of FlamesNation.ca. A member of the Professional Hockey Writers Association, he lives in Calgary.