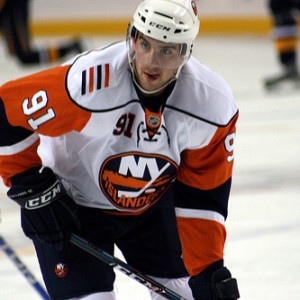 John Tavares recorded his second natural hat trick of the season, his first on Coliseum ice, in the Islanders 5-3 win over the Buffalo Sabres last night. Rick DiPietro earned the win in his first start back from injury and Blake Comeau and Michael Grabner supplied the other two goals to put the Islanders on top. The victory gives Jack Capuano's squad a 14-22-7 record with the 14th spot in the East, just five points shy of 13th with the 12th, 11th and 10th spots just a few points beyond.
With the hat trick, Tavares has eight goals in as many games as well as a total of 12 points in that same span. Right now he has 18 goals, 15 assists and 33 points on the season. He is on pace for 35 goals, 29 assists and 64 points by the end of the year, a possible ten point improvement over his rookie campaign last season.
Not only is Tavs scoring goals, some of them in clutch situations like the OT winner against the Avalanche where he powered his way to the front of the net to roof the puck over Craig Anderson's shoulder, but he is taking command on the ice and generating scoring chances consistently, whether it be for him or his line mates.
Fans are getting to see that Tavares is a pure NHL talent with this scoring streak and ability to lead on the ice. He is one of the few bright spots for a team that had high expectations but has failed to meet the mark, whether it was due to bad coaching, injuries or setting goals that were too soon to meet. If he continues to improve his play, he will likely finish the year as the top scorer on the team.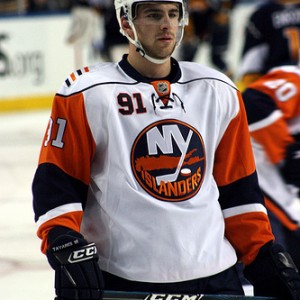 Ironically, JT was not selected to represent the New York Islanders at this year's NHL All-Star game. In fact, the only Islander representative is Michael Grabner, who will only participate in the skills competition the day before the game. It would have been nice to see the first overall pick get his his first chance to showcase his skills amongst NHL greats. It certainly would have been interesting to see what the kid could do if he had at least one skilled, veteran winger on his side. Tavares' true potential will explode once he gets a winger that compliments his playing style. Remember, he's leading this team with only the help of those around him. The oldest active player on this team, now that Jon Sim is no longer a member after signing in Europe, is Radek Martinek at 34. The oldest forward is Trevor Gillies at 31. If the man with the mustache is a healthy scratch, as he is on occasion, the next in line would Zenon Konopka at 30.
Tavares will look to continue his scoring streak when the New Jersey Devils visit the Nassau Coliseum tomorrow at 1 PM.
-Rob McGowan
Follow me on Twitter!
http://twitter.com/IslesRM