Halfway report
The season just passed its halfway point. Earlier this week, we looked at midseason award winners. Today, we examine the Stanley Cup contenders, the teams to watch, and the teams who are already looking toward next year.
It appears the East has more teams who are true contenders for a conference title, but the West has more depth top-to-bottom. Most believe the East is top heavy while the West is more balanced. It certainly looks that way after half a season.
Eastern Conference
Contenders:
Philadelphia Flyers (1): The Flyers have remained at the top of the East with balanced scoring, good defense, and solid goaltending most nights. Oh yeah, and Chris Pronger is coming back soon.
Pittsburgh Penguins (2): Crosby, Fleury and Letang have been awesome. Malkin (and others) need to pick up their games if the Penguins want to return to the finals.
Tampa Bay Lightning (3): Great job by GM Steve Yzerman and coach Gus Boucher. The Lightning is in the mix to win the conference thanks to Steven Stamkos, Martin St. Louis, and a great trade for Dwayne Roloson.
Boston Bruins (4): Tim Thomas has been the league's best goalie, but the Bruins lack scoring and consistency in terms of effort. Look for some type of deadline move – if GM Peter Chiarelli can find some cap space.
Washington Capitals (5): Hard to count out a team with Ovechkin, though the Capitals always find a way to lose.
New York Rangers (6): The Rangers have quietly become contenders. Brandon Dubinsky and Henrik  Lundqvist have been tremendous, while rookie Derek Stepan has been solid. If Marian Gaborik can stay healthy and Ryan Callahan can get healthy, watch out …
Keep an eye on:
Montreal Canadiens (7): The Habs have cooled off, but if Carey Price gets hot again, they could be tough. Montreal has had some bad luck on the blue line, as Josh Gorges and Andrei Markov are done for the year.
Atlanta Thrashers (8): Great job by new coach Craig Ramsay, but even with Ondrej Pavelec, the Thrashers are likely a year away.
Maybe, but not likely:
Carolina Hurricanes (9): The Hurricanes have potential thanks to Cam Ward, Eric Staal and Jeff Skinner, and have won four of five and seven of ten.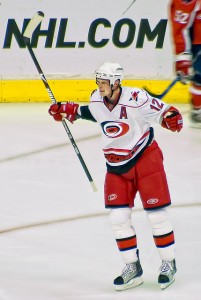 Florida Panthers (10): Great goaltending, but no offense and a poorly-run organization makes every night a challenge for the Panthers.
Buffalo Sabres (11): Sabres had a rough start, but have been playing better. Is it too late?
See you next year:
Toronto Maple Leafs (12): Maple Leafs are playing better, but dug too big of a hole for themselves. It seems like the plan to rebuild the Leafs is not working.
Ottawa Senators (13): What a horrible season on many levels for the Senators. It may not get much better.
New York Islanders (14): Hard to say what the future holds for the Islanders. Maybe a move to Hartford or Quebec City? John Tavares is a solid guy around which to build.
New Jersey Devils (15): Just awful. Nothing more to say.
Playoff Predictions:
Opening round:
Philadelphia (1) over Carolina (8)
Boston (2) over Montreal (7)
Washington (3) over New York Rangers (6)
Pittsburgh (4) over Tampa Bay (5)
Semifinals:
Philadelphia over Pittsburgh
Boston over Washington
Finals:
Boston over Philadelphia: Will be another classic, 7-game series with the Bruins gaining revenge for last year's remarkable Philly comeback.
Western Conference
Contenders: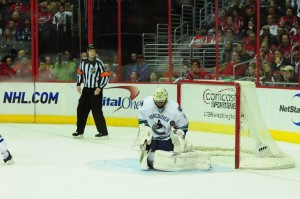 Vancouver Canucks (1): The Canucks look like the Stanley Cup favorites right now. They have three legit MVP candidates (Henrik and Daniel Sedin, Ryan Kesler) and solid goaltending from both Roberto Luongo and Cory Schneider.
Detroit Red Wings (2): Injuries are mounting again and Jimmy Howard is looking tired. Wings need to get healthy. If they do, they are co-favorites with the Canucks.
Dallas Stars (3): The Stars (led by Brad Richards and Loui Eriksson) are playing some great hockey and just made a move to obtain Jamie Langenbrunner. Now if they can only hold on to Richards …
Keep an eye on:
Phoenix Coyotes (4): Poor attendance, ownership issues, and no respect from anyone have not stopped the Coyotes from having another solid season. Keith Yandle should be going to the All-Star Game, by the way.
Nashville Predators (5): Pekka Rinna is a Vezina Award candidate, and he needs to be because the Predators are struggling offensively (116 GF in 44 games).
Colorado Avalanche (6): Unlike the Predators, the Avalanche has no problem scoring goals (148 in 45 games) but can't stop anyone from scoring (a 27th-ranked 143 GA).
Chicago Blackhawks (7): Inconsistent is the best way to describe the defending Stanley Cup champions. Every time it looks like the Blackhawks have turned the corner, they take a step back.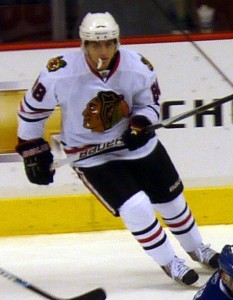 Anahiem Ducks (8): Another inconsistent team, the Ducks look great for stretches at a time then follow it up with a couple stinkers.
Los Angeles Kings (9): Kings had a great start, but have struggled since. They do have Jonathan Quick, who has established himself as an excellent goaltender, and Anze Kopitar, who has averaged more than a point per game this season.
Maybe, but not likely:
San Jose Sharks (10): The Sharks have been free-falling for awhile now, but just broke a six-game losing streak. They have the talent, but do the Sharks have the heart?
St. Louis Blues (11): A great start followed by a lot of mediocre play. Injuries have played a part in that, and a healthy Blues team could make a second-half run.
Minnesota Wild (12): No offense for the Wild, who have managed just 109 goals in 44 games. The goaltending has not been as good as it needs to be.
Columbus Blue Jackets (13): The Blue Jackets had the best start in team history, yet still find themselves in last place in the Central Division an 13th in the conference.
Calgary Flames (14): The Flames overcame a horrific start to start making a run at the playoffs, but still are seven points out of eighth and behind six teams for that spot.
See you next year:
Edmonton Oilers (15): The future looks bright, but that future is likely in 2013, not 2011.
Playoff Predictions:
Opening round:
Vancouver (1) over Los Angeles (8)
Detroit (2) over Colorado (7)
Dallas (3) over Chicago (6)
Nashville (5) over Phoenix (4)
Semifinals:
Vancouver over Nashville
Detroit over Dallas
Finals:
Detroit over Vancouver: The Wings win in 7 provided they are healthy. If Datsyuk, Modano, Stuart, and Cleary can't come back, well then Vancouver wins this series in 6.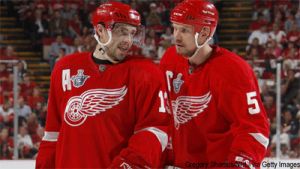 Stanley Cup Finals
Detroit over Boston: No matter who comes out of the West, I think they win. The best chance for an Eastern team is to win series quickly and hope the West teams pound each other into submission.
(Steve Kendall is a freelance writer who has covered hockey for 20 years for various publications, including The Boston Herald, Worcester Telegram & Gazette, and New England Hockey Journal.)