The trade deadline is rapidly approaching and deals are starting to be made. Teams are deciding with certainty whether they are buyers or sellers.
With that in mind here's a look at the goaltending market as the trade market starts to hear up.
Andersen may be the most interesting goaltender potentially on the move. The 26-year-old pending RFA has been solid the last couple years, is under the acquiring team's control and could have some serious value for a team looking for an upgrade in net. Why would Anaheim want to part with him? John Gibson looks like he's ready to take the reins and they've got Anton Khudobin and Dustin Tokarski in the AHL.
The former Conn Smythe winner carries a hefty $6.3 million cap hit, but becomes an UFA in the summer. Ward has a .938 save percentage at even strength since December 18, 10th among goaltenders who have played at least seven games since then. He's playing some of the best hockey he has in a few years. It's not going to get him a Vezina nod, but it might get him traded. Ward has been talked about as a player who is available for a couple seasons now, but with Carolina surging up the standings, might Ron Francis instead try to make a push for a wild card spot rather than selling off parts?
Reimer has been the best goaltender in Toronto throughout this season despite a lingering injury. His .952 even strength save percentage is third best among goaltenders who have played at least five games this season. With Reimer in a contract year and the team still a few years from being competitive, they may be willing to part with him if the right offer comes along. Reimer isn't likely to be the future of the Maple Leafs net.
With three years left on his deal after this one, Howard would be a commitment for an acquiring team. But his playoff and big game experience may be alluring to some teams. Yet, he hasn't been great this year and any hope he may reclaim his starting job has vanished. He's just earned a single start since December 29 and has a .909 save percentage on the season. There's a bit to be desired in his play despite the familiar name.
Kuemper is in a unique situation. He had the chance to take the starting gig last year and struggled in a stretch long enough to require the Wild to trade for Devan Dubnyk. That led to a long-term deal for Dubnyk and the sense that the Wild will have to ship Kuemper out because of cap concerns and that they've made a commitment to another goaltender. Kuemper has rebounded with a strong performance this year and Michael Russo reported on a January 16 Wild broadcast that GM Chuck Fletcher has received calls about Kuemper, who is a RFA in the summer. He could be a part of a package to bring some offensive assistance into St. Paul.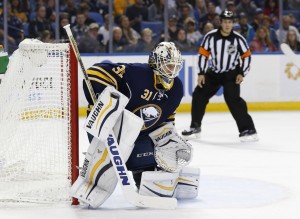 After a rough season with the Islanders, Johnson came into Buffalo and has performed well in the nearly season-long absence of Robin Lehner. He's grabbed 27 games and posted a .919 save percentage. His bounce back year coupled with a solid season, UFA status and reasonable $1.3 million deal makes him a good fit for teams in search of some stability in net. Despite the fact that this years 28th-place Sabres would destroy last year's 30th-place Sabres, they're still at the bottom of the league and they're still sellers.
Ramo has struggled at times, particularly early in the season. He's more or less the starter in Calgary now. Jonas Hiller has had a couple strong starts recently and Ramo's leash is short, having been waived earlier in the season, but it's largely been his job since late October. There's enough good happening to see a team being interested, but Calgary certainly hoped he'd take the reins and become a bonafide starter. That hasn't happened. It's tricky, since the pending UFA may draw some interest and Calgary hasn't always been happy with him. On the other hand, if they move him, they may have tied their wagon to Hiller and Joni Ortio, who they haven't been happy with either.
Hiller would likely be made available if someone was calling and if he keeps playing like he has the last couple games, someone may call. Yet, Flames management has expressed disappointment in every team goaltender. Hiller is no exception. He actually may have been the worst of the three getting ice time early in the season. Barring a Vezina-worthy run from Hiller, it's hard to imagine any team going after him unless the price tag is simply too high on other netminders and the team in question just needs a stop gap.
Scrivens carries a pretty large cap hit for what you're getting in return. He started the season in the AHL and a trade to Montreal gave him a shot as Mike Condon's back-up. Scrivens has allowed seven goals in his two NHL games. There's something to be said for having experience on the bench when you want a younger goaltender in the AHL getting experience himself. That appears to be the plan Montreal executed (making sure Zach Fucale is developing in AHL and they traded away Dustin Tokarski). Scrivens would likely be available once Carey Price is healthy, but there may not be many takers out there.