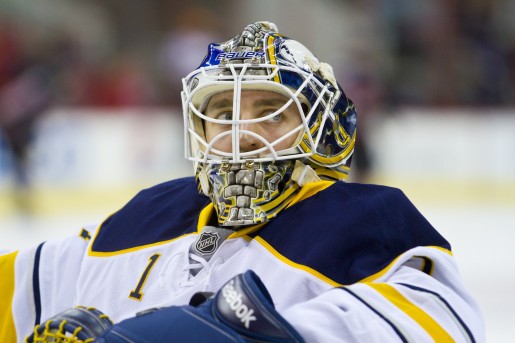 If you haven't been following Sabres backup goalie Jhonas Enroth (@JEnroth125) in recent weeks, you've been missing out on an entertaining and illuminating look at what he's been up during the early days of the NHL lockout.
Let's take a brief look at some of his tweets to catch a glimpse of how he's holding up during this difficult time.
I had a nightmare last night. I dreamed that my car was damaged. First thing I did this am was to go and check it out. #phew #scary #<3Audi

— Jhonas Enroth (@JEnroth125) September 14, 2012
One day before the official start of the lockout, and Enroth has a dream that his Audi was damaged. Bad omen, perhaps? Upon checking it out first thing the next morning, he discovers that all is well, disaster is averted. For we're all aware that for the average NHL player, the disposable income necessary to fix a vehicle simply won't be there in a few weeks. Scary, indeed.
I forgot to mention awesome day at the Ralph. Great game Bills!! #BillsMafia #buffalo #buffalove

— Jhonas Enroth (@JEnroth125) September 17, 2012
One day after the lockout is officially announced, we see a series of tweets from Enroth (and several other Sabres players) being sent from Ralph Wilson Stadium, the home of the Bills, where the biggest disappointment of the day was a loss to the Jets. How inspiring it is to see local athletes sticking together through their respective tough times.
So sick of this lockout. Playing in the NHL have been a life long dream and now we can't bc of GB want more money from us? #imlosingtime

— Jhonas Enroth (@JEnroth125) September 19, 2012
Four days in and Enroth has clearly had it with the lockout. Drafted in 2006, he has been waiting for his chance to shine in the NHL, and at the old age of 24, time is clearly running out on his hockey career. All credit to Enroth for coining a new slogan for the lockout in this tweet, though – "GB want more money" pretty much sums it up.
Just picked up the new FIFA 13 from @oogiegames. It's a good chance ill be on the couch playing it all day. #FIFA13

— Jhonas Enroth (@JEnroth125) September 25, 2012
https://twitter.com/JEnroth125/status/251388337078816768
Before GB can get his hands on all of Enroth's hard earned coin, he heads off to the mall to pick up FIFA 13 (note: not NHL 13). And like any good gamer, he parks himself on the couch and plays all day, only to find later that week that he can't even get himself into an online footy match, let alone an NHL game.
Anyone need a goalie? #willstoppucksformoney

— Jhonas Enroth (@JEnroth125) September 29, 2012
As such, Enroth takes it upon himself to put out his own ad on twitter, stating quite clearly that he is more than willing to stop pucks for cash. Side note: plenty of his NHL brethren are heading over to Europe to suit up for teams in any number of cities. Did Enroth miss that memo?
Why does MLB teams pop champagne like they won a championship game when they just made the playoffs? #settledown

— Jhonas Enroth (@JEnroth125) October 2, 2012
And finally, just this morning, Enroth took to twitter to sound off on MLB's apparent over the top celebrations, where baseball players pop champagne over merely qualifying for the playoffs. While this potentially raises questions about how his time on the couch has dried up of his competitive drive, or in regards to his lack of identification with that euphoric feeling based on the fact that the Sabres didn't qualify for the playoffs last year, it will be interesting to see how he reacts if/when the Sabres achieve a measure of success at some point in the future. Expect a reserved & subdued reaction, saving the bubbly strictly for Stanley.
In all seriousness, Enroth's tweets are but a small sample of the frustrations / attempts to keep busy that all NHL players must be experiencing right now, to varying degrees. And as the lockout drags on, it will be harder and harder to find some sort of humour in the midst of this otherwise dreary situation. One can only hope that a new collective bargaining agreement comes to fruition soon, or at the very least that Jhonas is able to find himself an online FIFA opponent before he resorts to doing more than just stopping pucks for money.
And please, someone watch over the Audi.
End note: Shortly after this piece was published, Enroth tweeted out these two gems, which only serve the reinforce his status as an NHL lockout 'must follow' on twitter.
Just signed a one game contract with La Nova pizza beer league team, debut is tomorrow at 10 pm at Buff State.

— Jhonas Enroth (@JEnroth125) October 2, 2012
Alright. Agent just called. No game with La Nova tomorrow…

— Jhonas Enroth (@JEnroth125) October 2, 2012