It hasn't been since the 2007-08 NHL season that the Chicago Blackhawks played the entire season with a true  #1 goaltender. Even during that season, starter Nikolai Khabibulin only played in 50 of the team's 82 games, losing a significant amount of ice time due to injury.
Since the end of the 2008 season, the 'Hawks have cycled through inconsistent, and sometimes above-expectation performances from a number of netminders.
Cristobal Huet was signed before the 2008-09 season in what appeared to be a move to replace Khabibulin, but with no other franchises willing to take on "The Bulin Wall's" hefty $5.6 million contract, the two ended up splitting duties for the entire year. The playoffs eventually saw Khabibulin reestablish himself as the starter, but it wasn't enough for the team to resign him following their third-round playoff loss at the hands of the Detroit Red Wings.
With Khabibulin gone, Huet was expected to claim a firm hold on the starting position entering the 2009-10 season. The year prior, the Blackhawks had signed undrafted Finnish prospect Antti Niemi, who had spent three seasons playing in Finland's SM-liiga. Niemi managed to crack the lineup as Huet's backup, and everyone knows the story from there: Niemi slowly ate into Huet's playing time, establishing himself as the #1 guy by the end of the regular season and into the playoffs, where he helped backstop Chicago to their first Stanley Cup in nearly five decades.
Following the championship season Niemi was awarded $2.75 million through arbitration, an amount the cash-strapped Blackhawks weren't willing to pay. Instead, they devoted most of their available cap room to matching the offer sheet made to Niklas Hjalmarsson by the San Jose Sharks at a rate of $3.5 million per season.
With the player who looked like he was going to finally provide some stability in net  gone, the Blackhawks turned to the proven Marty Turco to handle the job during the 2010-11 season. However, Turco's brief stint in Chicago was unimpressive: in 29 games he had a 3.02 goals against average and a paltry .897 save percentage.
Enter Corey Crawford, the player long considered the Blackhawks' goalie of the future who had spent the majority of five seasons playing in the AHL and had now finally earned a backup role to the veteran Turco. Crawford surprised, winning an impressive 33 games to go along with a 2.30 GAA and .917 save percentage. From January 7-15, Crawford posted an impressive 176 minute, nine second-long shutout streak that was the longest by a Blackhawks goaltender since Tony Esposito in 1972.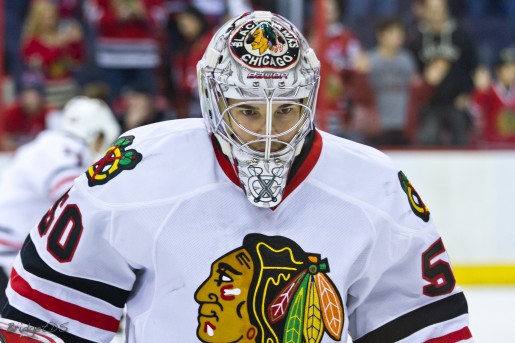 Once again, with the emergence of Crawford, it appeared as though there would be some stability in net in the Windy City. General Manager Stan Bowman evidently agreed, signing the former second-round draft pick to a three-year, $8 million contract shortly after the season concluded. It seemed like a sound investment at the time – after all, Crawford had been the first 'Hawks goalie to reach the 30-win plateau since Jocelyn Thibault won 33 in 2001-02.
Finally we reach the 2011-12 season, where Crawford entered firmly entrenched as the starter. As every team needs a backup, Bowman signed former Senator/Flyer/Duck Ray Emery, whose career seemed in question due to the diagnosis of avascular necrosis – a disease where interruption of the blood supply to certain bone components leads to the decay of those bones.
Inconsistent play led to Crawford being benched twice during the season in favor of Emery, whose comeback seemed like a miracle in itself. Both posted decent numbers throughout the season, but neither was able to cement their place as the go-to guy.
An impressive late season surge by Crawford, where he led the team to an 8-1-2 record over his final 11 games, led to him being named the starter for the team's opening round playoff series against the Phoenix Coyotes. However, he wasn't able to put up the same impressive numbers in the playoffs, as the Blackhawks were eliminated in six games and Crawford's save percentage again dipped to a subpar .893.
Before the 2011-12 season finished, Emery was signed to a one-year contract extension worth $1.15 million, ensuring the Blackhawks would enter the following season with the same two goalies for the first time in years.
So where does that leave the Blackhawks entering the 2012-13 season?
The Case for Crawford
On one hand Head Coach Joel Quenneville can leave the job in Crawford's hands, which will likely be the case to start the season. Crawford now has two seasons as the quasi-number one guy in Chicago as well as being a sort of "home grown" talent, having been drafted by the Blackhawks and working his way through their minor league system.
In addition, despite his inconsistency, Crawford has put up decent numbers overall, posting a GAA of about 2.51 during the past two seasons and a save percentage around .910. After winning 30 games last season, he is also the first Chicago goaltender to post back-to-back 30-win seasons since Ed Belfour did so in 1992-93 and 1993-94.
Crawford moves well for a man of his size (6'2", 200 pounds) and is able to get up and down from the butterfly position with ease. In addition, he's got active hands, giving himself the ability to react quickly to tipped or deflected shots.
On the downside, Crawford is sometimes still visibly nervous in big games and important situations, as evidenced by a pair of soft game-winning goals he surrendered to Phoenix' Mikkel Boedker in last season's playoffs that turned the tides in Phoenix' favor.
Likely related to his nervousness, it also sometimes appears as though Crawford is reluctant to leave his crease and play the puck and he struggles in breakaway situations. These are both areas he'll need to improve upon, but it may be something that comes naturally as he gains more experience in the league.
Edge to Emery?
First and foremost, Emery seems to display a poise that Crawford is lacking at this stage in his career. Although he is only about three years older than Crawford, "Razor" seems much more composed in pressure situations. When he was called upon at times to fill in when Crawford was struggling, he did an admirable job, something that's never easy for a backup who is often forced to immediately pick up the starter's slack.
In the 2006-07 postseason, Emery played in 20 games with the Ottawa Senators, six more than Crawford has in his entire career. In total, Emery has 36 games of playoff experience, an invaluable trait to a team that hopes to be playing for a championship year in and year out.
The Hamilton, Ontario native was impressive during that regular season, posting a .918 save percentage in leading his Ottawa Senators team to the Stanley Cup Finals where they were eliminated by the Anaheim Ducks. However, in 2007-08, his numbers dropped significantly, as he allowed 3.13 goals against per game to go along with an ugly .890 save percentage in 31 games.
After his very good numbers in Anaheim in 2010-11 in a limited number of games and his decent job backing up Crawford last year, it remains to be seen whether or not Emery can shoulder a significant load, especially when one considers the hip condition that many thought would force him into retirement.
It would appear as though management is not sold on either of the questionable goaltenders, as they reportedly pursued New Jersey Devils stalwart and future Hall of Famer Martin Brodeur heavily in the offseason. He eventually decided to return to the team he's spent his entire NHL career with, leaving the Blackhawks to choose between Crawford and Emery once again.
There were also talks that the team was pursuing rival Vancouver's Roberto Luongo, but those talks have since quieted and it seems unlikely that the team would be willing to part with the pieces necessary to bring the former all-star to Chicago.
The job will be Crawford's to lose if/when the season finally begins, but don't be surprised to see Emery capitalize on his opportunities if Crawford remains inconsistent.
Players in the Pipeline
The future for goaltenders in the 'Hawks' system doesn't appear to be much better, as Carter Hutton is the starter for their AHL affiliate, the Rockford Icehogs. Hutton, 26, has yet to play an NHL game and has recently spent time in the ECHL, so counting on him to contribute at the NHL level anytime soon would be an irresponsible move by the front office.
Alexander Salak, a Czech goaltender acquired along with Michael Frolik for Jack Skille in 2011, was touted as the "next" goalie for the Blackhawks, but his career has fizzled after just one season in Rockford and he is no longer with the team.
That leaves Kent Simpson and Mac Carruth, two 20-year-olds who have spent the past few years in the Western Hockey League. Carruth was a seventh-round pick and never put up particularly inspiring numbers playing behind a stacked Portland lineup. Simpson, however, was drafted in the second round out of Everett in 2010 and looks like he may be in the mix for some significant playing time in Rockford in his first professional season.
Outside of Simpson, the future in net looks bleak for Chicago. It's a position that, surprisingly, Bowman chose not to address until the seventh round of the 2012 NHL Draft, despite the organization being thinner at that position than any other.
If Corey Crawford can't solidify himself as a legitimate NHL starter, expect Bowman to be much more willing to sacrifice players and picks to acquire a netminder who can backstop the otherwise loaded Blackhawks to the promised land.
Follow Tim on Twitter @tpigulski