The Detroit Red Wings lost to the Tampa Bay Lightning 5-2 Monday night, forcing a Game 7 in their first round playoff matchup. While that is a big enough story in it of itself, there is also a developing situation regarding Detroit defenseman Niklas Kronwall. Known for his big hits, the 10-year veteran of the league laid a big one on Lightning forward Nikita Kucherov late in the second period with his team down 3-1. No penalty was called on the play, but the belief is that the NHL Department of Player Safety will look into it before Game 7.
Clean or Dirty?
GIF: Here's the Kronwall hit slowed down & frozen at P.O.C. pic.twitter.com/9JfmoO11eI

— Pete Blackburn (@PeteBlackburn) April 28, 2015
Looking at the hit in slow motion, it does appear that Kronwall leaves his feet when he makes contact with Kucherov. While that automatically seems egregious and could be considered charging, the NHL Department of Player Safety points out that a player leaving his feet when making a big check doesn't necessarily require supplemental discipline.
In the video above, a hit by Ryan Callahan, now on the Lightning, is used around the 1:28 mark as an example of a player coming off his feet during a big hit, but not requiring supplemental discipline by the league. Callahan left his feet and led with his shoulder, but since there was no significant contact to the head there is not need for a suspension or fine.
Taking a look at Kronwall's hit, though, an argument could be made that he did make significant contact to Kucherov's head. But head contact also doesn't necessarily mean an automatic suspension, either. In the instance shown at 2:04 in the video above Cal Clutterbuck hit Alex Pietrangelo and made contact with his head, but that was because Pietrangelo leaned forward while Clutterbuck was going in for the check. That is not the case for Kronwall, as Kucherov appears to jerk his head backwards to avoid the hit and Kronwall makes contact with his head anyway.
An argument could be made that the main contact came with Kronwall's forearm to Kucherov's upper chest, but his shoulder makes contact with Kucherov's head almost instantaneously. It is a tough call, but based on the NHL Department of Player Safety's video there might be enough evidence to deem this hit suspension worthy.
Kucherov's Take
When asked about the hit, Kucherov didn't seem to have a problem with it.
Kucherov said he is okay after Kronwall hit, didn't call it dirty: "It's a hit, I'm not going to cry now. It's part of the game."

— Joe Smith (@JoeSmithTB) April 28, 2015
Everyone expects hard hits in the playoffs, especially when it's an elimination game, but players do tend to react negatively if they feel someone was trying to take them out. Kucherov did nothing of the sort, which might end up helping Kronwall's case. The hit did not result in an injury and Kucherov has come out and defended the hit himself. In the end, however, it is up to the Department of Player Safety.
Ramifications
If Kronwall does end up getting suspended for this hit, it would be a big loss for the Red Wings. In his six games inthis year's playoffs,Kronwall has two assists and played over an average of 23 minutes per game. And of course his physical playing style cannot be overlooked, which helps stop a speedy team like the Lightning from transitioning in the offensive zone.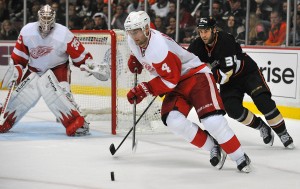 Kronwall would be a major loss on the blue line and on the Wings' power play unit, which struggled in Game 6 going 1 for 7.  Detroit's option to fill in would beJakubKindl, who hasn't played since April 11 against the Carolina Hurricanes, and I think they'd rather avoid having to play someone who hasn't had played in over three weeks in a decisive Game 7 in the Stanley Cup Playoffs if they could.
There's no telling how the Department of Player Safety will decide, but if they do end up suspending Kronwall even for a game it could spell the end to Detroit's season.
Student at Fordham University studying Communications and Media Studies with a concentration in journalism. New York Rangers and New York Yankees beat reporter and producer at WFUV, 90.7 FM. Contributor for the Detroit Red Wings on The Hockey Writers. Contributor for TRL Hockey. Writer and Sports Editor at The Ram, Fordham University's newspaper.