It was fitting. It was oh, so fitting. Daniel Alfredsson was home.
Alfie woke up in Ottawa, the place where it all began. Though it was a time for celebration, it wasn't just a day to reminisce about the past and share stories. There was work to be done.
Like anyone would expect, Alfie spent the morning preparing. He had written a few words for his press conference with the Senators organization. The 41-year-old Swede said that he practiced his speech in front of a friend but couldn't get through it without pausing to weep.
That certainly wouldn't cut it for the former Senators captain.
So yesterday morning, he practiced… ten or fifteen times in front of the mirror, just for good measure.
"I rehearsed it so many times… I told the boys I would this morning so they wouldn't be shocked and (saying) 'what's wrong with dad?'" – Sportsnet. Published: Dec. 4, 2014.
Of course he did it for his kids, what else could you imagine Alfie doing it for?
Sitting between Eugene Melnyk and Bryan Murray around 9:45 a.m., Alfie signed a one-day ceremonial agreement with the Senators. Trying ever so hard to hold back the tears, he announced his retirement from hockey.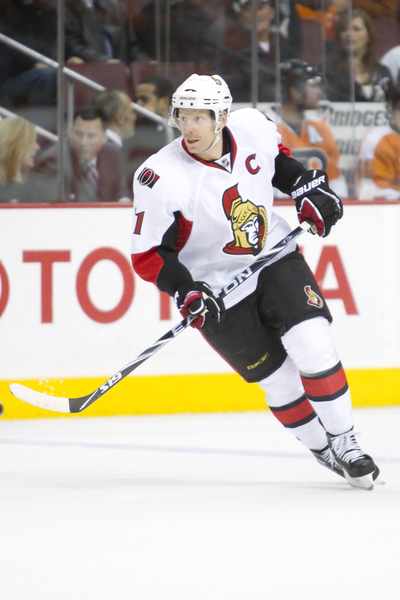 In his speech, Alfie said what you think he would say. He thanked the organization, the city and the fans. He looked back on his contributions to the community, the ones made possible by the hockey club. And yes, he also expressed his gratitude towards the Detroit Red Wings, but you knew he wouldn't leave them out. It's simply not the kind of person Alfie is.
Melnyk and Murray presented the red jersey Alfie wore in his final game as a Senator in Ottawa, so he could put it on for the night's warmups for one last lap as a Senator. Ottawa always wears their black third jerseys on Thursday night home games, but for Alfie, an exception could be made.
At 7 p.m., 30 minutes before puck drop, the Canadian Tire Centre was packed.
The Senators all walked out of the dressing room, skated on to the ice and formed a tunnel for No.11 to skate through. As the crowd rose to their feet, chanting and screaming the name they had sung out for 17 seasons, Alfie took the ice.
I had the privilege of witnessing these events. As I stood in section 318 of the CTC, surrounded by overwhelmed Sens fans filled with nostalgia, my eyes began to water and soon enough, the tears streamed down my face.
Watching Alfie raise his stick and salute the Senators faithful, every fond memory I have of the captain seemed to come back to me all at once.
I remembered the goals, obviously – the overtime winners, the milestones, the playoff performances. But what hit me with the most joy and satisfaction was the memory of the encounter I had with him.
Alfie took the time to talk to my midget hockey team at our local hockey rink one night when a few of my teammates and I noticed him after we got off the ice. We all inched closer and closer until one of us (definitely not me) confronted him. He answered all the silly, childish questions and spoke to each one of us like it was a 1-on-1 conversation.
Everyone has a different opinion on Alfie the hockey player, but no one has a bad word to say about Alfie the person.
The pre-game ceremony was even better.
As his wife, Bibbi, and four kids, Hugo, Loui, Fenix and William (all decked out in Erik Karlsson jerseys), joined him on the ice, Alfie had a couple final words to say.
"It's time to take some time off, but let's not say goodbye."
After a ceremonial faceoff with Karlsson at centre ice, Alfie took one last skate, saluted one last time, and lead his family off the ice.
If you don't already know, the Senators lost the game. But did that really even matter? Daniel Alfredsson was home.
A fitting end to an illustrious career.