Traditionally, the University of North Dakota has been a second half team. This season, UND has gotten off to a great start. After two months of play, UND has a (10-3-2, 5-2-1 NCHC) record and is the number one ranked team in the nation.
One of the reasons UND has gotten off to a quick  start has been the play of junior forward Drake Caggiula. Wednesday, Caggiula was named the NCHC Player of the Month for November. On Thursday, Caggiula was named as the HCA National Player of the Month for November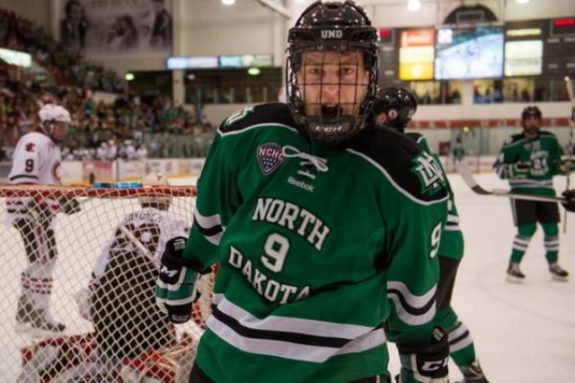 November a month to remember
For Caggiula, November has been a month to remember. Caggiula scored 13 points in nine games (6g-7a—13pts) and averaged 1.44 points per game. Caggiula had four multi-points games and two of his six goals were game-winners.
That's a pretty good month by anyone's standards.
Caggiula's statistics speak for themselves. The junior forward is tied for second in the nation in points (7g-13a—20pts). He's ranked third nationally in assists (13). He's also tied for first nationally in shorthanded goal (2). Caggiula is also ranked eighth in the nation in points per game (1.33).
Caggiula also leads the National Collegiate Hockey Conference in points and has a four-point lead over Miami's Sean Kuraly.
Caggiula's efforts haven't gone unnoticed
Caggiula efforts haven't gone unnoticed by his teammates. Caggiula is very well respected in the locker room.  Here's what a few of his teammates had to say.
"Obviously we lost Rocco (Grimaldi) from last year who provided a lot of goal scoring," sophomore defenseman Troy Stecher said. "So, Drake is stuck in that role, he's provided a lot of offense.  He's just a good guy in the dressing room. Everyone likes him. He gets along with everyone. He goes out and works hard every single day."
"Drake,  he's a great player," senior forward Connor Gaarder said. "He brings a lot to the table. He's an extremely physical player, and he's a fancy guy too. He can play it both ways.  Upfront, he's a big player for us. I saw today that he won the monthly honors for NCHC. So, I am proud of him for doing that. He's been helping our team out greatly down the stretch."
Caggiula's play hasn't gone unnoticed by the UND coaching staff either.
"It's nice to see him gain some of the national accolades," Hakstol said. "Kind of the hidden secret, everyone in our locker room has always known how good of a hockey player he is, and how good he is offensively. It's funny with some of the spotlight that's coming now; he's not getting a lot of credit for how complete of a player he is. He gets the credit for the offensive production and the offensive numbers. That's a little bit of the way it works. That's what brings the attention."
"Most impressive is how complete he is. He's hard in every area of the game. He's reliable in every area of the game. Right now, it's just as if his confidence level – his ability to go out, and make players at any given time. He's grown and taken the next step."
November @TheNCHC leaders: Points: Caggiula, 13 Goals: Caggiula, 6 (tied) +/-: Parks, +10 Blocks: Stecher, 21 Wins: McIntyre, 6 (tied)

— North Dakota MHockey (@UNDMHockey) December 1, 2014
Team goals come first
Caggiula is a modest individual, and when he was asked about being name the NCHC player of the month, he didn't seem to be all that impressed with the honor.  Caggiula is definitely more concerned about team goals than his personal achievements.
It's kind of a small reward," Caggiula said. "I just found out right now, basically. It's a small honor, the kind that gives you a small sense of how you've been playing. But really it doesn't mean too much."
"Obviously, you're focused on what the team is doing and what you can do to help the team win. It's a small reward, but at the same time you're thankful for it. You have to make sure that you improve for the next month and help the team win."
This season Caggiula has taken his game to another level and is playing with a lot of confidence. Caggiula worked hard in the offseason and attended the Buffalo Sabres development camp. His hard work during the off-season appears to be paying off.
"I had a great camp there," Caggiula said. "I learned a lot of things. I did some power skating there. I did some power skating over the summer with my old coach back home.  Did some stick handling work there."
Caggiula continued, "Just the confidence of being invited to a camp, I got passed up three times in the draft. It's kind of a confidence booster when a team invites you to a camp. I felt way more confident coming into this season. I guess that was kind of part of it. Mostly just the coaching staff giving me a bigger role and letting me elevate my game."
In conclusion, it will be interesting to see how the season plays out for Caggiula, so far so good.