Rankings:
Boston College
Minnesota
Wisconsin
Quinnipiac
Clarkson
Boston University
Bemidji State
Harvard
Minnesota Duluth
St. Lawrence
Game of the Week
Quinnipiac (13-0-2) at Harvard (4-2-2), Sat. 12/6 at 4 p.m. EST
After beating weaker teams in dominant fashion to start the year, the Bobcats have earned a couple of big wins over Clarkson in back-to-back weeks. They've all but proven now that they're a legit contender for a national championship, behind a defense that's been very hard for opponents to crack. Chelsea Laden is running away with the lead in every major goaltending category, but at the other end, Emerance Maschmeyer is at least her equal in terms of game-changing abilities, meaning the Quinnipiac offense will have to pounce on its chances, too. The Bobcats' defensive efforts have been remarkably consistent this year, but they don't want to see their production dry up, either.
Tomorrow we'll have Harvard senior @positiveperillo run our account to show you what game day is like for an HH super fan #superfantakeover

— Harvard W Hockey (@HarvardWHockey) December 4, 2014
Harvard, in its last outing against a top-tier team, gave up 10 goals to Boston College's high-flying offense. The Bobcats don't have as much firepower, but they've got a few players who the Crimson need to keep an eye on. Matching a tight defense will be key, but Harvard also needs to see its top players carrying things and creating chances. Miye D'Oench has been the Crimson's best player and sophomore Sydney Daniels has stepped up, but Lyndsey Fry has just one point in eight games this season, a markedly low output for a U.S. Olympian. The good news: Harvard is 3-0-0 at home so far, and the team will definitely be looking to keep that record perfect here against Quinnipiac.
Top-10 Teams in Action
#1 Boston College at Maine, Fri. 12/5 @ 5 p.m. EST; #1 Boston College at Dartmouth, Wed. 12/10 @ 7 p.m. EST
St. Cloud State at #2 Minnesota, Fri. 12/5 @ 7 p.m. CST & Sat. 12/6 @ 4 p.m. CST
North Dakota at #3 Wisconsin, Fri. 12/5 @ 3 p.m. CST & Sun. 12/7 @ 2 p.m. CST
#4 Quinnipiac at Dartmouth, Fri. 12/5 @ 7 p.m. EST; #4 Quinnipiac at #8 Harvard, Sat. 12/6 @ 4 p.m. EST
Cornell at #5 Clarkson, Fri. 12/5 @ 7 p.m. EST; Colgate at #5 Clarkson, Sat. 12/6 @ 4 p.m. EST
#6 Boston University at Vermont, Sat. 12/6 @ 4 p.m. EST; Providence at #6 Boston University, Mon. 12/8 @ 7 p.m. EST
Minnesota State at #7 Bemidji State, Fri. 12/5 @ 7 p.m. CST & Sat. 12/6 @ 4 p.m. CST
Princeton at #8 Harvard, Fri. 12/5 @ 7 p.m. EST
#9 Minnesota Duluth at Ohio State, Fri. 12/5 @ 6 p.m. EST & Sat. 12/6 @ 6 p.m. EST
Colgate @ #10 St. Lawrence, Fri. 12/5 @ 7 p.m. EST; Cornell at #10 St. Lawrence, Sat. 12/6 @ 4 p.m. EST
What to Watch For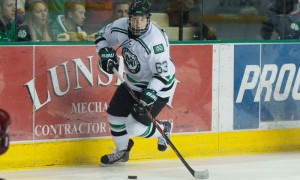 North Dakota heads on the road to Wisconsin this weekend after earning its first home sweep of the year last week. Top forwards Meghan Dufault and Becca Kohler have gotten back on the scoresheet, and sophomore Amy Menke has made an impact in recent weeks while skating on the top line with them. The Badgers will look to overpower UND with their own offense, though a strong effort in goal from Shelby Amsley-Benzie held them off last time these teams met. Wisconsin, however, hasn't given up a goal in the last 330 minutes, 56 seconds of play, so its own goaltending and defense will be more than up-to-task for this one.
The Big Red have a big weekend coming up, with road tilts against Clarkson and St. Lawrence. The Golden Knights all of a sudden have something to prove again after those two losses to Quinnipiac, so they'll no doubt be hungry for the win here. As for the Saints, they've earned their spot in the top-three of the conference. Neither team's offense is all that much deeper than Cornell's, so the Big Red might have an easier time handling pressure and sustaining some of their own, with big-time forwards Jillian Saulnier and Brianne Jenner breaking things open.
Things have turned sour for Vermont after getting off to the program's best-ever start; the team is 2-6-0 in its last eight. The Catamounts will look to turn things around when they host Boston University on Saturday. With top threats like Marie-Philip Poulin and Sarah Lefort up front for the terriers, a good goaltending effort is desperately needed for UVM, though that's been a little hard to come by. Amanda Pelkey, who's been quiet of late with just two assists in four games since a sweep over Syracuse, will also be counted on here to provide some production.
Princeton is another team that had a good start but has since fallen off a bit. The Tigers have a couple of notable conference games this weekend against Harvard and Dartmouth. They've hung in games this year, most notably last weekend in a 2-1 loss to Minnesota; goaltender Kimberly Newell has had a big hand in that. Princeton, though, needs to find a way to get the edge over opponents. Players like Molly Contini and Kelsey Koelzer have helped them do that at times, but the Tigers need some consistency in that area to truly separate themselves.
Gabriella is now in her third season of covering NCAA and international women's hockey for The Hockey Writers. She is the founding editor of At Even Strength, a website dedicated to providing full-time coverage and analysis of women's hockey. She is currently working towards a degree in Communication at the University of North Dakota, and is also interning with UND Athletic Media Relations. She can be reached on Twitter (@gabfun) or via e-mail (gfundaro10 [at] gmail [dot] com).