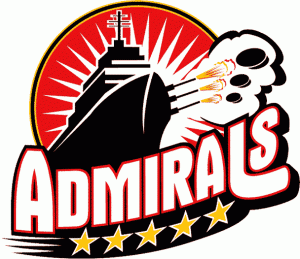 Bus travel is the way of life for many minor league teams no matter the sport. The American Hockey League is no exception. When you dig a little deeper into the travel situation you'll find that the Norfolk Admirals, the AHL affiliate of the Anaheim Ducks who compete in the Eastern Conference, are the only team in the East that play their home games south of the Mason-Dixon Line.  Their home arena is the Norfolk Scope located in Norfolk, VA. The Admirals closest foe is the AHL affiliate of the Washington Capitals, the Hershey Bears, who are stationed in Hershey, PA which is five hours away.
So when Norfolk leaves the southern hospitably behind in Virginia, they depart in style on a state of the art sleeper bus which has all the bells and whistles including TV's, Wi-Fi, card tables, refrigerators, and a long row of bunks so the players can snooze in route to their next tilt.
Many AHL players consider that the hardest part of playing in the American League is the travel.  Devante Smith-Pelly commented on the AHL travel stating,
"It's one of the hardest things about the league. Not a lot of guys are used to driving eight, nine hours. It's defiantly hard on the body, but it also teaches you about mental preparation. "
Admirals captain Nate Guenin backed his teammate saying,
"Yea I would say so, especially when you have a three in three and you're eating pretty much bar food on the bus after a game. It's tough, but it's part of the gig and you find a way to battle through it."
Even Admirals associate coach Mike Haviland agrees with his troops,
" Yea for sure getting in at three or four in the morning and have to play the next day. It's certainly something mentally on them and they have to learn. I think it's a good thing to a certain point to learn that travel because in the National Hockey League you're in most of those cities by eleven or twelve o'clock at night."
With all the time and miles the Admirals log on the road, there is a lot of time to kill and every player has their favorite thing to pass the time on the bus. Admiral's rookie Chris Wagner shared that his favorite thing to do on the sleeper bus was to play Shards, a card game that compares to Trump.
One good thing that comes with the travel is the team camaraderie and an excuse to get the veteran players away from their wives and the younger players away from their girlfriends.  Jordan Hendry, a veteran of the AHL, shared how important a roadie is to the team,
"I think it's a huge part of team bonding. You get away from home and you're forced to be on that bus together and you build relationships and team chemistry that way."
Just like any other vehicle on the road, there are rules to abide by. A couple of those rules include rookies in the front and in addition they have to clean the bus after each trip. Another one of the rules has to do with the number two and the bathroom. That's a cardinal rule to live by on long treks.
Along with having to clean the bus and not having the first say so on bunks, rookies can have a bumpy journey. Chris Wagner shared a story that could only happen to a rookie,
"I remember our first road trip. I got on the bus and there were six of us sleeping on the floor and I said what am I getting myself into." Not to fear, the Red Sox fan now has his own bunk and one could imagine that it is up front with his fellow rookies.
Of course when the team goes away, everyone has a city  where they prefer to play.  When Jordan Hendry was with the Rockford Icehogs, the American League affiliate of the Chicago Blackhawks, he preferred a Texas get-away while Smith-Pelly chimed in about Hershey, and Wagner likes to compete in Providence because it's close to his hometown.
Comparable to home, players have roommates on the road. Usually it's veterans with rookies so the AHL vets can teach the newcomers about life on the road and how to keep in shape while they are away from home. For example, first year pro Hampus Lindholm is paired up with fellow blue liner Jordan Hendry while Wagner rooms with Maroon or Bodie away from home.
The coaches do room assignments at the beginning of the season. Coach Mike Haviland gave his two cents about how it's done,
"We put a younger guy with an older guy and try and figure out whose with whom. If we have to move guys around, we try to get that done too, but room assignments are done by coaches. You're looking at who can help who and try to win hockey games."
Living on the road can take a toll on the team so every now and again there are some pranksters that come alive. Coach Haviland shared that Ryan Parent, Patrick Maroon, and Nate Guenin are the culprits behind the pranks. While talking with Guenin, he mentioned that Pierre-Luc Letourneau-Leblond "likes his chicken wings on the bus." No one knows if that's a little joke or a true statement.
It seems that not everyone is a good bus rider. Smith-Pelly chirped about Luca Caputi's mannerisms on the bus,
"I've been sitting beside him a couple times and he's got his legs wide open and he doesn't give anybody any space so he likes to take up a lot of room."
Rookies Hampus Lindholm and Chris Wagner also pinged back and forth about being on the bus with one another,
"Hampus is obvious to everything that happens to everybody on the bus."
Lindholm battled back stating,
"He is an angry person, he can't tell me about winning stuff on the bus and taking his seat on the bus."
it's  small jabs like that keeps the mood light and is the foundation of team chemistry and a stepping stone to winning games. It is true you know– squads that have successful relationships off the ice succeed on the ice as well.
Follow Ted on Twitter @bauerhockeydude 
Ted grew up in Virginia. Warren has a passion for the AHL and dishes out articles about the Norfolk Admirals and the AHL. Follow him on Twitter @bauerhockeydude