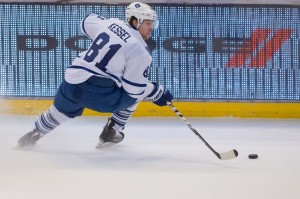 Welcome to another addition of the Maple Leafs Mailbag.  While you no doubt are familiar with the concept of mailbags, this one comes straight from under the desk of the Toronto Star's Kevin McGran – I sneak in when he's on lunch and steal it!!!
Jokes aside, McGran does a great job covering the Leafs but I think offering an alternate take to the same questions has value (and I include up to ten% more indie-rock videos to listen to while you read) so let us get it on.
Don't forget to read the original here, or the last version of my heisted questions here. 
QUESTION:
Which teams have a legitimate interest in Phil Kessel, and are any of them offering a high draft pick(s), quality player(s), or some combination, rather than third-liners and third-rounders? I see Carolina speculation on Twitter.
ANSWER:
Unlike many fans who are ready to write Kessel off after a prolonged slump during a trying season, NHL General Managers can be counted on to have a much more realistic view of his value. This is a guy who has been a top-ten NHL scorer in three of the last four years. He is one of the best players in the NHL and should garner the Leafs a nice return should they choose to move him.
The Leafs should get back at least one budding superstar (think Jonathan Huberdeau or someone similarly young with high potential) another player and a pick.
What teams are interested? I would think nearly every team in the NHL would be. If he isn't the centerpiece the team is built around, and you provide him with a legit set-up man, and shelter his minutes like they do for Patrick Kane in Chicago, you have a guy who probably hasn't even had his best year in the league yet.
If the Leafs are only offered cheap deals, they should just keep him, as he is awesome.
Specifically though, I would think Florida, Carolina, New Jersey, Dallas and Colorado are all good fits.  As for his contract, it isn't prohibitive at all.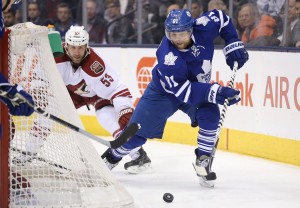 Thanks for taking questions.
Why wouldn't the Leafs trade Phil Kessel this summer rather than bring him back next year? While his trade value is lower now than it probably was last year, another poor season and it will be even lower than it is now. Moreover, from what I have read, Kessel does not appear to be adaptive to the new systems the Leafs are trying to play, and if your highest played player doesn't buy in, few others are likely. (Compare last year's Capitals and this year's.) Finally, Dave Nonis' argument for not trading him ("Whatever team wins the Stanley Cup this year will have a Phil Kessel in the lineup. I can guarantee that") seems to miss the point and be an argument for trading him at the same time. It misses the point because the Leafs – if they really do go the tear-down route – are not looking to win the Stanley Cup next year, or in the next few years – i.e., Kessel's prime years – so it would make no difference to the Leafs to have him in their lineup. It also is an argument for trading him because it assumes that there are more than a few teams – teams with higher odds of winning the Cup than the Leafs – that do not have a Kessel, know they need one, and know that there are not many places to find one who is available.
The only argument that I can see for not trading Kessel is that the offers for him are ridiculously low. But if they are ridiculously low, than too many of Nonis's former GM colleagues do not share his opinion that a team needs a Kessel to win the Stanley Cup.
At no point in this rambling paragraph do I detect a question, other than in your first sentence and that one is confusing. To answer what I think you meant, the Leafs could keep Kessel because he is one of the best players in the NHL and they've never put him in a situation where he can really succeed, so it'd be nice to see what he could do if given the opportunity.
The idea that the Leafs will waste the  next five years rebuilding like Edmonton is bizarre considering that the amount of assets the Leafs have at the start of their rebuild is so unusually high.
They could easily be competing for the Playoffs next year or the year after, depending on how they approach things. I don't think Shanahan  is going to be following convention, so I'd say keeping Phil Kessel is, at the least, a strong possibility.
Why are Leafs not targeting the BU goalie Matt O'Connor?
ANSWER:
It beats me.  I suppose that a free-agent goalie would be unwise to select a team that has two incumbent starters and the worst defense in hockey.  Who knows with goalies anyways? I am sure the Leafs were interested, but what FA goalie is picking Toronto on purpose?
What are your thoughts on the Leafs potential three players they could draft this year, Dylan Strome, Noah Hanifin, and Mitch Marner? Do you think all three will be elite players at the NHL and which player do you think gets picked? My guess would be Strome, Marner, Hanifin, although if Hanifin and Marner are only available I would be happy if they took Hanifin. Nothing wrong with having Hanifin play with Rielly sometime down the road.
Based on what I understand about the Leafs management group, they do not care about anything but talent. I therefore strongly believe that unless the Coyotes select him first, they will use their pick to take Mitch Marner.
I don't believe they'd consider for a second burning a top pick on a defenseman, unless he seemed like the second coming of Drew Doughty, which I don't think Hafinin is.  I think size  is the only thing Strome has over Marner. You need to be concerned that Strome tore up the OHL playing against secondary defensive players because he was playing behind McDavid.
I don't think you can make a bad choice here, but given all the information I have, I think Marner is the Leafs' guy.
Comparing the Flames after Giordano was injured to the Leaf's decision to rebuild is nonsense. Who were they going to dump to continue the rebuild? The Leaf's need to dump Phaneuf, Kessel and half their team, get an NHL goaltender and draft or trade for some character. The Flames had no choice to continue down that 'bumpy road' and for that matter what was bumpy about it. Also, what does Brian Burke's picture have to do with anything? Jay Feaster is the guy who acquired most of the players who have made the difference. Unfortunately, your 'corsi' and analytics b.s. does nothing to measure character, heart and intestinal fortitude. When was the last time Phil Kessel dove in front of a point shot?
Damn, that has to be ironic. Right?  If not, easily the worst question I've seen in one of these, ever.   Seems like a good time for some Wolf Parade.
Great article on Tuesday about rebuilding teams. In 8 years, the Senators have missed the playoffs 3 times. Are they rebuilding? Are they becoming a contender? Calgary, Vancouver, and Winnipeg all could miss the playoffs next year. Other than Chicago, and until last year, Boston, nobody was a slam dunk. I can't lump LA in the mix when they fail to make the playoffs. Good team, yes. What they do next year is hard to say. At least the Leafs offer consistency. (sad face)
Smells like a good topic for a poll, how do the Canadian teams do next year?
The problem with the internet is that when stuff was actually being printed, you had to account for space. Polls? Polls are the worst. Who cares what the majority of uninformed people think?
How will Canadian teams do next year?  I think you better stay up late and call the first late-night infomercial psychic you can find, because how can anyone else forecast next year's standings during the second round of this year's Playoffs?
QUESTION:
I don't get it – Boston fires Peter Chiarelli and Edmonton hires him – and has to pony up with a 2nd round compensatory pick? What agreement is that in – I doubt the CBA?
Why? Boston fired him. He may be under contract, but he was hired to by the General Manager – and they opted to longer allow him to perform those duties.
I'm not a fan of either (unfortunately, TML fan), but it just doesn't make sense to me.
ANSWER:
I highly doubt that Edmonton will end up paying anything for Chiarelli. Like you said, Boston fired him and presumably would rather not pay him for the three years he has left, which they don't have to do once Edmonton hired him.
Doesn't hurt to ask though, but I highly doubt a second-rounder would be the pick, if one does go to Boston.
And I am not 100% but I don't think the CBA has anything to do with non-player employees of the NHL.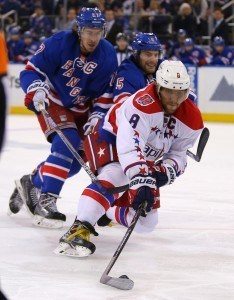 QUESTION:
My question stems from the discussion surrounding Barry Trotz and Alex Ovechkin, but applies to Randy Carlyle and the Leafs as well. We constantly read that players won't listen to a coach but I've never once seen someone consider the opposite, that the players were listening and the coach was telling them to do the wrong things. This year Ovechkin has turned around because Trotz made him listen, but by all accounts from former players in that locker room he always did what the coach asked him which suggests Dale Hunter and Adam Oates were asking him to do the wrong things.
My question is, why do we never really see a critique of a coaches system or tactics when a team struggles and only ever hear that the players aren't listening and are bad leaders?
ANSWER:
Good question. The reason we only ever hear about a coach's leadership and not his tactics are because assessing that requires work and it's harder.  It's really easy to say that a coach lost the room because it can't be proven unless you're on the team or in the room – it's pure speculation.
As for Carlyle, he is statistically the worst coach in the NHL and incapable of icing a team that can possess the puck.  He deserved to be fired long before he was. The people who say he someone "knew" how to "beat the possession game" are just flat-out wrong. Carlyle's Leafs always collapsed because you can't sustain the high-shooting percentage necessary to win when you are a bad possession team.  Occasionally, teams get lucky for long stretches, but it never lasts.
Regarding Ovechkin, he turned nothing around. He continued to be consistently amazing. He put up another 50 goal season.  Sure, his plus/minus was better, but plus/minus is a pretty dumb stat. The fact is, Trotz played a different system, they got better goaltending, and Washington is a better team than they were last year.
In fact, Ovechkin's supposed jump in defensive responsibility can attributed almost entirely to his team. Last year Washington has the 23rd best possession numbers in the NHL, this year they were 13th.  Oveckin's stats – except for plus/minus – are pretty much the same from last year to this year, only he has a slightly higher CF% this year – raised about the same amount as his team's overall CF%.
Did OV suddenly become a way better defender? Unlikely.  Maybe a bit, but again, the easy answer is to say he did, but the more complicated answer is probably (as it usually is) the right one.
Thanks for reading.
Covering the Leafs for the Hockey Writers.