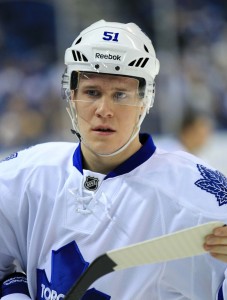 Every week Kevin McGran answers a mailbag from folks who write him at the Toronto Star.  There's nothing wrong with his answers, but I think two perspectives are better than one, so I like to steal his mailbag and write in my own.
Be sure to read the original here, and feel free to criticize my answers in the comments section.  Also, here's the last version in case you missed it.
QUESTION: Hope you let me have a two-fer in the question dept.
Have you spent any time talking with Nazem Kadri since he's come back from his suspensions? I would expect most people to come back from something like he's experienced with a serious dose of introspection. In the past he's never really been able to say "I didn't do (fill in the blank) right". He's always segued to "I don't think I played badly." If he wants to be an impact player and a leader, he's going to need to be more honest with himself.
Second, are there any other teams besides the Leafs doing specific coaching like they are doing with Steve Staois and the young defencemen? (other than goalie coaches).
-Barry P.
Answer:  I hate questions like this.  Kadri is an impact player as seen by the things you can actually measure: Stats. You can't measure leadership and it's vastly overrated. Is Kadri a leader? Well, probably since he's among the most talented players in the NHL and seems like a well spoken young man, but really, who cares? You want him to be more self-critical? Why is that? Look, players get asked specific questions and if they seem cocky it's probably because they are millionaires who are among the best in the world at what they do and everywhere they go, people treat them like kings.  Also, being confident is a key component in success.
As for Kadri, all he's done is lead the Leafs in 5v5 scoring, despite being relegated to playing with third liners like Winnik and Santorelli. The answer to your other question is probably yes.
QUESTION: Any chance you could give us some Corsi data on the Leafs comparing the Carlyle and Horachek periods (before trades for Horachek)?I remember shortly after Horachek took over, it seemed as though the Leafs were keeping shots against down a lot better and were often taking more shots than opponents in games. I admit that seemed to bleed away after a while, probably as the team became frustrated with good possession play that wasn't resulting in wins. I know the team's record over that time is most important, but I'm curious to see how Horachek has altered possession stats for the Leafs. I can't help but think that the first 10 games after Horachek took over are the most reasonable ones to use to assess his abilities as a coach.
Brandon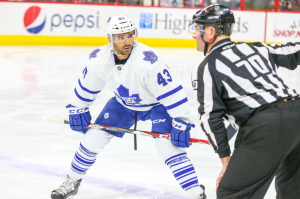 Answer: This is the best question – or at least the most intelligent one – I have ever seen McGran print.  You can go to WaronIce.com and split the dates any way your heart desires and get all the data you want.  I agree that you can't really criticize the job Horachek has done because when he got hired the team was a) already in a tailspin b) about to go on a brutal west-coast trip c) already out of the Playoffs d) had their best defenseman injured e) the team was about to be dismantled f) facing extreme bad luck .
I would also assume Horachek had a mandate to lower shots against and focus on defense no matter the cost – with the goal of instilling a system that eventually can be used to play sustainable winning hockey. Carlyle's "success" was based on high save% and high shooting %.   If you look at the beginning of Horachek's tenure, he drastically reduced shots and just happened to start coaching at a time when the Leafs went ice-cold – something like 3% shooting over ten or so games.  Since the worst team ever still shot about 7%, that is clearly just bad luck.
I think you have to ignore the results surrounding Horachek and focus on the process – he made noticeable improvements despite being in an impossible position and for that he should be rewarded.  I applaud you for looking past the results because if you do, you'll see Horachek probably deserves to coach this team and show what kind of job he can do with players who haven't checked out and a GM who isn't actively trying to make the team bad.
QUESTION: How are the Leafs that were jettisoned near the trade deadline doing for their new teams?
ANSWER: Winnik is doing well in Pittsburgh, I don't care about Holzer or Jokkinen who are among the worst players in the NHL and Santorelli and Franson are hard to judge because they have reduced roles with the Preds.
THW writer Colin Fits might have a better answer than I can give you.
QUESTION: Have the Leafs ever considered playing Jake Gardiner as a winger?
ANSWER: If I didn't know better, I would think Kevin put this one in here just for me to have fun with.  Since we all know Dion Phaneuf is likely to be traded, I can flat-out guarantee you that the Leafs have no plans to take the second best defenseman in their entire system and turn him into a winger.  It is also an idea so ridiculous that you might as well say "Polak is good at shot blocking, maybe he should be a goalie."
Jake Gardiner has a CF% of over 50% and leads the Leafs. Considering the Leafs are among the worst Corsi teams in the NHL, that is impressive because no matter what team you play on, anything over 50% is good.  His 13 ES points are excellent too, and since he is rarely on the first unit for the PP, 23 total points is also good. His low PDO suggests those totals should be higher.
Unless teams are intentionally playing to raise their Corsi stats (which would be idiotic) then over time, all shots are roughly equal in their chances to score – some are high quality, some are low, but they all balance out.  Since Gardiner plays more time in the other team's zone, even with his occasional brain-cramps he still positively impacts the team.
It is those errors that have ruined his reputation. Confirmation bias is when you see the information that confirms what you already believe and ignore the rest. That is what happens when people see a Gardiner error. However, they are ignoring the other side of the equation, which tells us that over time, even those errors are factored into to the average quality of shot, and that since JG drives possession and keeps the puck in the other team's end, that for every error he makes leading to a scoring chance, he creates one (plus more) for his own team.
Bottom line: Gardiner is just coming into his own. He is four years younger than Anton Stralman, who the leafs traded when he was roughly the same age. How'd that work out again?
Covering the Leafs for the Hockey Writers.