With the All-Star Game arriving and the players enjoying a brief break, it is a good time to take a look at some of the progress that the Rangers' rookies have made so far. Defenseman Dylan McIlrath and forward Oscar Lindberg have both made their marks as Rangers as they've been going through their rookie year.
Both McIlrath and Lindberg have each crafted their own ice presence and have, so far, exceeded some of the expectations that were set for them.
Looking at Lindberg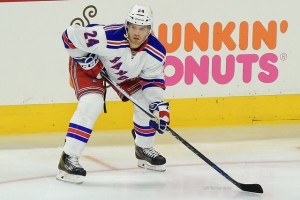 Lindberg started his rookie season on a strong note; he came into the season ready to score, take shots, and win his face offs. Lindberg already has 11 goals this season and is the first NYR rookie to record at least 10 goals in the first 27 games of the season since the 1991-92 season.
There was excitement for Lindberg to rise into the NHL, especially after his impressive last season in the AHL with the Hartford Wolf Pack. In Lindberg's last season with the Wolf Pack, in 2014-15, he notched 28 goals and 28 assists in 75 games played.
Lindberg started this season by storm, he was handling the puck extremely well and was able to get the puck in the net even when some of the other forwards found it difficult. He provided goals and assists when they were needed and have proved how skilled of a player he currently is, and the potential he has to go further.
While most recently Lindberg hasn't had as big of an ice presence as he's had in the beginning of the season, he has been working to keep his game up. Seeing Lindberg re-ignite the fire he had at the beginning of the season will boost his play and would be a good contributing factor to the Rangers' overall play and score.
Lindberg knows how to handle the puck and get it in the back of the net. He has been a consistent contributor to on-ice play, whether it be an assist or an occasional goal. Lindberg recently grabbed two assists before the All-Star break, and broke a brief goal-scoring drought on Jan.9 against the Capitals.
So far, Lindberg has demonstrated his skills, and everyone knows they're there, now he needs to spark the same flame he had burning to bring back the storm of play they he was pushing. That being said, he is still playing with a great ice presence and has already contributed so much to the team. He is fifth on the team in scoring, outscoring some more experienced forwards on the team, and is seventh on the team with a plus/minus of 8.
McIlrath on Defense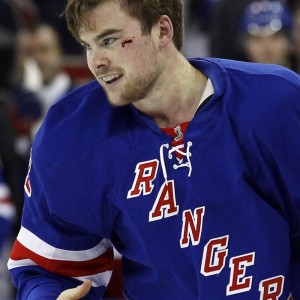 McIlrath puts a strong and fearless presence on the ice. The  6'5″ 220lbs defenseman has a big ice presence; he effectively defends the net and the zone, completes full and hard checks, protects his teammates, and sports a killer slap shot.
Currently McIlrath has two goals, one assist and a plus/minus of five in 20 games played this season. He is the first Rangers rookie d-man to notch a goal since current captain Ryan McDonagh did his rookie season in 2011.He also leads the defensemen in most hits per game with about 50 hits in 19 games.
McIlrath doesn't shy away from hits, checks, or even fights. His fearless nature makes him a fierce competitor when it comes to on-ice quarls. He doesn't back down, especially when he's protecting a teammate. On Nov.27 of this season McIlrath jumped to center Derek Stepan's defense after he received a dangerous check from the Bruins' Matt Beleskey, Stepan's ribs were broken from the impact.
McIlrath rushed to Stepan's defense, and pummeled Beleskey in the process. This wan't his first on-ice fight, and has had quite a few in his hockey career. His fearless and strong mindset while on the ice has made him not only a great defenseman and a fan-favorite, but has made him a reliable and valuable teammate.
The rookie d-man has also exceeded some expectations when it came to his rookie season, and he isn't done yet. Even with the lesser games he has played he has still made a great impact on the team and its success, and it would only be greater if he had more ice time.
McIlrath is expected to keep excelling, and it wouldn't be surprising if he scored another goal during the course of the season. He has a powerful slap shot and can take good shots from the blue line, and has shown that he might have a new knack of getting the puck in the net. Two goals in 20 games is an impressive feat, even when compared to his teammates like d-men Marc Staal and Dan Girardi who, despite more assists, also have two goals but it a significantly bigger number of games played.
Thoughts
Both Lindberg and McIlrath have made good contributions to the team, and have shown they were the right guys for the jobs since they came up from the AHL. The two rookies will continue to play and give their all as the Rangers chase the playoffs.
It's important to have all players playing to their potential and having rookies that can play just as well as some of the experienced players is an extremely beneficial factor. Lingberg and McIlrath demonstrated their skill and put themselves on a very similar level to some of the more experienced players.
These two have become fan-favorites and important factors, and will continue to be so during the rest of the season. It'll be good to see how the two players will perform as the season ends and, for Rangers fans, how they might perform in the playoffs.
Alyssa is a writer here at THW as a contributor for her hometown team, the New York Rangers. She is also currently pursuing a Communications degree. Follow her on twitter for some hockey talk and Rangers updates!