Although Tyler Seguin  has been a small step behind his buddy Jamie Benn for most the season, that is still plenty good enough to make him a 2016 NHL All-Star. He's been right behind Benn in scoring for most of the season and is well-deserving of the All-Star selection. Let's look at how he got there.
Seguin, a Shining Star
Seguin's shooting-% has been off the charts this season and it is pretty easy to see why. He doesn't hold the puck for long before firing it on opposing goaltenders. Many of those pucks have been finding their way to the back of the net. Let's take a look.
Seguin's 25 goals are tied for fourth in the NHL behind only Benn, Alex Ovechkin and Patrick Kane.
Seguin is tied for fourth in the NHL in shots on goal behind only Ovechkin, Brent Burns and Max Pacioretty.
Only Ovechkin has more individual scoring chances than Seguin so far this season.
Seguin's 53 points are good for third in the league behind Benn and Kane.
Obviously much of the All-Star game revolves around the offensive part of the game as it is generally the most exciting part to watch. That being said, Seguin has taken major strides towards being a better defensive player for Dallas this season. When he was moved back to center after being traded to the Stars, he had a lot of catching up to do in terms of taking face offs and being more defensively responsible. He has really made tremendous improvements in that part of his game this season.
Seguin's face off win-percentage is 55.39 this season, best on the Stars and good for top-20 in the entire NHL.
He has posted a 56.69 scoring-chances-for-% at even strength, fourth-best on the Stars.
His corsi-for-% is 55.67, also fourth-best in Dallas behind Benn, Patrick Sharp and Mattias Janmark.
Those improvements in the defensive zone and in the face off circle continue to make Seguin a better overall player.
High Entertainment Value
Seguin in an All-Star game in Nashville is just a perfect formula for success. His speed and his release makes him one of the more entertaining players to watch in the league. Some of the things he does just couldn't be written any better.
You saw everything on display in his hat-trick against the Bruins. Speed, patience and just a cannon of a shot. Watching that shot makes it easy to see why he's involved in the Hardest Shot challenge this weekend.
Ultra-Competitive
If you watch the way Tyler Seguin has gone about his business in the first half the season, you would see a determination that you might not have seen from him before. He took missing the postseason last year very personally. The guy hates losing more than most in this league and you can see it on his face and hear it in his voice after Dallas is unable to come up with a win in any given night. The following came after a win.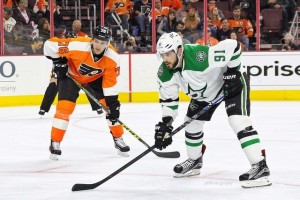 "It's good to stop the slide, for sure. We tried to put the road trip behind us and the guys came out. It wasn't our best game but we found a way to win, we're going to be happy with that and it's something we can build off of."
He takes pride in helping the Stars get back to playoff runs that Dallas grew accustom to in the early 2000's. His compete level makes it very easy to see why he will be representing the Stars in the All-Star game.
What is to Come?
Needing five points to catch Benn and 20 points to catch an absurd Kane, it's tough to see Seguin challenging for the Art Ross this reason. The Rocket Richard trophy for most goals in a season is certainly still within reach as Seguin is just five back of Kane in that category. Ultimately what Seguin wants to do is get the Stars to the playoffs. Missing the postseason last year has lit a fire not only under Seguin but the rest of the team as well.
Like Benn, Seguin likely could have benefited from some rest over the All-Star break. Some fatigue has drifted into his game in the month of January and really that is evident throughout the Dallas team. Still, the break should still be enough rest for Seguin and the rest of the Stars to come out of it looking like the team we have seen for most of this season.