Here we go again. Last season, the Toronto Maple Leafs season started to go off the rails in January 2015. The same will probably be said about January 2016. One thing that is different is at least this time it's not as disappointing. Let's face it, we all want the Leafs to get the highest draft pick possible, don't we?
A lot was said about the Leafs only having one win in all of January last year. In 2016, the Maple Leafs have managed to do better, but only by two more wins. Their record this month stands at 3-7-2. What's makes that record look worse is they way they lost some of those games. Sure, there have been the one-goal losses, but there were losses of 7-0, 4-1 and 5-1.
"What Do You Expect?"
Of course, the biggest problem the Leafs faced this month and will continue to face in the future is their lack of offensive production. In the 12 games in January, the Leafs only scored 15 goals and four of them were in their first game of the month against St. Louis. They also allowed 29 goals. If it weren't the goaltending performing admirably, it could have been a lot worse. Without James van Riemsdyk in the lineup, the Leafs haven't had anyone pick up the slack and they can't even score by committee. Like Mike Babcock said, "What do you expect?"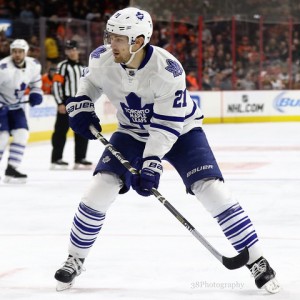 It seems the Maple Leafs are getting compliments from nearly every opponent they face for the structure that Babcock has brought to the team. While that does bode well for the future, it does nothing right now if the Leafs are just going to demolish the roster in a month. If the Leafs are still doing this with more young players in the lineup, then we know the Leafs have a bright future ahead of them.
The thing is, with the recent dive, the Leafs have ended the month and entered the All-Star Break tied with the Columbus Blue Jackets and the Edmonton Oilers for last in the NHL. Should they stay around that spot, which evidence suggests they will, they'll have a pretty good chance at winning the lottery and getting to draft Auston Matthews. If they don't they will at least have a good chance of staying where they are. That could mean they could get anyone from Patrik Laine, Jesse Puljujarvi, Matthew Tkachuk or Alex Nylander. The Leafs should have the pick of the litter even if the lottery balls don't fall their way.
So, depending on how you are looking at it, January went extremely bad or extremely well. If you're on board with the Maple Leafs rebuild, it is most definitely the latter.