UPDATE: July 1 – Mike Green signed a 3-year deal with the Detroit Red Wings worth $18 million.
Washington Capitals defensemen Mike Green is set to enter free agency on July 1 and will leave the organization. The injury-prone Green has had his ups and downs in Washington, and the fan base either loves him or hates him. That said, he played a vital role in transforming the Capitals from a basement team to a team that regularly makes the playoffs.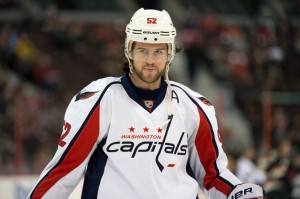 In his 10 regular seasons as a Capital, Green has 113 goals, 247 assists and 360 points to his name – and 52 of those goals were power play tallies. In the postseason, he has nine goals, 26 assists and 35 points in 71 games.
Calgary native Green, 29, has spent his entire NHL career in Washington. His first full season was 2005-06, and he impressed everyone associated with the organization right away. It was clear from the offset that Green was a triple threat: an excellent defenseman, offensively minded and never afraid to administer a huge hit.
Green Reinvented
In that first season (split with games for the Caps' AHL affiliate Hershey Bears), Green scored one goal and two assists in 22 NHL games. That first-ever NHL goal came against Ed Belfour of the Toronto Maple Leafs on Feb. 3, 2006. He followed that up with two goals and 10 assists in 2006-07 – in which he played 70 games. It wasn't until Bruce Boudreau replaced Glen Hanlon as head coach in late 2007 that we saw the player that D.C. grew to love (or hate, depending on which side of the argument one sits). Boudreau re-invented the Capitals into an offensive juggernaut – and by doing so – he reinvented Green.
The spring following Boudreau's arrival, the Capitals made the postseason for the first time since 2003 and Green was a major factor. He upped his offensive game significantly, more than quadrupling his points total for the preceding season with 56 points including 18 goals and 38 assists. His shots on goal went from 68 to 234, and he even recorded a Gordie Howe hat trick against the Flyers in Game 3 of the Stanley Cup first-round series that year.
After that 2007-08 season, the 6 foot 1 defender had established himself as an offensive-minded defensive powerhouse with a killer slap shot on a team that also featured the then-young trio of Alex Ovechkin, Alexander Semin and Nicklas Backstrom. However, it was the 2008-09 season that went down in history for Green.
In 2008-09, Green scored 31 goals and recorded 42 assists in an injury-shortened season (he played 68 games) making him only the eighth defenseman in NHL history to score at least 30 goals in a single season. However, it wasn't just the goals and points production that catapulted Green to a higher level that term, it was his record-breaking run in the winter of 2009.
On Feb. 14, 2009, Green scored in his eighth consecutive game, achieving a new NHL record for most consecutive games with at least one goal by a defenseman – breaking Mike O'Connell's record in the 1983–84 season.
Green took home a nomination for the 2009 James Norris Memorial Trophy for the NHL's top defenseman. He didn't win – and many put it down to purists' grumblings about a prolific goal-scoring defensemen's inappropriateness for Norris contention. His average time on ice was 25:46 that year, which remains his career high. In 2009-10, Green tallied another career high: 76 points.
VIDEO: See All Of Mike Green's Record-Setting Goals Scored in 8 Consecutive Games:
Since that record-breaking season for the Caps, Green's goal production decreased while his defensive chops increased – mostly due to two consecutive defensive-minded post-Boudreau coaches in Washington (Dale Hunter and Adam Oates). Unfortunately, some injuries that crept in from 2010 to 2013 significantly dampened a stellar NHL career. He rebounded this past season under new coach Barry Trotz by amassing 45 points (including 10 goals) while reversing his plus/minus rating from a minus-16 to a plus-15.
Green is a Capital through and through – constantly giving his time to children's charities both nationwide and close to home in Washington – including Children's National Medical Center and Most Valuable Kids (a nonprofit that helps needy children). He also founded a charitable organization in 2008 called So Kids Can with local radio host Elliot Segal; the charity has raised more than $200,000 since its formation.
It will be strange to not see Green on the ice in a Caps' jersey in Washington next season. Whichever team he ends up on will benefit from a powerful athlete with a big hockey brain and an even bigger heart.
[catlist name=washington-capitals numberposts=3 excludeposts=this]