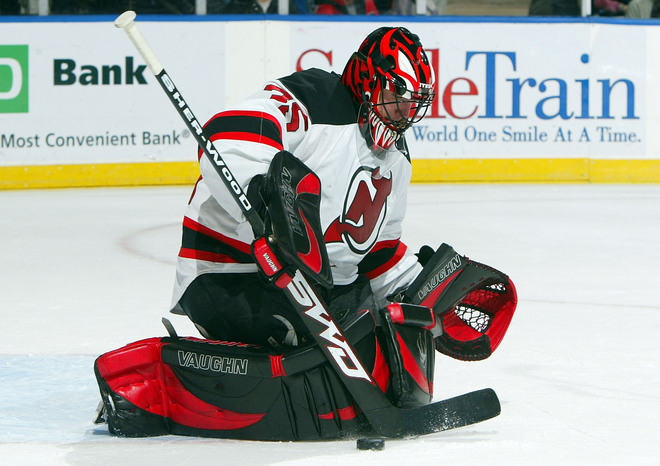 On November 1 when Martin Brodeur went down with an elbow injury, everyone thought the New Jersey Devils season was over. The Devils were forced to use Kevin Weekes in net and they recalled Scott Clemmensen from Lowell.
Experts counted the Devils out and even fans began to count the team out. However, the Devils' season was far from over; in fact the season had only just begun.
The Devils became a very successful team because of one man's confidence and the belief he had in himself. This man played so well, that the New Jersey Devils found themselves in first place in the Atlantic Division.
Who is this great man that did so much for this Devil team and has given fans everywhere something to be thankful for? This man is Scott Clemmensen. Scott Clemmensen was a man who worked hard and played with a tremendous amount of heart. These last few months have rejuvenated his career and he has proven to everyone, that he has what it takes to be a starting goalie in the NHL.
With that said, this article is a tribute to a man who needs to thanked and appreciated; This article is for you Scott Clemmensen and for everything you've done.
Scott Clemmensen was born July 23, 1977 in Des Moines, Iowa. Scott was selected in the 8th round, as the 215th pick in the 1997 NHL Entry Draft. After he was drafted, he went on the play college hockey for Boston College.  Before leaving to go play professionally, he lead his team to the national championship in 2001.
Clemmensen spent of his career in the AHL with the Albany River Rats, who were the minor league affiliate of the New Jersey Devils. Due to the fact that Martin Brodeur was the Devil's starting goalie, Scott Clemmensen never played more that thirteen games with the New Jersey Devils.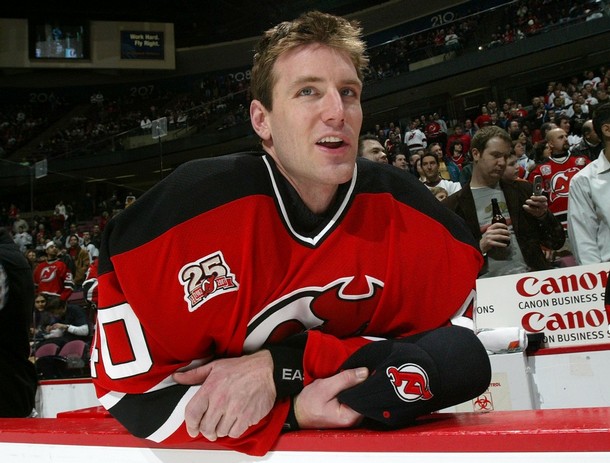 In the 2007-2008 season, Clemmensen signed a one year contract withthe Toronto Maple Leafs. He went here seeking more playing time, but he wound up splitting time in the minors with the Maple Leafs first round pick Justin Pogge, and he only played in three NHL games with the Maple Leafs that year.
In this year's off-season, Scott Clemmensen returned to the New Jersey Devils and he signed a one year contract with them. Scott knew that he would be spending most of his time with AHL Lowell Devils, but little did he know, something was about to happen that would change his career forever.
Martin Brodeur suffered a serious injury and he would be out for a extended period of time. This injury allowed Scott Clemmensen to see some serious time in NHL, for the first time in his career.
When describing what Scott Clemmensen did during this stretch, there is one particular quote which comes to mind; this quote is "Carpe Diem", which means seize the day; Scott Clemmensen did just that. If you don't believe me check out his stats.
When all was said and done and Marty was ready to return, Scott Clemmensen had very impressive numbers. He was 25-13-1, with a GAA of 2.39 and a save percentage a .917. Not bad for a guy who spent most his whole career in the minors.
Not only did he have impressive numbers, but he won over the fans and he gave them all many things to be grateful for; here is a list of some of those things.
Wins over the New York Rangers: It had been over a season and a quarter since the last time the New Jersey Devils defeated the hated cross town rivals, the New York Rangers. This was a feat that Martin Brodeur has failed to do in quite some time. Not only did he defeat the Rangers twice, but the last time these two teams faced off on February 9, Clemmensen did the unthinkable and shut out the Rangers for his first shutout of the season.
First Place: The Rangers and Flyers had held first place for most of the season, until Scott Clemmensen helped propel the Devils into first place with his spectacular play. Without him, who knows what place this team would be in without Brodeur.
Helped prove to the hockey world that the New Jersey Devils can win without Martin Brodeur: The New Jersey Devils are never an appreciated team. "The Devils only win because they have Martin Brodeur" is what many bitter fans always say about the Devils. When Brodeur went down, many people said the Devils would no longer be a contender. Scott Clemmensen helped shoot down this accusations and him and the Devils showed everyone that Brodeur was not thier main reason for success.
He made the New Jersey Devils a feared contender again: With his strong play and the team playing strong around him, the Devils became a legitimate team that teams did not want to play.
The most important thing that fans are thankful for is the fact that Scott Clemmensen gave it his all night in and night out:Watching this guy play was incredible. He always played hard and he played like he had something to prove to everybody, which he did. He had a great mind set and a lot of confidence, which allowed him to have the success he did.
Sadly, the New Jersey Devils organization did a horrible job of showing their appreciation for Scott Clemmensen. When Marty returned, Clemmensen was sent back down to the minors and Kevin Weekes somehow won the roll of back up goalie. With this article I wanted to give Scott Clemmensen the thank you and appreciation he deserved.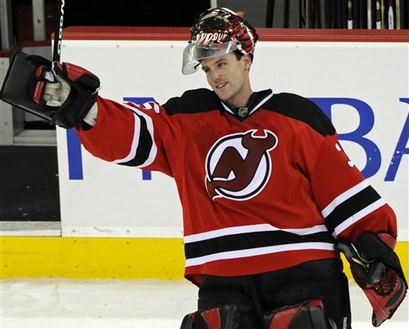 His stellar play did not go unnoticed. In the off-season, some team will sign Scott Clemmensen and he will become the starting goaltender of that team. Whoever that team is, they will be getting a great goaltender and they will become very successful because of him.
Thank you for everything Scott Clemmensen. Without you, who knows where the Devils would be this season. You saved the season and have given Devil fans everywhere much to be thankful for.
Thank you Scott and good luck with all of your future endeavors in the NHL.