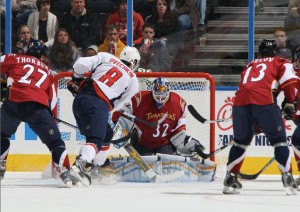 Let's give a shout-out to the statistically unsung hero in the NHL. He stands between the pipes, and saves while doing somersaults. His name is Kari Lehtonen, and every game is another brick added to his wall. Don't believe me about the soumersalts? Skip to 2:41 in this video. Some folks at the Atlanta Thrashers message boards are calling it the "Kari-wheel." Brilliant!
No, this is not a playoffs run for the Thrashers. They are playing for pride, and while it's insignificant for other teams, for the Thrashers it means re-signing Kovalchuk, and showing a strong future. It means the team finally gelling, getting a hold of Anderson's system. It means weeding out the guys that won't warm up to Anderson, and putting the pieces of the talent puzzle together of those that do listen to Anderson. It means realizing the value of youth like Zach Bogosian, Spencer Machacek, and Bryan Little. It could mean a vision for a serious playoffs run as soon as next season. Yes, these Thrashers are hot, and it's not because of a winning streak. Even in recent losses (which are becoming fewer), the Thrashers are no longer getting their butts handed to them. Since February 3rd, which I consider the beginning of "the surge," only three games of seven have the Thrashers lost by more than one goal.
Atlanta is currently playing well over .500 hockey since the new year. It's a sure sign of a strong finish. Hopefully for Thrashers fans, it will translate to a clinched playoffs spot in 09-10.
Although, I would be the first to admit that, even if Thrash wins every game from here on out, the season overall was a colossal failure for them. Thrashers fans, hear me out before you raise your pitchfork. Plain lack of chemistry, trust, and the coach having much divided attention for half the season—ending the season with pride will still end yet another season in the bottom ten in the league, such has been the usual story of the Thrashers since 1999. The Thrashers have failed to prove that it's a playoffs team by signing Jason Williams and Mathieu Schneider. That is nothing against those two players, but the team is on a quest to find players that fit into John Anderson's system. Those two players didn't work whereas Rich Peverley and Anssi Salmela do.
Onto the records you should take note of. These have all happened within the course of the last 6 games.
The Thrashers, for the first time, have won six games in a row. Previous record was five, and the record was tied this season in November.
Kari Lehtonen has a new career high in saves in one game. His previous record was 47. Kari stopped 49 out of 50 shots tonight.
"The Todd" White, in his 11th NHL season, surpassed his career high in points with the Thrashers this season. He is currently at 62.
Marty Reasoner, in his 10th NHL season, surpassed his career high in goals. He is at 12 goals.
Colby Armstrong surpassed his career high in goals with 17 in 70 games. Proportionally, it is not as good as 16 in 47 games with Pittsburgh in 05-06, but still a career high nonetheless.
Eric Boulton, Atlanta's fourth line enforcer, hit double digits in season points for the first time in his NHL career. He is in his 7th NHL season. If only he could win more fights…
Ron Hainsey, once a member of the Jackets' defensive powerhouse, set his career high in points with the Thrashers.
Other notables:
Rich Peverley. Let's take a look at him: 20 points and an even zero +/- in 73 career games with Nashville. 25 points and +10 in 27 games with Atlanta. Let those numbers speak for themselves.
Bryan Little. Second season in the NHL, and deserving of a little league-wide attention. This kid is a 30-goal scorer (sitting at 29 right now). 47 points in 67 games (.701 P/G) compared to his first season, 16 points in 48 games (.333 P/G). He's more than doubled his points productivity.
During the six-game win streak, 2.99 of those wins were consecutively played without the help of Kovalchuk, 1.33 games without the help of Kovalchuk and Slater on the PK.
Atlanta is no longer the notorious black hole of talent. At least eight Thrashers are having the best seasons of their careers in Atlanta.
Should these Thrashers fall to Pittsburgh on Tuesday, you won't see me lament. The records and career highs are set, and the team is more confident than I've ever seen them. If you're a Thrashers fan, you should be excited. If you're not, you should find the boys in blue (or burgundy) much more exciting, sometimes nail-biting, to watch.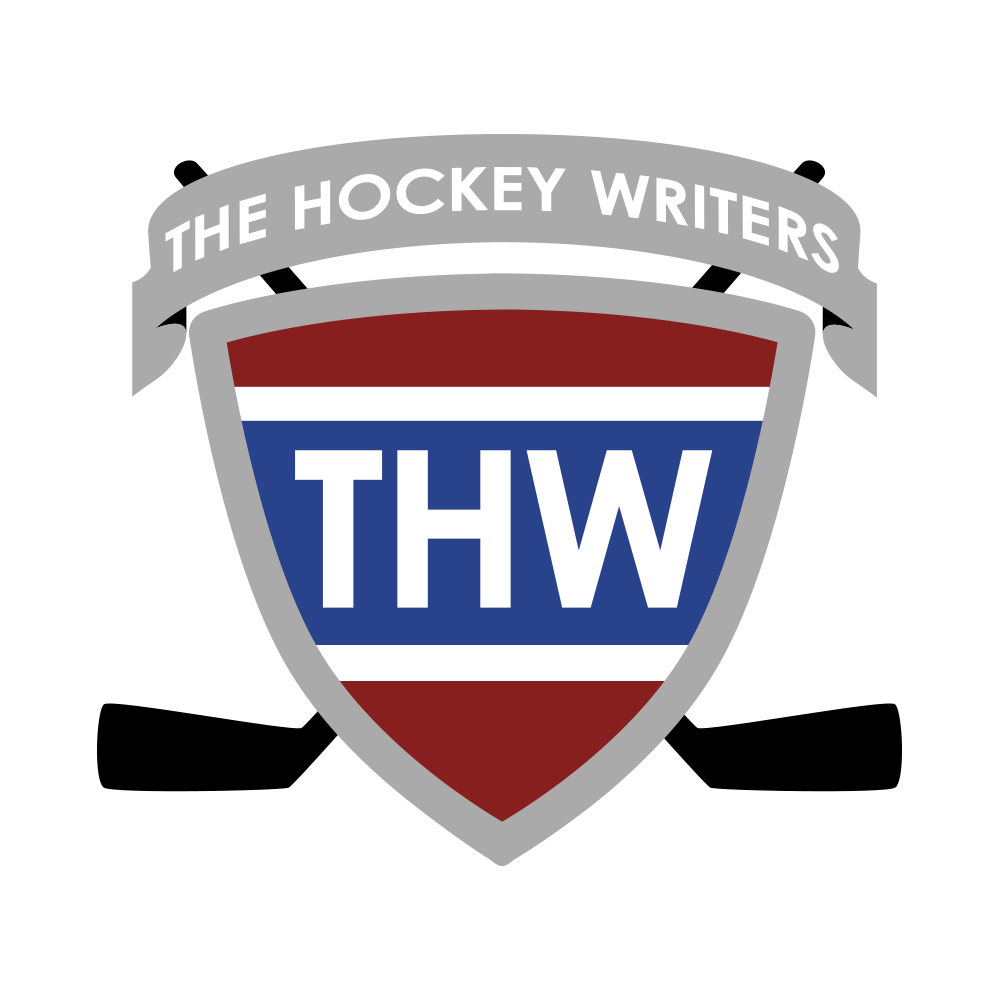 The Hockey Writers is:
1) A top-tier hockey media company delivering a top-notch, in-depth look at the NHL
2) A collective of some of the best hockey writers anywhere
3) A multimedia provider with daily podcasts and YouTube shows
4) Well-respected and widely-cited NHL prospect and draft resource