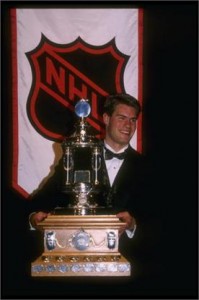 It's not often that there's an argument over who should win the Vezina at the end of each NHL season.
After all, when someone as consistently good as Martin Brodeur is healthy , he may very well win the Vezina every year. With an injury shortened-season denying him of his chance at four-straight 40-win seasons and his games-played totals too short to qualify for highest save-percentage, lowest goals-against average, or the William M. Jennings trophy (fewest overall goals against) though, odds are there will be a brand new winner at this year's awards ceremony.
While there have been so many quality performances amongst the ranks of old and new goalies in the NHL this year, there have only been a handful of players who have been consistent in all aspects of the game.
Miikka Kiprusoff of the Calgary Flames leads the league in wins. By a lot. In fact, he's the only goalie in the league right now to have each of his team's wins grace his record this season. That also means however, that he's had to play a lot of games—64 to be exact (only one fewer than Marty Turco of the Dallas Stars)—because Calgary has had trouble winning games without him.
Aside from the wins totals though, Kipper's season isn't exactly that of a top-candidate. If the season stopped today, his 2.88 goals-against average and .903 save percentage would be the worst Vezina season since Grant Fuhr won the award in 1987/88 after going 40-24-9 with a 3.43 goals-against average, and an .881 save percentage.
Sidenote: Kipper's season is more comparable to that of Ed Belfour's 41/.906/2.59 that he posted in 1992/93, the same year he won a Vezina.
In fact, recent trends don't bode that well for Miikka: Going back to the 1997/98 season, there are only three times that a goalie has received the Vezina Trophy when he didn't finish in the top ten in Wins, goals-against, or save percentage.
Martin Brodeur was 15th in both 2002/03 (.914) and 2003/04 (.917) when he won the Vezina, but finished first in wins (41) and fourth in goals-against (2.02) the first time, and first (38) and fourth (2.03) the second time as well. The other goalie was Jose Theodore who was fourteenth in wins (30), but first in save percentage (.930) and fourth in goals-against (2.11).
This year though, there are only  three goalies in the top ten of each stat: Tim Thomas of Boston, Niklas Backstrom of Minnesota, and Steve Mason of Columbus. There are six goalies (five if you forget the injured Ryan Miller) tops in two of the categories, and ten specializing in just one of the categories.
Of the three members at the top of these groups, each seems like a quality Vezina candidate for this season: Backstrom has consistently been one of the best (and quietest) goalies in and out of each season over the past three years, posting shockingly low goals-against averages (1.97 and 2.31) and high save percentages (.929, .920). Tim Thomas (despite some recent struggles) has been one of the biggest reasons for Boston's rise to the top of the league this season, and his unorthodox style brings us back to the Dominik Hasek days when style was thrown out the window. Steve Mason? Well if we have to tell you that he may be the only goalie to ever take the Columbus Blue Jackets to the playoffs, well then you just haven't been paying attention.
Of the other players that have reached the plateau of two, there's only one player who might…might gain serious attention for the Vezina other than San Jose's Evgeni Nabokov.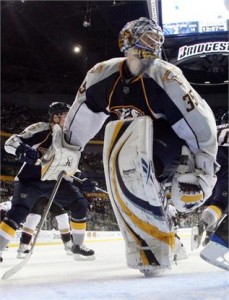 Pekka Rinne.
Yup. Nashville's Pekka Rinne.
In a lot of ways, the Nashville Predators are spoiled: When the Predators traded Tomas Vokoun after the 2006/07 season, many wondered if Chris Mason could handle the responsibilities. Turns out he could—when he was on the ice. During the 2007/08 season though when they found out Dan Ellis could play at the highest level, Mason became expendable and was dealt to rival St Louis.
Now? Ellis is riding side-saddle to Rinne; The Finish rookie who's having a season almost as good as Mason's—only not many people know it.
As far as wins go, the two newbie netminders are just four apart as Mason (28) has Rinne (24) beat. Mason also takes the upper hand in shutouts by two, up 9 to Rinne's 7.
Save percentage and goals-against average wise? Rinne (.922, 2.23) barely edges out Mason (.919, 2.24) and his winning percentage (60% to 57%) is just higher than Mason's, even though he's played eight fewer games.
Looking at the stats, the 26-year old has taken the league by storm in his first season, only to be overshadowed by a former London Knight. But while his season has truly been a quality one, is it Vezina worthy right now?
Unfortunately not. It may not even be enough to get consideration for the Calder trophy.
But while Rinne may not be receiving any individual awards at the end of the year, his mind is where it should be right now: Getting the Nashville Predators to the playoffs.
And just like Columbus fans have learned with Mason, that's all you can really hope for.