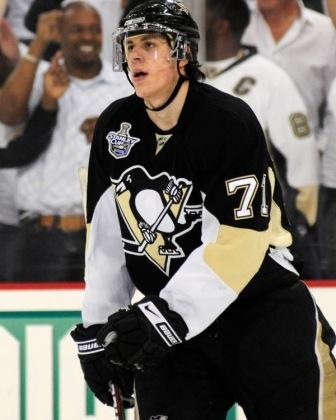 The season may be winding down, but there's still the playoffs lurking right around the corner. It may seem like a short time, but the offseason is a long way off. While some teams will undoubtedly be looking at the 09-10 season sooner than others one thing is certain; the elite teams that have spent up to the salary cap ceiling will have to do some creative work to hold together for next year.
Three eastern teams in particular have some interesting scenarios building into the offseason. Not surprisingly all three are playoff bound teams. Boston, Philadelphia, and Pittsburgh all have issues with some of their young star players either starting on their new contracts at a raised salary or have impending free agents who are keys to their success. The biggest issue is that all of these teams have found themselves right up to the salary cap this season, and will have to see some sizable turnarounds in the personnel department.
It's not a question that the $56.7m alloted cap space is going to plateau at some point. In fact this may be the highest it will go for the foreseeable future. It's still possible that it raises slightly going into the 08-09 season, but the odds are that it will stop growing as significantly as it has in the past couple of seasons only to eventually drop a little bit. A $2.00m or so drop may not seem all that bad in terms of the current ceiling, but in many cases that small of a decrease means the dropping of at least one relatively sizable chunk of production. Cap specialists continue to fight over how large the decrease may be, but it will not impede on the Stanley Cup hopes of some of the more crafty general managers in the business.
The Boston Bruins
The Bruins have a minor issue to the tune of a likely $6.00m combined increase in salary for restricted free agents David Krejci and Phil Kessel. If anyone was wondering where Boston's seemingly overnight success has come from then consider your search over. These two have torn it up at a young age and are now numbers 2 and 3 on the Bruins' scoring leader chart. Both have already toppled the 50 point mark and are looking forward to the last 11 games of the season. Usually the good thing about having young players in entry level contracts tearing up the NHL is that it allows more space for veteran players in the roster. The biggest issue with that is these young players do eventually grow out of their bargain contracts and into ones that are more realistic for the market. It goes without question that the only way to win in this league is to have production from players on entry level contracts, but this issue is something that the Bruins, like most other competitive teams, will have to tackle when it comes along. For Boston it comes along this offseason.
If Jeff Carter's $5.00m for a former first round pick is any indication of what Kessel and Krejci will be getting this offseason then the Bruins have some creative cap management to figure out in the not so distant future. Carter is more in the mold of Kessel, a sniper who at the end of his entry level contract managed around 50 points with more goals than assists. If Kessel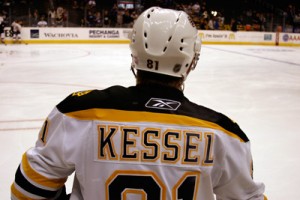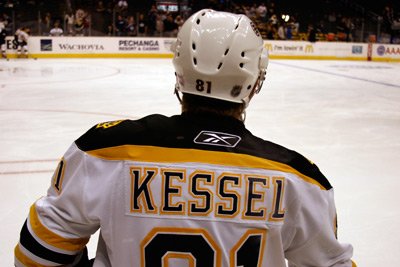 is going to turn out to be a lot like the Flyers' star center next season then it will only help the Bruins. Krejci on the other hand is not necessarily a sniper but has produced more in terms of point production. Both are vital parts of the Bruins' success this season and both will want plenty of money to reflect that.
It's not all gloom and doom for Boston though. They have options. Patrice Bergeron is a well liked forward in Boston and earned his current $4.75m/year contract. He is still young, but a concussion last season caused him to miss 72 games. Since his return to action this season he has failed to reclaim his scoring touch. The Bruins could attempt to move him in order to fit Krejci and Kessel under the cap, but it is important to remember that Bergeron is still young and had back to back seasons of 70+ points before his injury. There will likely be buyers for Patrice, but the payoff won't be as good as Boston would like. His 32 points with 7 goals is a drop in the bucket compared to his pre-concussion self. Expect teams to go looking for a low risk high reward addition should Boston to decide to go in this direction. Other options include letting expensive back up goalie Manny Fernandez ($4.33m/year) go this offseason when the Bruins re-sign (and don't miss it, they will be re-signing their Vezina candidate) Tim Thomas who will obviously be getting a pay raise. A cheaper backup will do them some good, but don't forget that star goaltending prospect Tuukka Rask comes in at a hefty $3.20m/year contract which wouldn't exactly help the Bruins' cap situation. Axelsson ($1.85m/year) and Recchi ($1.50m/year) also come off the books as unrestricted free agents so Boston will have a little help figuring out where to fit Kessel's and Krejci's salaries into the lineup.
The Philadelphia Flyers
The Flyers contract issues generally stem from center Danny Briere who eats a nice chunk of the cap at $6.50m/year. While it is easy to go and blame the Flyers for signing him, many seem to forget he was a vital piece to their turn around in the 07-08 season that brought them from last in the league to Eastern Conference runner up. Did I mention that he has more playoff goals than any other NHL player since the lockout? Yes, his $6.50m is a little much and makes him the highest paid player on the Flyers, but in a season where he has seen plenty of down time due to injuries many have forgotten what he is capable of. When fully assembled the Flyers have four players who can argue point per game status. No other team in the NHL has this much firepower. It would be nice for the organization if they could keep such a devastating offense together next season, and in all likelihood their four big names will not be moving. Carter ($5.00m/year), Gagne ($5.25m/year), Richards ($5.75m/year), and Briere will not likely be playing for other teams next season. They are all signed long term, and two of them (Gagne and Briere) have clauses keeping them playing with the orange and black for the remainder of their contracts. While a waiving of such a clause is a possibility it's not going to happen even if Flyers' GM Paul Holmgren wanted them moved.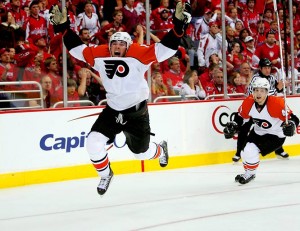 The biggest issue that may appear to spell trouble for the Flyers down the road, despite all the talk about Briere's contract, is the new contract Joffrey Lupul recently received that kicks in this coming season. Currently he makes $2.31m/year in cap hit but will be nearly doubling his contract with a salary of $4.25m/year when the Flyers kick off their 09-10 season. A lot of people feel that Lupul could get moved this offseason before he receives a limited no trade clause just because the Flyers are so strapped to the cap. What many people are forgetting is that Mike Knuble, their veteran RW, making $2.80m/year will be coming off the books. There has been acknowledgement from the organization that Knuble's agent and the Flyers organization are in talks for another contract, but either way Lupul's stay in Philadelphia is akin to a flip of the coin. If he doesn't perform in the playoffs he could find himself on the way out, but realistically the Flyers would love to keep their young 50 point forward. While many claim any move involving him would look like a salary dump the Flyers don't actually need to dump salary. They have already moved Scottie Upshall ($1.23m/year) for Dan Carcillo ($0.89m/year) moving an RFA contract in need of a raise for a cheaper solid alternative signed for another season before RFA status kicks in. With no other players looking for a raise this offseason, moving Lupul would strictly be a move looking down the road at other players such as blueliner Braydon Coburn ($1.30m/year) and Ryan Parent ($0.86m/year) who will be looking at raises after the end of the next season. Even then it's more likely that the Flyers move the salary of Matt Carle ($3.44m/year) before they move Joffrey Lupul. 50 point forwards are not easy to come by.
So if there is going to be some players leaving Philadelphia however they end up going, who exactly is going to replace them? Rookie forward Claude Giroux is signed for a couple more years on an entry level deal at $0.82m/year. Currently his play has swept the NHL, and fans of many teams are being surprised by this former QMJHL superstar. Jonathan Kalinski ($0.88m/year), Andreas Nodl ($0.85m/year), and Darroll Powe ($0.52m/year) are forwards signed to entry level deals that have all proven they can play competently in the bottom six for the Flyers. The young rookie defenseman Luca Sbisa is signed to an entry level deal at $0.88m/year as well and has proven he can play with the big club. The Flyers have room to work with and are under the cap. They have no immediate worries as far as this offseason is concerned about getting below the marker. In the future they have young entry level contracts that can step up and fill a void immediately. That comes from years of drafting well. Rumors of the Flyers' cap woes have been greatly exaggerated.
The Pittsburgh Penguins
The Penguins have an interesting issue with one of their two biggest players. Evgeni Malkin will be getting a gigantic salary raise next season to the tune of $4.87m/year. They're adding that much salary without getting another forward out of it. In fact they may have to deduct some forwards from their lineup. With many of their wingers becoming UFAs after this season that shouldn't be the problem, but filling the holes left by these players might become tricky.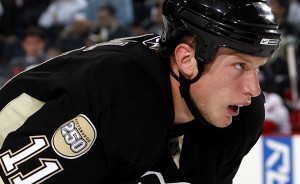 Malkin's jump from $3.83m/year to $8.70m/year isn't the only problem facing the Penguins though. If it was it would make things almost too easy for the team that has basically become America's NHL love affair. On top of Malkin the Penguins' third line center Jordan Staal will be getting a pay raise from $2.20m/year to roughly $4.00m/year. It may not seem like that much, but $1.80m is quite a bit that can go to another solid winger. All together the Penguins are adding $6.67m in salary while likely losing some production from it. This may be one of the biggest issues any Eastern team has going into the offseason.
That just takes care of their 3 big name forwards. Finding wingers will be their biggest problem again, and if Penguins' fans thought this offseason that brought Miroslav Satan ($3.50m/year) and Ruslan Fedotenko ($2.25m/year) was terrible in terms of support for Malkin and Crosby they may not want to pay attention to what happens this offseason. The Penguins have to still re-sign Petr Sykora who currently costs ($2.50m). Wherever he ends up, whether it is in Pittsburgh or not, he will likely be getting a pay raise. Satan, who was waived earlier this season to make room for trade deadline acquisitions, along with Fedotenko will likely be finding new homes this offseason taking off another combined $5.75m/year, but remember not all of that is actually dropped from the salary roster since Satan was waived to make room for another acquisition from the New York Islanders Bill Guerin ($4.50m/year) who will also likely be leaving as a UFA this offseason. So that $5.75m/year being dropped off the salary becomes $6.75m dropped. All of that immediately gets placed into the raises of Malkin and Staal. Chris Kunitz, the Penguins' recent deadline acquisition from Anaheim, is signed for $3.73m/year and will be Pittsburgh's only constant winger, but just looking at the forwards, they have to either re-sign Sykora, who will be getting a raise, or will have to use his $2.50m to acquire three top 6 wingers to complement Malkin and Crosby.
The Penguins have to obviously get the money for wingers somewhere. Maybe the defense offers some possibility? Philippe Boucher ($2.50m/year), Hal Gill ($2.08m/year), and Rob Scuderi ($0.71m/year) will all become unrestricted free agents after this season freeing up $5.29m, but they have to be replaced by someone. The obvious answer would be to use young entry level talents who are NHL ready. The problem is that the Penguins really have none. Outside of the first round they haven't drafted all that well over the last couple of seasons. First round talents get first round money. The best player they could offer a regular spot on the roster to is prospect Alex Goligoski who has proved his worth this season. He has played well for the organization, but unfortunately he needs a new contract as well. It's not likely that it will come all that cheap. So the Penguins have to add defensemen as well as top 6 wingers on peanuts. I don't know where they plan on finding these players, but I do know it's not looking all that great for them. Everyone can get excited watching the Penguins march up the standings with an impressive streak this season because of Shero's brilliant deadline moves, but this offseason he's going to have to be nothing short of Harry Houdini to put talented players on either side of Crosby and Malkin.