With injuries wiping out key players, the Boston Bruins have been stranded on an island to start the season. In their past two games against the Minnesota Wild and New York Rangers, Boston's lines looked more like a minor league team on paper.
That is where forward Noel Acciari and backup goaltender Anton Khudobin come in. Both are expected to return from injury in order to see playing time against the Maple Leafs this weekend.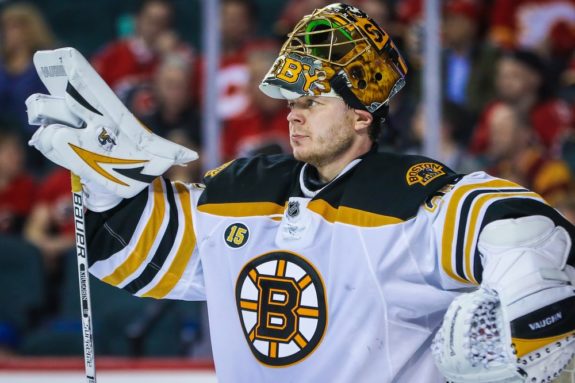 In their absence, however, the young Bruins have not been all that bad. While they need to up their game defensively, this squad has been exciting to watch in the offensive zone. Execution in climactic situations remains to be the biggest challenge for this group, but that is exactly what the Bruins face this weekend against the Toronto Maple Leafs.
Lucky for Boston, they will not have to face the Leaf's young prodigy in Auston Matthews. He did not skate with the team on Thursday, indicating that he could get the weekend off.
The Leafs are currently second in the Atlantic Divison with 20 points – five more than the B's. If Boston can pick up four points on this dominant Toronto team, they could find themselves near the top of the division by the week's end. Doing so, however, may require some long-needed help.
Acciari Considered Game-Time Decision
Acciari has missed Boston's last 13 games after fracturing his left index finger in the season opener. Though he's only managed four points in his NHL career to-date, Acciari's two-way game is something the B's have sorely missed.
Consider the six goals Tuukka Rask gave up between Monday's and Wednesday's starts. Most came due to turnovers or a lapse in defensive coverage. The Bruins' play in their own zone has simply not been up to snuff.
Luckily, Acciari could be returning this weekend and is considered a game-time decision for Friday night's bout against the Leafs.
Bruce Cassidy tells reporters that Noel Acciari will be a game-time decision and that Anton Khudobin will likely be in net vs. @MapleLeafs Friday, with Tuukka Rask likely getting the start Saturday in Boston

— Boston Bruins (@NHLBruins) November 9, 2017
Bolstering the likelihood of the Acciari's return is the fact that Austin Czarnik was sent down to Providence on Thursday afternoon.
The bottom-six forward made himself a regular on Boston's fourth line and penalty-killing unit towards the end of the 2016-17 campaign. His positive performances continued into the team's playoff series against the Ottawa Senators.
With David Krejci considered week-to-week, and David Backes and Ryan Spooner out for a number of weeks, Acciari is Boston's best hope on offense in terms of a return to duty, especially when you consider the fact that the Bruins have now lost Brad Marchand to an injury for an unspecified amount of time.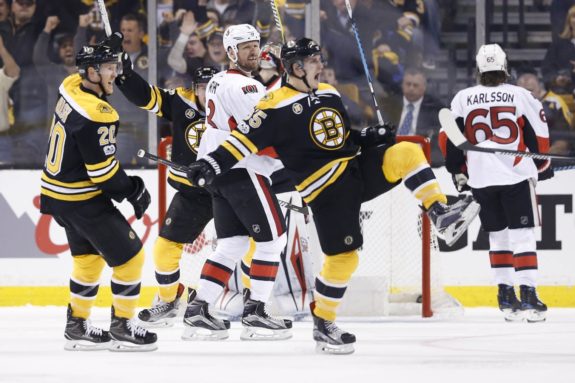 With Acciari's return, the Bruins' roster, on paper, will look more like the one they had to start the season. Perhaps he will be reunited with Riley Nash and Tim Schaller, his linemates from last season.
If not, Acciari will likely be slated alongside rookies who have proven weak in Boston's own zone. Coach Bruce Cassidy will be eager to start the 25-year-old against the Leafs on Saturday if he is not deemed ready for Friday night's action.
Khudobin Expected to Start Friday
Khudobin is slated to return to action against the Leafs on Friday while Tuukka Rask is expected to get the start on Saturday.
The backup's timely return increases the Bruins' odds of coming out of the weekend with a handful of points. With back-to-back games, Rask is only able to start for one of the two contests. Zane McIntyre would have been the go-to goalie if Khudobin was not ready, but Boston likely held off on their backup's return for this very start.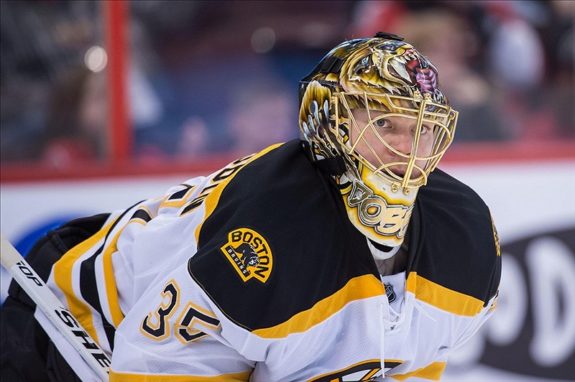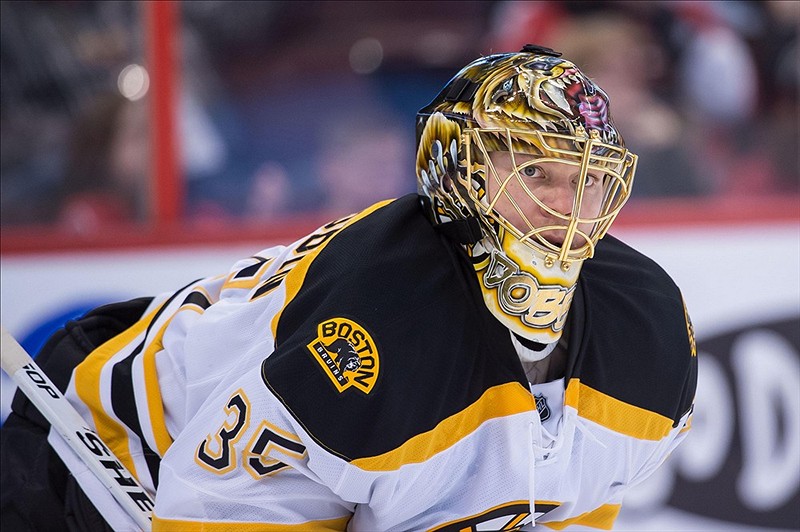 It's not that McIntyre is not reliable. In fact, throughout his career in the AHL, he has done well in proving his worth. But Khudobin is the sturdier of the two, especially when you consider McIntyre's .858 save percentage (SV%) and 3.97 goals-against average (GAA) through eight NHL appearances.
Khudobin, on the other hand, has started four games en route to a 3-0-1 record with five total appearances to start the season. His .926 SV% and 2.52 GAA mark his quality performance between the pipes for the Bruins during the absence of Rask. In fact, No. 35's stat line tops Rask's .903 SV% and 2.76 GAA through 10 starts this year.
Boston's starting goaltender, however, should not bear the blame alone. The defense in front of him has been sub-par, and the untimely turnovers and crunch-time collapses have been bountiful.
The Bruins need to steady the ship, and the return of Khudobin and Acciari will only aid in that effort.
I cover the Boston Bruins and NCAA Hockey here at The Hockey Writers. Born and raised 10 miles north of Boston, I developed a love for the game of ice hockey at a very young age. There's really nothing better than this sport, though steak is a close second.