New year, new me — as the saying goes. But, for the 2016-17 Calgary Flames it's time for rubber to meet the road. Two clichés that close together and you know hockey season is upon us.
With key off-season acquisitions of Brian Elliott, Chad Johnson, Troy Brouwer, Alex Chiasson and most recently, Kris Versteeg, the revamped Flames have the newly acquired stigma of a bubble team.
Recent waiver wire transgressions had Flames fans pleading en masse to lay claim to either Teemu Pulkkinen (claimed by Minnesota) or P.A. Parenteau (claimed by New Jersey).
Though the options were seemingly bleak, Flames general manager Brad Treliving shocked Albertans with the signing of Versteeg, who was reportedly close to signing with the Oilers. It is strange what one signing can do to ones confidence in a lineup.
Evaluating the numbers, Versteeg seems to be the well-rounded choice for the new-look Flames.
Kris Versteeg vs. The Waiver Wire
To some, the acquisition of Kris Versteeg came as a surprise, but when you compare his numbers to those of Parenteau and Pulkkinen, it is easy to dissect why the move was made.
Although seemingly equal, Versteeg's possession numbers paired with his all-around play in terms of shot generation give him the edge when comparing him to now 33-year-old Parenteau.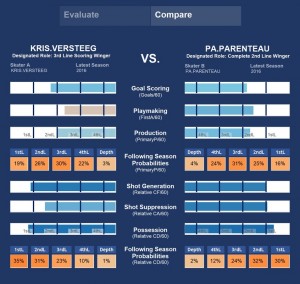 Versteeg at a thrifty $950k average annual value, plus the remaining cap hit of recently waived Brandon Bollig ($300k) equals $1.25 million AAV — Parenteau's current cost, as well as the previously mentioned Bollig at the NHL level.
Safe to say the value is there, in terms of points per game (PPG) pace, Versteeg's .52 PPG is close to Parenteau's .53 (2015-16).
But with the possibility of the Flames picking up another key piece in Pulkkinen or Seth Griffith, how does Versteeg stack up against these potential waiver acquisitions?
Quite well, actually.
With limited sample size, it is hard to judge how Griffith can truly perform at the NHL level.
In terms of underlying possession numbers, Versteeg boasts an exorbitant 53.7 CF% (Corsi For percentage) rivaled by Griffith's career 48.1 CF%. Granted, Griffith does start in the defensive zone 48.4% of the time, compared to Versteeg's 41.7%.
Versteeg is seemingly more efficient at driving possession, offense and initial shot production. The difference on their cost is not that far off either, as Griffith is paid $625,000. In today's NHL, $325,000 can get you a vastly superior offensive asset.
The youth movement seems to have forgotten about Versteeg.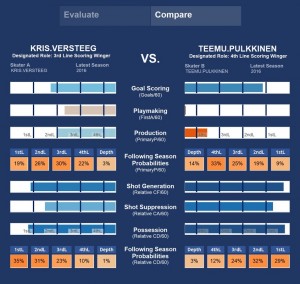 Lastly, how does Versteeg compare to Teemu Pulkkinen? Arguably the most attractive asset to hit the waiver wire, Pulkkinen went unclaimed by Calgary.
In terms of overall production, Versteeg edges the 24-year-old Pulkkinen.
Where Pulkkinen takes the edge is shot generation, shot suppression and possession. Though it could be argued these numbers could be influenced by the company Pulkkinen kept.
In terms of all-around production, Versteeg takes the edge, ever so slightly. Worth mentioning, Pulkkinen makes $812,500.
For the dollar amount the Calgary Flames were able to sign Versteeg for, this deal looks like a steal.
Where Does Versteeg Fit In?
In terms of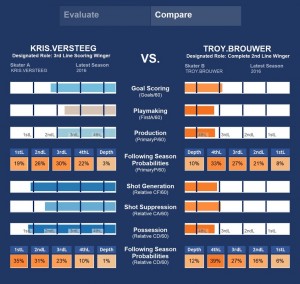 position, Versteeg has the ability to play either the left side or the right. As for right now, his likely spot would be firmly situated in that top six on the right side accompanied by either Sean Monahan, Sam Bennett or Mikael Backlund.
Comparing Versteeg to current members in the Flames top six, Versteeg vastly eclipses what veteran winger Troy Brouwer brings. And for the sake of argument, it's not even close. Versteeg has seemingly found his niche here with the Flames.
With the possibility of top-six minutes playing with the young core of the Flames, all Versteeg has to do is keep up and this signing will seem like a genius move (if it doesn't already) by Treliving.
With Versteeg's acumen, the Calgary Flames have found a serviceable forward at a great price to supplement their scoring in the top six, middle six, or however they intend to use him.
Where the Flames were seemingly lacking in talent on the right-side, they have since found a short-term solution to a glaring hole in their lineup.
With reputations at stake, the Flames embark on another long season in hopes of reaching the promised land. With recent signings, the Flames may have vaulted themselves from hopeful to bubble team in a matter of 24 hours.
Teeming with optimism, expectations for the Flames are once again at an all-time high.
Darcy has been a die-hard Flames fan for as long as he can remember, even pre-dating his love affair with beer. Recently a graduate from SAIT in Journalism, Darcy is currently enrolled at the University of Calgary.
Annoy him on twitter: @realdarcyhume