The mid-1980s Edmonton Oilers. The late-1990s Detroit Red Wings. Today's Chicago Blackhawks.
What do all of these teams have in common? That question can be answered with one word, one word that can turn a decent hockey team into a Stanley Cup contender. That word is leadership.
Whether it be Wayne Gretzky, Nicklas Lidstrom, or Jonathan Toews, almost every team that has attained some level of success in the National Hockey League has had an identifiable leader that rallied the troops in the locker room while putting their team on their back. Every NHL team wants a leader that can perform on the ice while being a role model, but very few teams have that type of player. That brings us to today's Buffalo Sabres.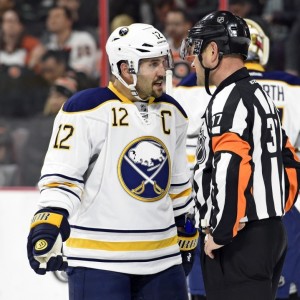 Just over two years ago, the Sabres were already deep into their rebuild. They had traded star players such as Jason Pominville, Thomas Vanek and Ryan Miller, and were looking to build up a young core of players that could do some damage down the road. Having just drafted Sam Reinhart and knowing that there was a strong possibility they would be taking Connor McDavid or Jack Eichel in the 2015 NHL Entry Draft, Buffalo decided to go after a player in 2014's free agency class that could be a role model for their young players on and off the ice. They found their guy in Brian Gionta.
Gionta, who grew up in nearby-Rochester, New York, signed a three-year contract with the Sabres on July 1st, 2014. The former New Jersey Devil and Montreal Canadien was 35 at the time and was named the Sabres' captain shortly before he began playing in his 13th NHL season.
Gionta, now 37, is currently in the final year of his contract with the team, and, either because of retirement or free agency, may not be with the Sabres next season. The veteran's departure would leave the Sabres' captaincy open, and thanks to the team's development over the past number of years, Buffalo has a number of players who could step up and take on the extra responsibility.
O'Reilly's Race to Lose
Buffalo is a blue-collar working town, and their sports fans love hard-working players. That is why fans have welcomed Ryan O'Reilly with open arms.
O'Reilly, a player that the team acquired in a trade with the Colorado Avalanche at the 2015 NHL Entry Draft, quickly became a fan-favorite amongst the Buffalo faithful due to his hard-working style of play.
"He plays the game the right way," general manager Tim Murray said after the 2015-16 season, which is something fans of the Sabres would tend to agree with. O'Reilly is a classic example of a two-way player and is arguably as talented defensively as he is offensive. The 25-year-old's willingness and ability to participate and thrive in every aspect of the game proves that he can lead the team by example, making him a contender to become the Sabres' captain once Gionta leaves Buffalo.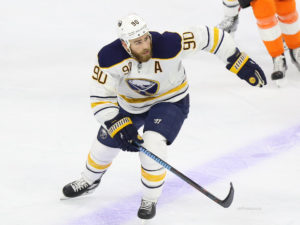 O'Reilly, who led the team in points last season with 60, has proven he can be an on-ice leader, but does he have the locker room presence to wear the C? According to Tim Murray, he does. "He's a guy I thought…could teach our young guys how to play properly," Murray said in April of this year. "I'm extremely pleased."
The Clinton, Ontario-native has already expressed interest in stepping into a leadership role. "I feel I have more of a voice, kind of know every guy and feel I can be more of a leader that way," O'Reilly said during last season's locker room clean out. "I feel coming in next year that I can be more of a voice right away."
Ryan O'Reilly has proven he can be an in-game leader for the team and has the potential to be a locker-room presence, establishing himself as the likely successor as the captain of the Sabres.
Captain Jack
Perhaps the only move that trumped the acquisition of Ryan O'Reilly on June 26, 2015 was the selection of Jack Eichel in the 2015 NHL Entry Draft.
The Buffalo Sabres selected what they hoped to be their franchise player with the second-overall pick in the 2015 draft, anticipating the Boston-native to make an on-ice impact early and to be a leader years down the road.
Eichel has already established himself as one of the more talented young players in the league, but is it possible that he will have the C on his jersey in just the third season of his NHL career? If the Sabres decide to go in a direction similar to that of a number of NHL teams, there's a strong possibility this could happen.
The hottest trend amongst NHL teams is putting the C on a young player with a high ceiling. The trend started in 2008 when the Chicago Blackhawks named Jonathan Toews the team's 34th captain. Toews, who was 20 years old at the time, has developed into one of the most respected leaders in the NHL and has captained the Blackhawks to three Stanley Cup victories over the past seven seasons.
After Chicago, a number of teams nominated younger players with a lot of potential to be their captain. In 2012, the Colorado Avalanche named 19-year-old Gabriel Landeskog, making him the youngest captain in NHL history. More recently, the Edmonton Oilers named Connor McDavid the 15th captain in team history, joining a list of players that also includes Wayne Gretzky and Mark Messier.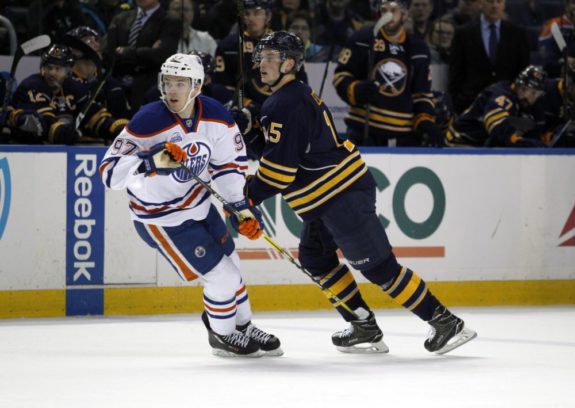 Eichel, who was selected just one pick after McDavid in the 2015 NHL Draft, could join McDavid as a young player who earned the captaincy early on in his career. The 20-year-old has already proven he has what it takes to lead his team on the ice, as he has single-handedly taken over a number of games for the Sabres throughout the first two years of his career.
Like O'Reilly, Eichel hopes to become more of a leader in the locker room throughout the 2016-17 NHL season. "I think I can start to take on more of a leadership role," the former Hobey Baker Award winner said in an interview over the summer. "I expect a lot more out of myself. Getting to the rink earlier. Staying later. That's how I envision it and that's how it should be."
Brian Gionta's days with the Buffalo Sabres may be numbered, so it's time for the team to start looking at options to fill the leadership void that will be left by the former Olympian. O'Reilly and Eichel are both solid options that have proven themselves as leaders, and both could receive the C in a co-captain situation, similar to what Sabres' fans saw with Daniel Briere/Chris Drury in 2006-07 and Thomas Vanek/Steve Ott in 2013-14.
The Sabres may have a problem choosing who receives the team's captaincy after Gionta's departure, but thankfully, that's a good problem to have.