Thirty-one games into the season, the Flames are atop the Pacific Division due in large part to contributions from their offseason acquisitions. As we approach the end of another semester at school, it's time to see if our hard work has paid dividends by submitting our report card.
In no particular order, here are the grades I've given the Flames' new additions based on their effect on the team after three months.
Troy Brouwer: D+
While Brouwer came in as a highly touted signing, there were naysayers claiming that his $4.5 million price tag was too much for the 31-year-old, and through this stretch, I agree.
Holding a 43.5 CF% (Corsi For Percentage) despite starting in the offensive zone 53.2% (oZS%) of the time, this is the sign of someone unable to produce offense effectively or maintain possession consistently.
It can be argued that his influence on the team is more significant than point production, considering his role as alternate captain; but at what point do you expect a player of that pay-grade to produce?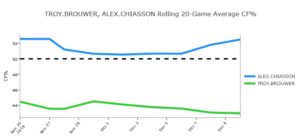 The scary thing is, his production is more or less congruous with previous years, as this year he is at .41 ppg (points per game), while over the last three years he has produced at a similar rate: 2015-16 (.47 ppg), 2014-15 (.52 ppg), 2013-14 (.52 ppg).
While this big-bodied forward becomes accustomed to the Flames' system, can we expect immense growth? Signs point to no. As possession metrics suggest, Brouwer operates on the line of effectiveness quite diligently. And his career point totals don't exceed .52 ppg. While this signing can largely be attributed to intangibles, $4.5 million is a lot to invest in one's personality.
Alex Chiasson: C
Acquired in the off-season for fringe NHL d-man, Patrick Sieloff, Chiasson comes into the Flames organization with little-to-no lofty expectations.
If you base your evaluation on the approximate value shipped out, Chiasson's ability at the NHL level should be comparable to Sieloff's.  While this can be debated, as Sieloff has yet to get a sniff at NHL ice since the trade, Chiasson has become a mainstay on the Flames' roster.
Not without his critics, Chiasson was a fixture on the top-six throughout the Flames' tumultuous start. While that period can be viewed as one of self-discovery, Chiasson found himself a niche on the line of Johnny Gaudreau and Sam Bennett.
Dallas, 2013-14 (.44 ppg), 2016-17 (.31 ppg); Chiasson has begun to find his offensive touch while remaining somewhat defensively effective. As seen in the graph above, Chiasson is consistently above 50% Corsi-For, with a 51.15 CF% on the season. Where I see a hit on his overall grade in this regard is his 61.6 oZS%. This might be problematic because the number of offensive zone starts should lead to a larger CF% based on where you possess the puck more frequently; this is an area for Chiasson to improve on.
Kris Versteeg: B-
What Versteeg has brought to the Flames is immeasurable. His offensive prowess paired with his veteran presence is valuable, while his production and effectiveness at driving possession can be seen as his downfall.
Although he came to the Flames late in the off-season, he was a low-risk, high-reward signing at $950k. As a complementary piece to the Flames' top-six, Versteeg as a right-handed shot has created some beautiful goals. Two noteworthy entrants are the cross-ice feed to Deryk Engelland as well as the nifty play where he dangled and found Troy Brouwer:
Versteeg has been an effective addition to this young lineup, and while possession metrics may not be on his side (46.3 CF%, 54.4 oZS%), the consistent performance of this tenured veteran is valuable to the Flames lineup.
Brian Elliott: F
While this grade is a little harsh, it is accurate when reviewing the body of work Elliott has put forth thus far. Holding on to a 3.31 GAA (Goals Against Average), and an 88.5 sv% (Save Percentage), Elliott has not been effective with a 3-9-1 record.
Throughout Elliott's career, he has always found himself as the back-up to a more efficient goaltender.  The 31-year-old, Ontario-native has to patiently wait and hope that his next outing is better than his previous six, which have all been losses.
Matthew Tkachuk: B
What Matthew Tkachuk has done is nothing short of amazing. Tkachuk has found a nice position on the wing of Mikael Backlund, with Micheal Frolik on the right-side. This line has quickly become of the most effective possession driving forces the Flames have.
Tkachuk's numbers indicate he is wise beyond his years, as he boasts a team-leading 56.3 CF% with 35.4 oZS%. Let that sink in for a second. Despite starting in the defensive zone 64.7% of the time, Tkachuk specializes in turning defensive possession into offense, a pleasant surprise for a 19-year-old. Despite producing at a .55 ppg pace, Tkachuk regularly creates offensive chances with his body and his ability to make his way to the front of the net.
Where Tkachuk sees his stock fall is in his untimely penalties, as he has 49 PIMs (Penalty Minutes), the most on the team ahead of the second place Deryk Engelland by eight minutes. This is cause for concern but is largely the by-product of his tenacious nature.
Chad Johnson: A
I saved the best for last, in this case, Johnson has come in and lifted the Flames from the obscurity of their tumultuous start. Turning heads with his exorbitant numbers, Johnson boasts a 1.98 GAA and a 93.2 sv%, quite impressive for the consensus backup before the season began.
Posting 3 shutouts in 18 games started, Johnson has instilled confidence in this Flames lineup, something that was missing over the past few years. Drawing comparison to all-time Flames great, Miikka Kiprusoff, fans are beginning to realize just how special this Calgary kid is. The main question is whether or not Johnson has the legs to continue this torrid pace throughout the season or if he will fall off. If so, does it also mean we need to see a resurgence from Elliott?
At some point down the line, there will have to be a shift from Johnson to Elliott. In the meantime, enjoy the ride as the Flames possess one of the NHL's hottest goaltenders.