The narrative surrounding the Los Angeles Kings and their 2016-17 season has been their ability to stay relevant in the Pacific Division despite being hit with a slew of injuries to start the season.
But after a 6-3 loss to the Buffalo Sabres on Tuesday night, Jeff Carter had some interesting words to describe the state of the team.
We're fragile. We're a fragile team. You get one bad bounce against you…You know, they've got good players over there. They're going to have shifts in our end. We get running around. We lose coverage. They score one goal. We're up 2-1. 2-1 on the road is pretty good and then we just crumble, and we've been doing it all year. Home, away, everywhere. It's time we take a big look in the mirror here because these next six games are pretty crucial to our year.
Those are strong words from Carter, who scored goals number 13 and 14 during the loss to lead he team.
Fragile.
It's an interesting word to describe a team that has lost star goalie Jonathan Quick until mid-March, has seen captain Anze Kopitar miss a handful of games due to a wrist injury, didn't have Marian Gaborik play in a game until late November because of an ankle injury and has Brayden McNabb still mending an injury of his own.
http://gty.im/624074600
But Carter was not talking about the string of bad injury luck. The 2016-17 season has been an emotional roller coaster for Los Angeles. Injuries to star players, streaky play and inconsistency have made the Kings' first 28 games carry the weight of an 82-game season.
Kopitar also had a strong opinion on the Kings coming up short in Buffalo.
Kopitar on 2nd period: 'We stopped playing. They got a first goal, second goal and then we just stopped playing….It's unacceptable.'

— Helene Elliott (@helenenothelen) December 14, 2016
That right there seems like the feeling hovering over the Kings' season so far; as if everything is one loss, one goal, one shift away from falling apart.
It could be the injury problems. It could be the lack of production from players like Tanner Pearson (7G, 12P), Tyler Toffoli (5G, 16P) or even Kopitar (3G, 15P). It could be the 4-8-1 record on the road. It could be the fact that Peter Budaj, who started the season in the American Hockey League, is now the team's workhorse. It could be the emotional toll on the team from dealing with everything the first 28 games has dealt them.
Whatever the reason, the feeling around the Kings is bleak, even when they are winning. A 14-12-2 record is nothing to be ashamed of, but everything feels like it's hanging by a thread in Los Angeles; as though they are just one injury or losing streak away from a huge collapse.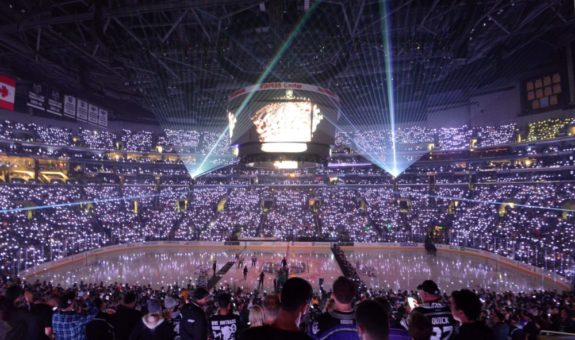 The bottom line is that a 6-3 loss to the Sabres, a team that is dead last in goals per game with 2.19, needs to be a wake-up call.
If the Kings are fragile, games two through nine of their current nine-game road trip could get ugly. They need to figure this out while on the road because they can't look to their hometown crowd to help them regroup; that next game at Staples Center is over three weeks away.
How fragile are the Kings? It's tough to say. There have been points this season where things seemed to be as bad as they can get and there have also been instances where everything was clicking and seemed to be figured out.
It's a game by game struggle. Is the next game going to be the start of another five-game winning streak, or is it another tally in an extended losing streak? Will the Kings find a way to mend some of the cracks, or will they suffer a fatal blow that causes the glass to shatter?