Expectations on player development are often in the eye of the beholder.  That or the corresponding scouts with notebooks.  At the beginning of the year the AHL Albany Devils, like most other squads, were infused with NHL talent.  Since the end of the work stoppage, what was a cohesive club once again had to be reinvented with different players in new roles.
As the All-Star festivities commence in Providence, RI, the Devils find themselves at 17-14-1-8 (43 points), 11th in the Eastern Conference, two points out of eighth and four points out of fifth.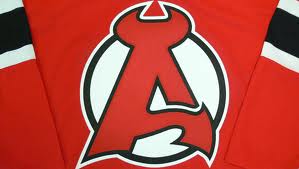 Many notable players have made the jump to the NHL's New Jersey Devils, or are about to, including Stephen Gionta, Jacob Josefson, Mattias Tedenby, Adam Larsson and Adam Henrique.  So far the Devils appear to be benefiting from that player development, as Gionta has a goal and Josefson and Tedenby have displayed a lot of jump and play-making ability.  While it's tough to argue with early success, if you read me regularly, you'd know that I'm a big believer in Larsson playing regularly.
Heading into the All-Star break, things are also looking up on the attendance front.  Most recently in their final game before the break, Albany drew a franchise record 10,218 fans, in a 5-2 victory over the Adirondack Phantoms.  It was the largest AHL crowd in Albany since 1999.  On the season Albany is averaging 4,060 per contest.
Most Valuable Player:
Bobby Butler: Butler has really torn it up for the A-Devils from December on.  The fleet forward will start for the Eastern Conference in the AHL All-Star Game.  On the year Butler boasts a team leading 16 markers, including five on the power play and one shorthanded, along with ten helpers and a +/- rating of +11.  While caught in a numbers game during training camp in Newark, Butler's consistent play has not waned from what made him the AHL player of the week in December and ultimately an All-Star berth.
Most Improved Player:
Keith Kinkaid: One could surely make a solid case that Kinkaid deserves the honor above this one.  On the campaign, the second-year pro out of Union College, is 14-8-4.  Kinkaid ranks 11th in the AHL with a 2.36 goals against average and sports a save percentage of .917, posting two shutouts along the way.  Given the early season scoring woes for the A-Devils, the "Blockaid" has been quite the force between the pipes.
Diamonds And Disapointments:
Devils General Manager Lou Lamoriello has always had a knack for unearthing talent and getting the most out of it.  For instance, on this squad one could point to a player like Joe Whitney, who the Devils signed as a free agent last year.  Whitney has eleven goals and leads Albany with a +/- rating of +14.  This year one could point to players such as Harri Pesonen and Chris McKelvie.  After a slow start, Pesonen has registered nine goals and ten assists, pocketing a pair of goals against Adirondack before the break.  As for McKelvie, the squad is an uncanny 12-5-0-3 when the gritty forward is in the lineup.
Conversely on the much left to be desired front, forward David Wohlberg had only mustered two assists in 16 contests.  Also struggling to find his way and catch up to speed is defenceman Raman Hrabarenka.
Playoff Possibilities:
As mentioned above, when there's a mere four-point gap between fifth place and eleventh, there's a great deal of uncertainty about how things will shake out.  Obviously with the NHL back in operation, there are many variables at the AHL level, with trades, call-ups and injuries.  With such tight margins, one has to wonder how much of an impact having four "home games" at Atlantic City will ultimately impact the club's chances in qualifying for a spot in the Calder Cup playoffs.
From February to the end of the season, Albany plays 19 on the road and 17 at home, one of which occurs at Atlantic City.  Should they be able to withstand two six-game road-trips in February and March, Albany will finish with ten of its last 12 games at home, including closing out with a five-game home-stand in April.
Of their final 36 opponents, Albany plays 23 games against clubs currently in a playoff position and 13 that are not.  Albany begins its post-break quest at the Providence Bruins on February 1.