Aleksander (Sasha) Barkov THW Close-Up:
Team: Tappara, SM-Liiga (Finland)
Birthdate: September 2, 1995
Hometown: Tampere, Finland
Height: 6'2″  Weight: 205 lbs
Position: Centre
Shoots: Left
NHL Draft Eligibility: 2013
Twitter: @Barkovsasha95
THW Ranking (January 2013): 4th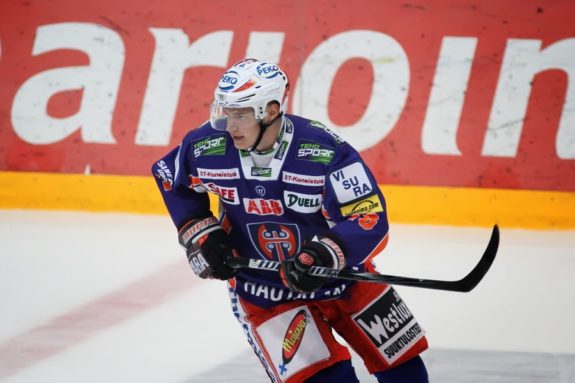 Other Rankings
ISS: 5th
CSS (European skaters): 1st
Consensus Aggregate (NHL Numbers) Ranking: 4th
Future Considerations: 4th
The Hockey News: 5th
Craig Button (TSN): 4th
****
Aleksander Barkov has played the last two seasons for Tappara in the SM-Liiga against the top men's players in the country as a 16 and 17 year old. He has been nothing short of impressive and has showed he could be one of the most NHL ready players of the 2013 draft despite his age. It's somewhat ironic given that he will be one of the younger players to enter the draft, as he doesn't turn 18 until September.
When compared to those ranked around him like Jonathan Drouin and Valeri Nichushkin, he doesn't have their "wow" factor and may not be as purely dynamic as those others ranked in the top group. What he is will be a safe pick for someone in the top five and that is meant as an ultimate compliment.
You know exactly what you're getting with Sasha Barkov and that's a 6'2″ power forward with an impressive combination of size, skill and hockey awareness and as sure a pick as there is on June 30 in Newark. There is talk he may be one of the best Finnish prospects ever, and the best Nordic prospect since Peter Forsberg. High praise indeed.
He understands his role in all three zones, and always seems to be in the right place. He's responsible at both ends of the ice and his best attribute may be his hockey sense, which is mature beyond his years.
As responsible as he is, that doesn't mean he doesn't possess a superior level skill. He has a real good wrist shot with a quick release, slick hands and elite puckhandling skills to go with it. He has incredible vision and is a playmaker more than a sniper in terms of style.
Most pundits have Barkov going #4 to the Nashville Predators, as the feeling is that the Lightning won't pass up Jonathan Drouin, and the fact that Nichushkin is Russian may scare teams away in the top five.
If that's the case, he would be an ideal fit and bring an infusion of blue chip talent to their forward group. Having already dealt for Filip Forsberg and with the emergence of Colin Wilson, the future of the Preds offence would certainly appear to be in good hands should it work out that way.
The only concern could be a shoulder injury he sustained this past season. All indications are that it should be fully healed, however he will no doubt be watched closely at the combine.
Some scouts have Drouin ahead of MacKinnon, and vice vera obviously, and I know at least one who has Aleksander Barkov ahead of both of them

— Bob McKenzie (@TSNBobMcKenzie) May 27, 2013
Scouts Honour:
Aleksander is mature beyond his years with a quiet confidence in his game. He has uncanny awareness and is a player who is capable of sizing up the play two and three steps ahead and can therefore do things at a very high pace and tempo. He possesses great hands, and he makes every kind of pass to create scoring chances. A very good skater who can create time and space for himself in the offensive zone. He is a dangerous offensive player who plays with determination and has a 'go about his business approach.' Has the potential to be a top number 1 center.

– Craig Button, TSN

Barkov is bit of a big lumbering skater who does have decent straight line speed but lacks much in the way of lateral quickness and jump in his first few steps. He does not initiate contact in a menacing way but uses his size effectively and with the purpose of disrupting opponents defensively or protecting the puck. Despite his size, Barkov is somewhat shy using the power he has; he is not a power forward, running over defenders by any means. He is a strong two-way centre with excellent smarts and developing offensive skill.

– Aaron Vickers, Future Considerations

Aleksander Barkov possesses the rare combination of size and outstanding technical skills along with an ability to quickly analyze situations. He is very mature in terms of hockey sense at an early age and has had success playing against much older players in Finland's SM-Liiga. His skating ability is still developing but is not a weakness. Does not play an abrasive game but has the size and strength to withstand the rigors of the more physical North American game.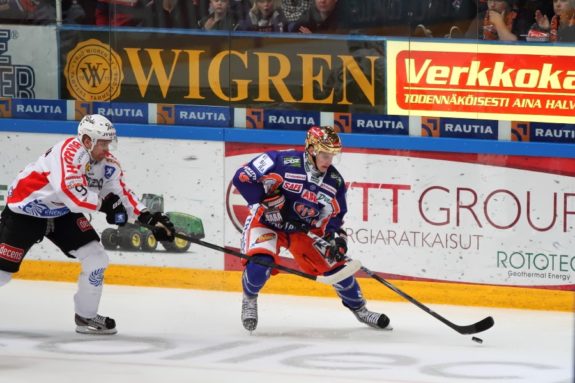 Where He'll End Up in June:
Barkov will very likely be a top five pick, somewhere in the 3-5 range. There's a good chance he goes to the Predators at #4.
Statistics:

Interviews/Bio links:
International Tournaments:
Has competed for Finland at just about every level from U16 Championships to the U20 WJC and everything in between.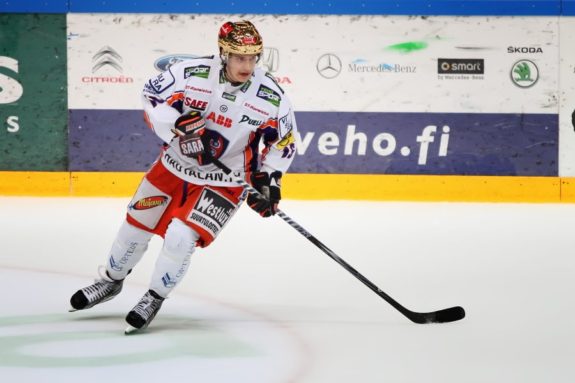 NHL ETA:
2013-2014
Risk/Reward Analysis:
Risk: 1/5  Reward: 5/5
NHL potential:
No.1 two way centre
Strengths:
Hockey sense
Hockey IQ
Strong on the puck
Size
Strength
Touch around the net
Stickhandling
Wrist shot
Passing
Flaws/Aspects He Needs to Work On:
Skating (not necessarily a flaw, but could be improved)
Could be more physical and use his size more effectively
Fantasy Potential:
Offensive: 9/10  Defensive: 8/10
NHL Comparable:
Has drawn comparisons to fellow Finn and Wild captain Mikko Koivu.
Video:
Off the Iron (Interesting Notes):
Current SM-Liiga linemate and former NHLer Ville Niemenen will be escorting Barkov to the draft to act as translator if need be. (THW's Chris Ralph interview)
_________________________________________
THW's The Next Ones prospect profile template design architect: Chris Ralph
Follow Carl on twitter @maloney3383 and Google+ for more articles.