There are few players in the NHL more recognizable on a global scale than Alexander Ovechkin.
Though the NHL has a world-wide following of fans who truly love and appreciate the sport of hockey, it's no secret that the league has fallen behind as far as marketing itself and its athletes in a way that the other three major sports leagues in the NFL, NBA and even the MLB have. While the NHL may be working on this, it's still an uphill battle nonetheless.
Still, you'd be hard-pressed to find sports fans who aren't at the very least familiar with the name Ovechkin due to his larger-than-life personality and ability on the ice.
This is why Sportsnet and EA SPORTS partnering together to produce a special three-episode series titled "From Alex to Ovi" makes sense given Ovechkin was recently named the Cover Athlete for NHL 21. This is the second time in his career that he's been named a cover athlete for EA SPORTS' NHL franchise as he was also on the cover of NHL 07.
Episode One of the series is already live on Sportsnet as well as on YouTube.
In this episode, Sportsnet would follow Ovechkin back to Russia as he'd share his time with the Stanley Cup with his family who he would explain basically dedicated their lives to make sure he could live his in the way he has.
It would also go over the early days of Ovechkin's career – both prior to the draft, including his upbringing and backstory, as well as his early days in the NHL.
Episode two and three are scheduled to air mid-September and mid-October respectively. All of the episodes will be available through Sportsnet's website and YouTube Chanel, on-demand on SN NOW as well as through EA SPORTS owned-channels, NHL.com and NHL Live, Washington Capitals-owned channel and CCM owned channels.
Ovechkin Was the Superstar the NHL Needed
Since making his debut in the NHL in 2005, Ovechkin has been on everybody's radar as an absolute superstar. It's not easy to produce as a rookie and it's even harder when the expectations are as high as they were for a player like Ovechkin, who not only had the hype surrounding him as the first-overall pick in 2004, but also had to compete with the 2005 first-overall pick Sidney Crosby for the limelight throughout much of the early stages of his career following the 2004-05 lockout.
Though there were debates about which young player was better, the "Great 8" or "Sid the Kid," the reality of the situation was that the hockey world was about to experience greatness from two generational talents who just happened to play in the same division and debuted at the same time.
Ovechkin not only lived up to the hype, but he'd exceed all expectations right out the gate.
Scoring 52 goals and 106 points in his rookie season, Ovechkin put everybody on notice with his offensive production and his electric personality on and off the ice that was polarizing at the time.
Ovechkin Changed the Mold for Hockey Personalities
On the one hand, hockey fans weren't used to seeing such an eccentric player who didn't necessarily follow the norms of the straight-laced, formal hockey players before him. At the same time, though, many took the entertainment value for what it was and immediately jumped on the Ovechkin train and have enjoyed every minute of his already-Hockey-Hall-of-Fame-worthy career.
Fast forward to 2020 and Ovechkin is not only a Stanley Cup Champion, but he's also one of the most respected players on and off the ice by his peers, fans and the media alike. With 706 goals and 1,278 points in 1,152 games, Ovechkin has proven to be the superstar that the NHL needed to keep their product exciting and enticing as fans craved more out of hockey than what they were getting.
Questions about his personality are few and far between compared to what they were a decade ago and the modern-day NHL player is encouraged to be more like Ovechkin; having fun, putting on a show and wearing their heart on their sleeve each and every shift.
Related: NHL 700-Goal Club
This series put together by Sportsnet in partnership with EA SPORTS makes perfect sense for both companies as they look to emphasize the superstar that is Alex Ovechkin.
Sportsnet is continuing to break ground with content that transcends traditional television.
When the world was looking for sports content and a deeper look into what players are like off of the ice, Sportsnet would create their NHL 20 Bracket Challenge. With sports returning, Sportsnet didn't simply sit by the wayside and return to the norm. Instead, they took the opportunity to continue giving fans what they want – a look into the life of one of the NHL's biggest superstars.
The EA SPORTS' NHL Franchise has made strides in recent years as far as emphasizing the athlete and their personality and unique-styles in ways that have never been done before in the series. You'd be hard-pressed to find someone who can provide these things and more than Ovechkin, who like P.K. Subban — the cover athlete for NHL 19, is instantly recognizable as a player and a personality both on and off the ice.
For those interested, NHL 21 is now available for pre-order for PS4 and Xbox One.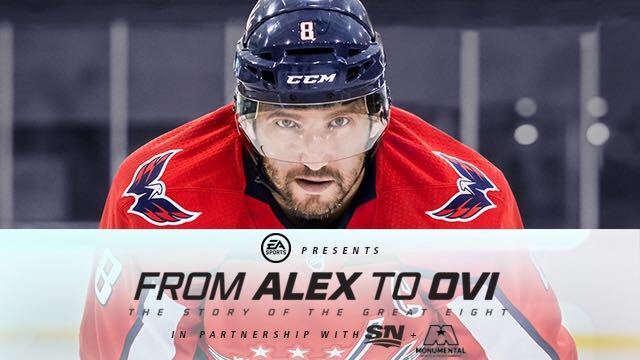 Though his name is still Alex, he'll always be fondly remembered as Ovi once his playing days are behind him. For the sake of hockey fans everywhere, let's hope that day doesn't come any time soon.
---
---
Brandon Share-Cohen has covered the NHL and various professional sports for seven years. Working with The Hockey Writers, Brandon works extensively on covering the Boston Bruins in addition to his role as the News Team Lead.