In the last game for the Colorado Avalanche before the Christmas break Alex Tanguay scored another goal on Tuesday night against the Blues.  The 5 to 0 win against a Pacific Division opponent was exactly what the doctor ordered.  As the three day hiatus begins Tanguay is currently first on the Avalanche roster in points with 24.  Tanguay is also first on the roster with 12 goals, and is one of only a few players on a now .5oo hockey team that has a positive plus/minus rating at +5.
Tanguay was returned to the Avalanche in the 2013 off season via a trade with the Calgary Flames.  Tanguay and Cory Sarich came to Denver at the cost of David Jones and Shane O'Brien.  The Avalanche organization still features a couple of Tanguay's former teammates, they just are not on the ice along side him.  Avalanche Head coach and V.P of Hockey operations  Patrick Roy and General Manager Joe Sakic both played with Tanguay during his first years with the Avalanche.  Acquiring Tanguay was the first substantial trade these two accomplished in their new positions.
The first round pick of the Avalanche spent his first six season in Colorado before becoming a bit of a journeymen player in the seven season that followed.  Tanguay spent time with The Montreal Canadians, Tampa Bay Lightning and had two separate stints with the Calgary Flames.  Tanguay is best remembered by Avalanche faithful for scoring two of the three Avalanche goals in the 2001 Stanley Cup finals game 7 that won Ray Bourque his only Stanley Cup after 22 seasons in the league.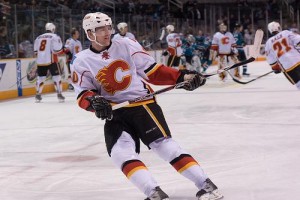 48 Games Remain
As the league approaches the halfway point of the season the Avalanche have a lot of ground to make up.  A plethora of injuries and other unfortunate bad bounces have the Avalanche at a 13-13-8 record and 5th in the very daunting Pacific Division.  The Avalanche enter the Christmas break winners of three straight and have earned at least one point in their last six contests, this will need to continue for the Avalanche to have a chance at a playoff run.  Tanguay's return to the Avalanche last season was cut short after a hip injury in November sidelined him for an extended period and later in the season it was decided surgery was necessary which ended his season.  Tanguay has stayed mostly healthy this season only missing two games and that was due to an Alex Ovechkin shot that hit Tanguay square in the face breaking his jaw.  A month later Tanguay continues to wear a full face shield on his helmet as a result of the broken jaw.

Even at 35 years old Sakic and Roy showed early on that they think Tanguay can still contribute to a team especially one loaded with young and frankly inexperienced talent.  If Tanguay can stay healthy the rest of the season the Avalanche will need him to continue to be near the top in team scoring.  This years Avalanche roster is loaded with young talent up front but Tanguay leading in scoring is a huge bonus.  Tanguay has won a cup and unfortunately was not available for last years playoff run.  Tanguay will be a key piece in this team making or missing the playoffs this season and this is exactly why he was brought back to Colorado.
I am a University of New Mexico journalism student who has been watching NHL hockey since 1996 and I started playing hockey myself in 2003. I have covered both college soccer and volleyball in the past and I also contribute to a NASCAR news website.