'Twas the night before Christmas and all through the league, not a creature was stirring, not even John Scott. With it being Christmas eve and the NHL in the middle of their CBA mandated days off, that leaves little to write about. Except, there is always a hockey wish list that can be shared with family and friends. Without further ado, my completely unrealistic Sharks Christmas wish list.
10. New Mitts for Mike Brown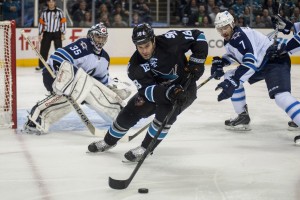 Sometimes when a talented player shows off terrific stick handling skills, commentators will say he has excellent mitts. Primarily synonymous for gloves, mitts is sometimes used in replacement of excellent hands. It just seemed more Christmas like to say new mitts for Mike Brown. The fourth line energy winger no doubt gives the cliche 110% on every shift, plays hard and makes a strong impact on the forecheck. Only problem is too often his strong forecheck leads to nothing as he has some of the worst hands in the league. Brown could be a good bottom six player if he could keep control of the puck for longer than half a second.
9. Power Bars for Justin Braun
No, not actual power bars, but how about some power-play time for Justin Braun? Despite getting more power-play minutes the past couple of seasons ahead of his even strength partner Marc-Edouard Vlasic, Braun is getting virtually no power-play time this year. Vlasic is quarterbacking the second unit with guys like Matt Irwin and Matt Tennyson getting more looks as the second point man. Braun has much more offensive flare than Vlasic and it is an absolute head scratcher why  he isn't the go-to puck mover on the second unit.
8. Joe Thornton to Shoot the Puck More
Recently on twitter I joked about if I had a nickel for every time a Sharks fan complained about Joe Thornton shooting more. Therefore it may seem hypocritical for this to be on my wish list but it's not. Despite Thornton sometimes being too cute and fancy when he should just shoot, he is so good at passing, he is a more valuable player than the vast majority of other top-six centers who do shoot more often. What inspired the tweet is that many fans who complain about him not shooting the puck more believe it to be  as serious flaw. It's not a serious flaw, it is just a minor thing to poke fun at.
7. Brenden Dillon to Avoid the First Shot Blocker
Brenden Dillon has certainly established himself as a solid second pair defenseman next to Brent Burns but his flaw is much more frustrating than Thornton's. Even while backskating at the point to create a shooting lane, Dillon has gotten way too many shots blocked by the immediate shot blocker right in front of him. It is not clear if he just doesn't get his head up to see where the opponent is or what, but he needs to do a better job getting his shot through.
6. Andrew Desjardins to Score 10 goals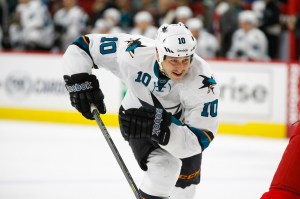 Fourth line center Andrew Desjardins doesn't get enough credit for having some decent puck skills. It has been rather unfortunate that he has had to play with so many awful players over the years on the Sharks' fourth line. With Adam Burish being waived, Brown being injured, and now Scott being suspended, Desjardins may soon be able to rack up a few more goals playing with actual hockey players like Chris Tierney, Matt Nieto, Tye McGinn, and/or Barclay Goodrow. There is no player that deserves bad angle goals more than Desjardins, who works his butt off each game with little to show for it. 
5. The Return of Chewbacca to Forward
As mentioned above, Burns and Dillon are playing well together on the Sharks second pair. However, the Sharks still miss Burns' right-handed shot up front. The easiest way to improve the team without having to worry as much about chemistry is to move Burns up where he thrives with Thornton and trade for a defenseman to take his spot next to Dillon.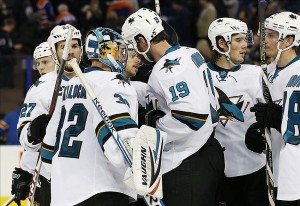 4. A Bone for Alex Stalock
Can the Sharks throw this guy a bone please? Antti Niemi is having a good year but he hasn't been reliable in the postseason as a Shark and he is a pending unrestricted free agent. At the beginning of the year these two were trading starts but all of a sudden that stopped. Niemi has gotten the majority of the work even with Stalock turning in a better save percentage. It is mind boggling to me why this organization doesn't get Stalock more starts to see if he is actually capable of holding down the No. 1 job.
3. Tomas Hertl & Antti Niemi Rapping Matt Nieto's Holiday Sweater Segments
Both Hertl and Niemi appeared in the now viral Holiday Sweater rap video the Sharks made. However, with Hertl still learning English and with Niemi's thick Finnish accent, neither one actually rapped. Isn't this something everyone would love to see them try?
2. The Return of the Jedi to Third Line Center
If there is any Sharks player as wise as a Jedi, it is Joe Pavelski. Currently scoring goals in bunches on Joe Thornton's wing, the vast majority of the Sharks' great playoff wins over the last four years have come with Pavelski at third line center. The epic comeback against the Kings in 2011, the sweep of the Canucks in 2013, and the 3-0 lead in last year's Kings series were all primarily with Pavelski at third line center. Overall the Sharks are 15-11 with Pavelski in this role in the postseason since 2011. When he plays wing in the top-six they are a putrid 5-10.
1. Patrick Marleau Channeling His Inner Bobby Boucher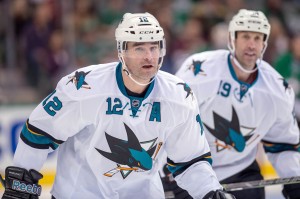 Like Thornton shooting the puck more, sometimes many of us just want Patrick Marleau to get angry and play with a physical edge. He is a fantastic player even without ever seemingly getting mad but sometimes he pulls up or doesn't finish his check and that is frustrating at times. Perhaps head coach Todd McLellan just needs to get creative and insult Marleau before he takes the ice. Waatteeerrr succckkksssss. 
That's it, that's my list. Happy Holidays hockey fans!
Andrew has been credentialed to cover the Sharks since 2010 and the 49ers since 2012. He graduated with his BA in Broadcast Electronic Communication Arts in 2013 from San Francisco State University.