The Vancouver Canucks are sitting pretty at second in the Western Conference and while a lot of the credit for this success is being heaped upon players like the Sedins, Ryan Miller, and Nick Bonino, an integral piece to the picture is getting somewhat overlooked: Alexander Edler
Alexander Edler was one of the many players to come under fire at the end of last season and maybe rightfully so. He was not playing up to his potential that he flashed in previous seasons nor was he playing up to his $5 million cap hit.
And as the new season begins to head into December, Edler hasn't been as much of a pariah as he was a year ago. Sometimes for defensemen, no news is good news.
By the Numbers
I know the plus minus stat gets some hate for being illegitimate, but when a player is -39 for the season, that'll draw some attention.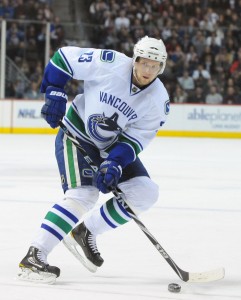 Such was the case of Alexander Edler a season ago. His -39 drew, sometimes, undeserved criticism because the entire team wasn't very good down the stretch. But such is the case when a supposed number one defenseman posts a number like that.
Edler's corsi for rating a year ago, however, was 52.4%, which means while he was on the ice, the Canucks put more shots towards the opponents net than shots they gave up.
So here we come to a discrepancy: an indication of an individual's poor performance as well as an indication that maybe he was better than the -39 suggests. Make with that what you will, but nevertheless Edler wasn't playing well enough for the Canucks to be successful.
Fast-forward a year from now and Edler, especially with Dan Hamhuis on the shelf, needed to and has been playing like the Canucks' number one defenseman.
Alexander Edler's plus minus is finally in the green at +5 and his corsi for percentage has improved to 54.4%. But what has Edler done differently that has made him a more successful this year?
A Closer Look
For starters, Alexander Edler has always been a pretty good passer. When he struggles, he gets in his own way and coughs up the puck in dangerous areas all too frequently. But when he's on, he can start a rush from just about anywhere on the ice. And in Willie Desjardins' new system, a passer with that type of skill on the back end is key.
Edler has been more aggressive this year, both offensively and defensively, which plays well with Desjardins' up tempo system.
Fast-forward to 2:36 and you'll see Edler aggressively making a stop at his own blue line and then moving the Canucks in the right direction. The turnover Edler forces with his aggressive play leads Vancouver to a fast break and a goal.
Another example of such came when Edler joined the rush he started against Chicago this past weekend. Edler made the defensive play, quickly moved the puck to Daniel Sedin and still had the presence of mind to continue his rush up the ice. Willie Desjardins likes his team to move out of their own zone with pace, and so far Edler has been a factor in doing just that.
Edler is not the most out spoken defensemen in the league nor is he known as a puck moving defensemen. But early in this season he has been making smart and aggressive plays that turn into quick rushes going the other way. One area I would like to see Edler excel more in, and I'm sure this is true with most fans, is the physical side of the game. Edler has been using the body more often this season, but if he were to do so more consistently he'd allow the Canucks to match up better the bigger teams, such as the L.A. Kings and Anaheim Ducks.
Alexander Edler is playing well defensively and creating offense going the other way, which has helped him become a better all around player so far this season.
Alexander Edler and Mental Toughness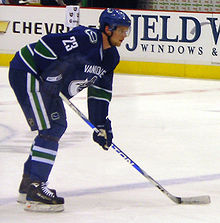 Alex Edler has hall the natural tools to be a successful NHL defenseman: a big shot, size and decent skating ability. He just sometimes looks lost, gets in his own way, and lacks consistency, which can point to a lack of mental toughness.
But when he's on, he's a great defenseman. Canucks management has given him a vote of confidence and he now plays in a system where his tools can flourish. Without Hamhuis, or a real bonafide number one defenseman, the Canucks have turned to Edler to fill that role.  That places an incredible amount of importance on Edler's play.
All signs, so far, point to Edler being able to keep his re-found game up.  Hopefully, for the Canucks' sake, Edler does just that.
Andrew Jow is an English student at Simon Fraser University where he covered the SFU Men's Hockey team. Andrew is a Vancouver native and covers all things NHL for The Hockey Writers. Follow him on Twitter @MadJowDisease