Much like a child on Christmas morning the Vancouver Canucks' management and fans are excited to show off Bo Horvat like their new toy. What's there not to be excited about? The Canucks haven't had a teenager in their NHL line up in a long time and the Canucks have publically stated that he is staying with the team. With all the discussion this season surrounding Horvat and if he will be staying there are few people asking if he is good enough to stay in the NHL or if he should be sent to the CHL.
U20 Players
I wrote a similar analysis of Curtis Lazar who was in a similar situation. Both are young forwards who are in their 19 year old season and the teams had to make the decision to keep them or not at the 9/10 game mark.
Players at Horvat's age have a number of contract rules and stipulations set up by the Collective Bargaining Agreement as well as other sources such as the National Hockey League/Canadian Hockey League Transfer Agreement. The key takeaways from these is that Lazar has an Entry Level Contract (ELC) which specifies how much he will make and this number is relatively cheap and is usually in the $600,000 to $800,000 per year range (depending on bonuses). This is a three-year, two-way deal and is great as it allows you to keep your young talent for very cheap.

If a player does not play in the NHL then the "slide rule" comes into play, which allows the league to move the start of the three-year contract to the next year. This can be done for 18-year-old and 19-year-old players and does not apply once you hit 20. What the NHL defines as having played a season is when a player has played 10 or more games in a season.


This is why this 9/10 game benchmark is important. If the Canucks play Horvat in one more game this season they will use up the first year of his ELC which means the team will have to pay him more a year earlier.

Recently teams seem to be focused less on the 9/10 game benchmark but rather on the 39/40 game benchmark, TSN's Bob McKenzie wrote about this last week. The difference in these game marks is that at the 40th game your player accrues a year of service towards becoming an Unrestricted Free Agent. Typically buying those years is more costly than the first contract as agents have a large body of work to argue and players are typically just starting the years following their peak.  If you burn a year of your players ELC they have less of a body to work to argue their next contract.

There are some people, such as Puck Daddy's Ryan Lambert, who argue there's almost no reason for a 18 or 19 year-old to be in the NHL. His premise is similar to keeping your good players on cheap contracts for as long as possible. Rarely are players this young good enough that you can't replace them with someone on free agency for cheap. While I don't disagree with the idea of keeping players in juniors, especially when they rarely produce at a high rate, I think he is underestimating the cost of free agency especially for higher end players like second line talent.
Horvat's Body of Work
Horvat has now played 9 games in the NHL (as well as 5 games in the AHL) and in order to make a decision on if he should be in the NHL we need to review his entire body of work. The problem is that 10 games are too small of a sample size but at best we can use it to see which way he has been trending.
While he was in Utica, Bo Horvat was mainly on their third line. He had zero points and 9 SOG in these five games. In his short stint in the NHL so far he has 1 goal and 3 assist on 7 shots on goal all in the 9 games. Horvat is not known to be a goal scorer but rather a responsible defensive forward. One of the big reasons people have been citing to keep him in the NHL is that the Canucks' faceoff percentage is terrible and he's one of the two Canucks with a positive faceoff percentage (the other being Henrik Sedin). In fact, Horvat currently leads the entire NHL in faceoffs (with 90+ taken) sitting at a 62.6% efficiency. That number is very dominant and given the smaller sample size it would be a surprise if he could maintain that effectiveness over the season as NHL faceoff success typically comes with experience. It should also be noted that faceoff success does not really matter.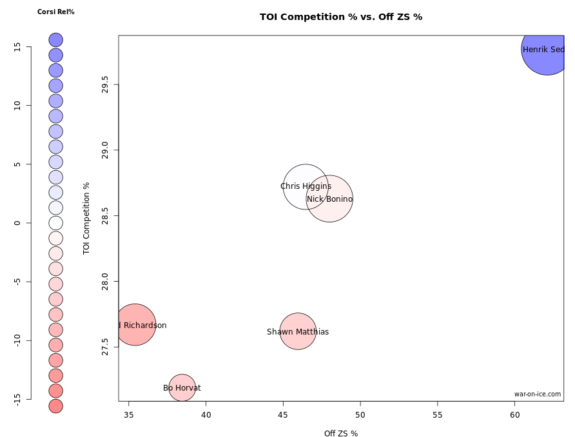 We can use analytics and see how he is faring compared to the other centres on the Canucks. Similar to the previous Canucks usage in the last few years, Horvat on the 4th line is getting very defensive deployments earning sub-40% zone-starts, similar to Brad Richardson, while facing the toughest competition of all centres. Given that his Corsi Rel is a -5.92%, that number is not terrible given the deployment that he is facing. His on-ice PDO of 102.62% is a bit high and will likely regress to the norm but that is also expected in small sample sizes of 9 games. The most concerning data point is that Horvat is receiving less that 10 minutes a game, the least amount of time of any regular forwards on the Canucks.
Looking at Horvat's 5v5 Corsi WOWY's and see whether he is helping his team or not. The small sample size again becomes an issue here but it appears Horvat is not helping most of his teammates (with any significant time) while he is on the ice with them.
| | | When on ice Together | | Teammate when apart | | |
| --- | --- | --- | --- | --- | --- | --- |
| Player | Pos | TOI | CF% | TOI | CF% | Difference |
| MILLER, RYAN | G | 59:03:00 | 47 | 709:12:00 | 51.7 | -4.7 |
| HANSEN, JANNIK | R | 48:12:00 | 44.6 | 181:32:00 | 46.2 | -1.6 |
| DORSETT, DEREK | R | 44:33:00 | 48.1 | 142:22:00 | 42.4 | 5.7 |
| BIEKSA, KEVIN | D | 31:07:00 | 47.9 | 330:50:00 | 51 | -3.1 |
| STANTON, RYAN | D | 27:04:00 | 39.6 | 133:30:00 | 39.9 | -0.3 |
| EDLER, ALEXANDER | D | 22:22 | 45.7 | 350:54:00 | 54.9 | -9.2 |
| TANEV, CHRISTOPHER | D | 21:35 | 37.8 | 337:36:00 | 53.4 | -15.6 |
| WEBER, YANNICK | D | 21:24 | 52.6 | 210:42:00 | 53.5 | -0.9 |
| LACK, EDDIE | G | 21:14 | 38.2 | 240:36:00 | 49.7 | -11.5 |
| SBISA, LUCA | D | 18:34 | 44.4 | 248:00:00 | 50.9 | -6.5 |
| HAMHUIS, DAN | D | 18:31 | 46.7 | 288:25:00 | 47.9 | -1.2 |
| MATTHIAS, SHAWN | C | 16:48 | 30.4 | 233:27:00 | 47.1 | -16.7 |
One argument that has floated around is that Horvat is better than current players on the Canucks roster. While it is arguably true that he has been better than Brad Richardson that shouldn't be your barometer of success. That speaks more to the lack of centre depth on the Canucks that Benning should be fixing. The GM could either look at Free Agency, a trade, the waiver wire, or someone on their own farm team, such as Cal O'Reilly. In 19 games O'Reilly has 18 points in 19 games with 25 Shots on Goal though with recent Canucks move it seems like they are preparing to help the Comets on a deep playoff run, something the analytics suggests is highly in their favour.
Wrap-Up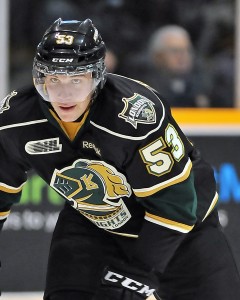 Bo Horvat is not performing terribly in the NHL, especially as a 19 year-old. We can't truly know how he is going to perform after nine games especially as he is just starting to get adjusted to the faster pace of the game. Most concerning though is his lack of ice time and that he has been a healthy scratch. Will he continue to be a healthy scratch when the roster is all playing? Will he continue to earn sub-10 minutes a night?
If he is, then there's a good argument for him to return to the CHL as he will be able to play top line minutes. It is false to say "Horvat has nothing left to learn in juniors" when he has not even been the top forward on his team.  With Max Domi having been moved to centre, Horvat will have competition there too. Horvat wouldn't be playing against teams of 16 year-olds every night, there are plenty of tough opponents he could be playing upwards of 20-minutes a night.
But that being said, no matter how much we write it appears the Canucks have made their decision. Similarly to selecting local-boy Jake Virtanen with the 2014 6th overall pick (compared to the more skilled forwards still available in Nylander and Ehlers) the Canucks again seem to be making decisions based on PR moves rather than making the best move for the team.