The 5th overall pick from 2010 has faced a ton of scrutiny ever since the New York Islanders made him the highest drafted Swiss player in NHL history. Niederreiter never developed into the prolific goal scorer the Islanders expected him to be. Never lined up beside John Tavares and became one of the league's top duo's. However, after being traded by the Islanders to the Minnesota Wild, he has looked like a completely different player. And Niederreiter is making sure the Islanders regret ever letting him go this year. He's been playing in a very effective power forward role he has reached new heights through a quarter of the 2014-15 season. We could very well be talking about a future 40 goals scorer.
The Draft
In the 2010 NHL Entry Draft that was known as Taylor or Tyler for the first overall pick, Switzerland had their eyes on only one player. Nino Niederreiter was expected to become the highest drafted Swiss player ever, and the New York Islanders turned that dream into a reality when they drafted him 5th overall. However, that moment would be Niederreiter's happiest as an Islander. It all went downhill from there however, as Niederreiter would pick up just 3 career points with New York. Take a look at that great moment, when Garth Snow called upon Nino Niederreiter back in 2010.
As a New York Islander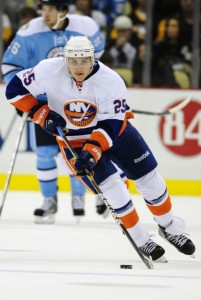 Nino Niederreiter's time as a New York Islander was bumpy to say the least. He was thrown into the NHL directly from the Draft, playing 9 games before being sent back down to the Portland Winterhawks of the WHL before burning a year of his contract. In those games, Niederreiter scored a goal and an assist. The following season, the Islanders gave him every chance in the world to stick with the team. He played in 55 NHL games and, quite unbelievably, he could only manage a single goal, with zero assists. Those are astoundingly bad totals for even the worst players in the league. He then spent the entire 2012-13 season in the AHL with the Bridgeport Sound Tigers. By this time, Niederreiter was understandably becoming extremely fed up with his situation, and worried about his future career in the NHL. He began to voice his opinion with his agent, Andre Rufener, about his desire to either get more NHL playing time with the Islanders, or be traded to another team for a better opportunity. This wish was finally granted by Isles GM Garth Snow on June 30th of 2013. Snow traded Nino Niederreiter to the Minnesota Wild for Cal Clutterbuck and a 3rd round pick, which was used to select Eamon McAdam. So, his career as a New York Islander finished up with 64 NHL games played, putting up two goals and one assist. Niederreiter and New York were just not meant to be.
As a Minnesota Wild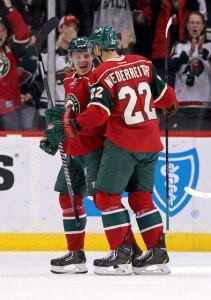 Nino Niederreiter has enjoyed his time with the Wild thus far to say the least. In his first season with the team, he set new career highs in games played, goals, assists, points, plus/minus, and just about every other statistical category. Which shouldn't be that hard considering his previous totals. But the 2013-14 season was much like another chance at a rookie season for Niederreiter. He got into 81 games, and got great opportunities in the way of ice time, and line mates. He scored 14 goals and 22 assists for 36 points and wanted to add to those totals again this year. He also got into his first ever Playoff action, playing in 13 games last Spring. One major highlight was his showing in Game 7 against the Colorado Avalanche. With the Wild down by one in the third period it was 'El Nino' who came to the rescue and tied the game to send it to overtime. Then, in OT, the unthinkable happened. Niederreiter streaked down the right side and ripped a shot past Valrmov to win the series for the Minnesota Wild. So far in 2014-15, he is off to a sensational pace. Through 20 games Niederreiter has 10 goals and 3 assists. At that pace, he would score 41 goals this season. In just over a year, it seems as if Niederreiter has gone from being a complete bust, to being an everyday effective NHL player. He should have already cemented his spot in Minnesota's lineup for the foreseeable future.
40 Goal Scorer?
Through a quarter of the 2014-15 season, Nino Niederreiter has been scoring at a pace that was expected of him when he was taken 5th overall back in 2010. With 10 goals in 20 games, he is on pace to score an unreal 41 goals. Although, it's highly unlikely this pace will continue through another 62 games, it is definitely a great glimpse of hope for the future of Nino Niederreiter. Considering he is still playing on third line minutes with second and third line players, depending on the line combos, you have to wonder what his potential could reach if he was given the opportunity to play first line minutes with say, Mikael Granlund. In any case, Niederreiter has shown this year that he has the nose for scoring goals. He's played tough, driving the net, finishing every check and going to the dirty areas to get the job done. At just 22 years of age, Nino Niederreiter is showing promise for the future, and who knows, if he can keep a pace like this for a quarter of a season, why wouldn't he be able to keep it up for an entire season some year? That's right, Niederreiter could very well be a future 40-goal scorer.
Contributor for the Toronto Maple Leafs and Prospects. Scout with the Oakville Blades of the OJHL. For questions, concerns, or comments, contact me at devinslawson123@hotmail.com or on twitter @SlawsonTHW.