Before Curtis Lazar played his ninth NHL game this year, the Senators organization had a choice to make. Send him back to Western Canada to play for the Edmonton Oil Kings in Junior, or let him stay with the big club.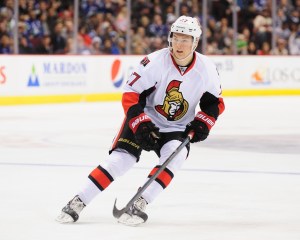 He stayed put.
Lazar has since moved in with Chris Phillips and has been, more often than not, a regular in the Senators lineup. With six points in 17 games, the 19-year-old is quietly becoming a fan favourite in the Nation's Capital.
Lazar has been a key part to Ottawa's most talked about trio, the Kid Line. Mark Stone, Mike Hoffman and Lazar make up a group of young, exciting players to watch, and lately, they've been quite the production unit for the team. In nine games playing together, the three youngsters have 10 goals and in that nine-game stretch, they have a combined plus-10 rating.
They have been split up the past couple games, but whatever.
Now, the Senators have another choice to make.
Though we're still in the month of November, the World Juniors are fast approaching and it's time the Senators start thinking of lending Lazar to Team Canada. They have until a week before Christmas, when the NHL roster freeze takes place, to decide if they truly want to keep Lazar away from the tournament.
Let Him Go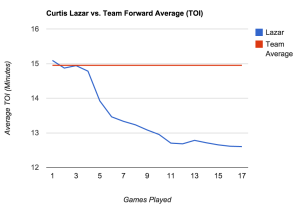 Though Lazar's play has been respectable, and some might say impressive, it doesn't take away from the fact that he hasn't been able to have the impact a lot of people thought was possible from the 19-year-old. This isn't really on Lazar; he's played well. This is more on the fact that he gets under 13 minutes of ice time a game. Lazar is averaging 12:38 over his 17 games, making it hard for him to be a standout player with the little trust Paul MacLean has in him.
If Lazar is going to be playing fourth line minutes in the NHL, why not let him have a chance to be a big player in the World Juniors this year? Behind McDavid, if he can even play, Lazar would be spotted as Team Canada's number two centre.
This also seems to be the perfect timing.
With Marc Methot gearing up to make a return to the lineup, Lazar's departure could be the roster move for the Senators. Depending on when Methot is back, Lazar could be off to training camp with Team Canada. Bryan Murray has told reporters he'd rather not send Lazar away before he absolutely has to, but maybe he'll change his mind when he realizes that if Lazar doesn't leave, he's going to be pressured to move another player.
There are multiple upsides to Lazar taking a vacation from the NHL and one of them is named Jean-Gabriel Pageau. With 13 points in 19 games in the AHL, Pageau is second on the Binghamton Senators forwards in points and everyone is wondering why he didn't make the NHL roster out of camp. Even the man who had a part in sending him down thought he never should've left.
"(Jean-Gabriel) Pageau has been a star every night. I told him when he left Ottawa at the end of training camp that I apologized to him for sending him down because he deserved to make our hockey club, the way he played in camp. Contracts were part of the decision in his case. It really looks like he has grown up in his ability to be a big-time competitive player." – Bryan Murray. Ottawa Citizen. Published: Nov. 26, 2014.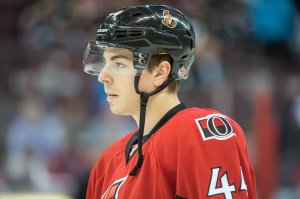 The general opinion is that no one wanted Lazar back in the WHL, but some may say he's not getting all he can from the NHL. A simple compromise would be to lend him for a few weeks to Team Canada. Let him light it up in Montreal and Toronto, and see how Pageau fairs with the big club.
And when Lazar returns, you've got another decision to make.
 Decision Time
The fact of the matter is, Lazar will be one of the go-to guys on the Junior team. He did more than impress at the summer camp.
"Curtis Lazar looks fantastic. Honestly looks like the best player out there. Everything he does with the puck, he does smart. He works hard, he grinds, he does everything they want him to do." -Ryan Rishaug. TSN 1200 Radio. Aug. 6, 2014.
Oh, by the way, Connor McDavid was at that camp. You know, the one Rishaug said Lazar was "the best player" at.
Bryan Murray is ultimately the man with the power to put Lazar where he wants, but it sounds like the young Salmon Arm native is going to have a say in where he ends up.
"Before I would do anything, I would talk to (Lazar) and his desire and then we would talk to the (national team) coaches. I'm open minded. I have great respect for that junior tournament and how it helps kids. We'll get into December and make a decision." – Bryan Murray. Ottawa Citizen. Published: Nov. 26, 2014.
Like I said before, with the minimum ice time Lazar is receiving in Ottawa, it's hard for him to be one of the key players and have an impact on the team's success. If he was sent to play for Canada, there's a guarantee for him to play an important role.
"(Team Canada) tells me if he goes, he could be their captain or be, certainly, one of their leaders and he's that kind of person that he'd be a very important player on their team." – Bryan Murray. TSN 1200 Radio. Published: Nov. 26, 2014.
Lazar's time is looking like it would be best spent trying to get that elusive gold medal that has haunted Canada's Juniors for five long years. The last time Canada won the World Junior Championship was in the Nation's Capital. It would be fitting, to say the least, if an Ottawa Senator was to lead the country back to the top of the World Junior podium.
All roads lead to Montreal on Boxing Day.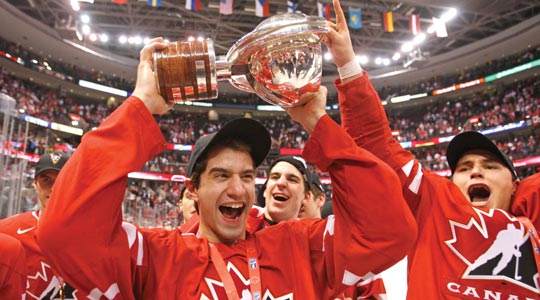 Callum is currently a journalism student living in Ottawa where he covers his team, the Ottawa Senators. Originally from Halifax, Nova Scotia, Callum is also a big Mooseheads fan and a lover of the East Coast.