The fact that Alexander Mogilny has not received enshrinement in the Hockey Hall of Fame is more than a bit perplexing. The man who was nicknamed "Magic" during his early years in Buffalo assembled perhaps the least considered storied career in the NHL. Fans and hockey historians are beginning to forget how talented he truly was.

What makes the notion of him not being inducted even more perplexing is that Mogilny's fellow linemates in the Soviet Union – Sergei Fedorov and Pavel Bure – have both been added to hockey's hallowed ground, while number-89 remains on the outside. Fedorov and Bure are two of the greatest hockey players of their generation, and are more than deserving of their inductions. That being said, some of Mogilny's achievements surpass those of either counterpart – a concept that is often overlooked.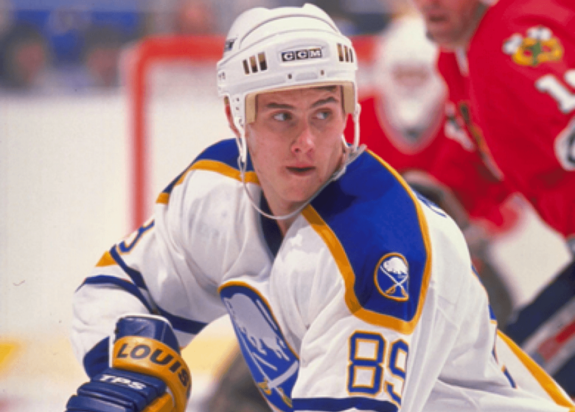 While he is certainly not the only noteworthy HHOF snub, what Mogilny did since becoming hockey's original Cold War defector needs to be given props. In what was reminiscent of a late-night spy movie, he slipped out of Stockholm, Sweden in 1989 at the end of the World Junior tournament and headed to Buffalo alongside Sabres executives.
Related: NHLers by Country – On Top of Their Game and the World
---
Latest News & Highlights
---
From there, Mogilny would go on to play 16 seasons in the NHL. Along the way, he compiled numerous achievements that cannot and should not be disregarded. THW takes a look at the key evidence which supports the Hockey Hall of Fame induction of Alexander Mogilny.
Mogilny's Goal Production
Playing in his first NHL game on Oct. 5, 1989, Mogilny scored his first goal on his very first shift as the Sabres defeated the Quebec Nordiques at home by a score of 4-3. It took him just 20 seconds to do so.
Mogilny would end up scoring another 472 goals after that.
Related: Hall of Fame Worthy Collection
His finest output came during the memorable 1992-93 season. While forming a deadly combination with Hall of Famer Pat LaFontaine, Mogilny scored a staggering 76 goals in only 77 games. That total is still a Buffalo record that likely will never be broken.
Eight times during his career Mogilny scored 30 or more goals. His final total of 473 was surpassed by Fedorov who scored 483 goals of his own. However, Fedorov played a full 258 games more. Mogilny's highest total of 76 in a season is 16 more than either Bure or Fedorov ever reached.
Goal totals such as those were oftentimes generated by Mogilny's blinding speed and his catlike elusiveness on skates. For anyone who argues that Fedorov and Bure were better, it is important to note what the former said about Alex.
"Alex was faster than all of us, Bure and Fedorov, and Alex was a machine," Fedorov explained. "He was built like a machine. Plus on top of all the crazy skill he had, he's better than all of us. He's amazing. If you went back and forth five times, Mogilny will be first. I will be third."
The Impressive Career Points Total
Having played 990 regular season games, Mogilny finished his career having scored 1,032 total points. He generated two 100-point seasons in his career – one for the Sabres and one for the Vancouver Canucks, where he had joined Bure following a trade.
Those two 100-point seasons are just as many as Bure and Fedorov had in their careers. Mogilny's highest seasonal total of 127 is more than either ever scored in a season as well.
Related: Little Known Facts About the Stanley Cup
Mogilny was the second Russian-born player to score 1,000 points in the NHL. Fedorov beat him to the punch, but only by a matter of days. As of the 2022-23 season, Mogilny is still the fourth-highest-scoring Russian in NHL history, despite having not played in more than 15 years.
The 1,000-point plateau has long been an indicator of Hall of Fame worthiness. Among the 95 different players who have achieved the mark, Mogilny is one of just 31 players who are eligible but have not yet been inducted. Out of the 35, only 25 have scored more.
LaFontaine once said of his former linemate:
"I've been lucky to play with some great players in my career, but I put Alex as the best player that I had a chance to see and play with talent-wise. He was the rare combination of the speed, the skill and finesse, quickness. He was just the full package… One thing about Alex, he thinks the game at such a high level. His hockey sense and to be able to have the hands and the feet and the speed, he's that rare combination of everything."

from "Mogilny's story one of determination, skill," Buffalo News, 09/30/2016
The Stanley Cup and Other Accolades
Some say that the deciding factor for Hall of Fame induction should be championships. Did the player ever win a championship? And for that matter, what is the pinnacle of hockey championships? Is it the Stanley Cup? Is it Olympic gold? Is it World Championship gold? Well, Mogilny won all of the above.
Following his six seasons for the Sabres, along with four and half in Vancouver, Mogilny would be traded to the New Jersey Devils during the 1999-00 season. He would be a vital cog in helping the Devils to win their second Cup in franchise history. Mogilny played in all 23 playoff games for New Jersey that season en route to the championship.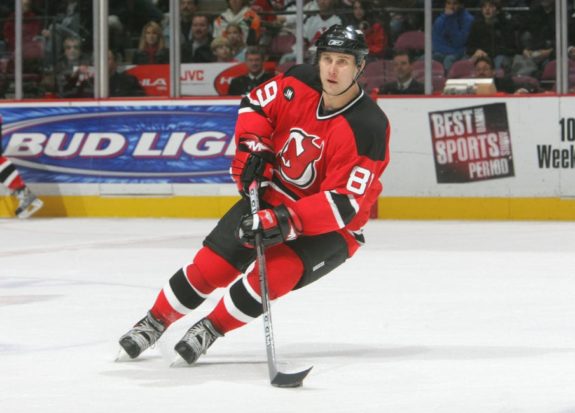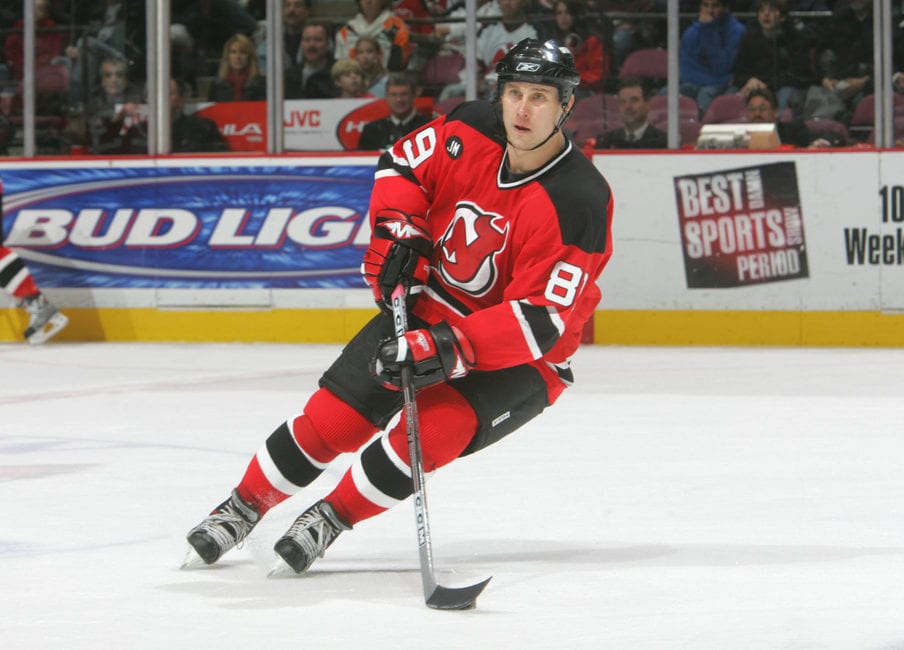 But there was so much more beyond just the Stanley Cup. Mogilny won Olympic gold with the Soviet Union in 1988. He won World Championship gold in 1989. He even brought home World Junior Championship silver and gold in 1988 and 1989 respectively.
In the NHL, Mogilny was a Second Team All-Star in 1993 and 1996. He was elected to the NHL All-Star Game in 1992, 1993, 1994, 1996, 2001 and 2003. That's at least one All-Star Game representing each of the four teams that he played for – Buffalo, Vancouver, New Jersey and Toronto.
You can even place a checkmark next to "NHL individual award", as Mogilny earned the Lady Byng Trophy in 2003. He is in both the Buffalo Sabres Hall of Fame and the Greater Buffalo Sports Hall of Fame as well.
There really is not anything to discredit the notion of his induction.
To end with a final thought from "The Professor" Igor Larionov – a Hall of Famer, 3-time Stanley Cup champion and 2-time Olympic gold medalist:
"He was such a talented guy. Really good with the stick, and smart. He was a natural."