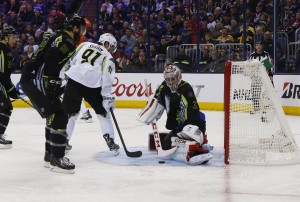 "All-Star Comedy" would have been a more fitting name to the NHL All-Star Game Sunday afternoon. As in the other major sports, (except for Major League Baseball), the event was a showcase of offense and little else. To be candid, I could not watch to the end. Maybe I'm just lacking in patience, but watching what amounted to a comedic routine on the ice was just not doing it for me.
I get it
Before you blast me as being ignorant, I get it. All-Star games are meaningless. They are designed to be a showcase of top players. The idea is entertainment, not competition. I get it.
But, man it is so hard to watch. It's like watching people skate around a public rink on a winter afternoon somewhere. These guys are the cream of the NHL crop, but looked like anything but. Much like the all-star games in the NFL and NBA, the main aims of the NHL All-Star Game are to not have anyone get hurt, and to put on as much of an offensive show as possible. I get it.
Breaking it down
A goal-by-goal recap would probably require 4,000 words and might make you want to put a pencil in your eye to trying to read to the end. Suffice it to say, there were a lot of goals scored in the 2015 NHL All-Star Game. In fact, this year's game produced a record number of goals, 29 to be exact. Team Toews skated away with the win, topping Team Foligno 17-12. There were a couple of very cool goals, such as this one from John Tavares.
The team captain of the New York Islanders showed incredible skill with his stick on that goal. Carey Price, goalie for Team Foligno at the time, and starter for the Montreal Canadiens, may not see anything like that again for a long time. Price actually came close to executing the proverbial, "stood on his head" move to try and stop Tavares.
It was a sick goal in every sense of the word. That is what most of the fans who enjoy the NHL All-Star Game want to see, a display of offensive prowess that might not otherwise show up during a regular season game. Tavares, who ended up with a hat trick plus one, did not disappoint in that regard. Neither did Philadelphia Flyers winger, Jakub Voracek, who also registered a hat trick.
This tweet was funny, in light of Voracek leading the NHL in points currently, and having a hat trick in the All-Star Game:
NHL Network called Voracek an "emerging star". What pray tell does he have to do to be considered a bonafide one?

— Bill Meltzer (@billmeltzer) January 26, 2015
I think it is clear that Jakub Voracek is a bonafide star, and will continue to prove that throughout the rest of the season and his career.
All-Star Goalie Blues
The guys who may suffer long-term depression from Sunday's game are the goalies. Pittsburgh Penguins' Marc-Andre Fleury may need counseling. I'm kidding, of course, but poor Fleury was on the receiving end of seven goals against.
Nash scores on Fleury, and the crowd is all kinds of confused. Boo the Nash goal? Cheer the Fleury goal-allowed? This stuff!

— Aaron Portzline (@Aportzline) January 25, 2015
Normally that would be a bad day at the office for any NHL goalie, but Fleury seems to have recovered quickly. At least I think he has. Sam Werner of the Pittsburgh Post-Gazette writes that Fleury definitely heard the jeering home-town Columbus Blue Jackets crowd, and had this to say after the game:
"I wish I would've made a few more stops to make it a little more quiet. But that's fine, they had their fun, I guess."
Hmm, it may take awhile for Marc-Andre Fleury to forget about the afternoon of "fun" he had in the second period of the 2015 NHL All-Star Game.
"I was getting a little mad. You want to have some fun, [but] when you're a goalie, it's frustrating when it goes in."
Fleury is a professional, and no doubt will be back in form when the Pens get back to their regular season slate of games Tuesday night against the Winnipeg Jets. And I bet he has Thursday, February 19th circled on his calender. That's when the Blue Jackets come to town. He may have a little something for them to take back to their jeering fans.
But seriously folks
I've tried to look back at the 2015 NHL All-Star game with a bit of humor. In actuality, it was a fantastic week for the city of Columbus. My colleague with The Hockey Writers, Andy Dudones wrote several splendid articles throughtout the week, capturing the entire experience. His look at the game and all the winners is excellent.
The potential for big, bruising hits, real fights, and full-speed competitive hockey will likely never be a part of the All-Star Game. It is intended to be a week of celebration and fun. Unless the NHL takes a cue from Major League Baseball, and makes the outcome of the game have meaningful consequences, it will continue to be a game that features very little defense and lots of scoring.
As ESPN's Scott Burnside recalls the lessons learned from the game, he reminds us that it doesn't look like a real hockey game, and it's not supposed to. I get it.
Mark lives in the Raleigh, NC area and covers the Carolina Hurricanes.