Ah the Christmas season. It's a time for reuniting with family and friends, stressing out on trying to find that perfect gift and other holiday related shenanigans.
However, it's also a time when people look forward to the new year and set forth a list of things they want to see happen. For those in Bruins Nation, that sentiment could also ring true for their hockey club.
It's a great time to don the Black and Gold  around Boston. The Bruins have found themselves making a steady climb up the Atlantic Division ladder, going from sixth to second in just over a month. Claude Julien's squad is an astounding 11-2-3 in their last 16 games thanks to balanced scoring, a near-perfect penalty kill, Tuukka Rask's return to Vezina Trophy form, and a fall from grace by the Montreal Canadiens.
It's hard to fathom they would ever be in the position they're in after starting the season 0-3. Yet, here we are: Boston finds themselves in the thick of a division title race that no one expected prior to the start of the year.
However, there's still a few things the club and its fans would desperately like to experience in the coming months.
A Decision On Loui Eriksson's Future
The biggest acquisition of the Tyler Seguin trade is also sure to be the biggest question mark as the season further progresses.
http://gty.im/497402028
Loui Eriksson is bound to be an unrestricted free agent at the conclusion of the season and has been one of Boston's best forwards this season. The winger has thrived with David Krejci as his wingman, scoring 13 goals and 28 points in 33 games so far this year while playing nearly 20 minutes a night. He has been a force on the man advantage for the Bruins as well with a team-leading seven power-play goals. The number-21 is a valuable asset in all facets of the game including the penalty kill.
Through the first two-plus months of the season, Eriksson's contract status has been mentioned few and far between. After all, Boston is currently enjoying their best stretch of the year and not much can bring them down. However, the lack of negotiations between the Swede's camp and general manager Don Sweeney is sure to catch up with them as the trade deadline draws closer.
Will Sweeney give the 30-year-old a long-term deal? Will he try to maximize his value in a potential trade to fix any potential needs? Does he want to risk losing Eriksson for nothing in exchange for a deep playoff run?
These are questions that have no clear answer. It's okay for now but long-term, they must be addressed.
A Winter Classic Victory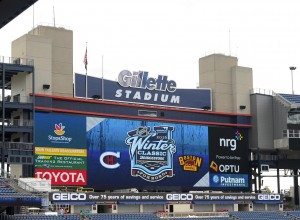 It goes without saying that the Bruins/Canadiens Winter Classic on New Years Day is sure to be one of the more memorable meetings between these two Original Six franchises.
Gillette Stadium has seen its fair share of championships over the last decade. The NFL's New England Patriots have raised four Super Bowl banners in the past 13 years inside "The Razor" and is a fitting backdrop for the greatest rivalry in all of sports. A matchup that was recently one-sided received a much-needed boost courtesy of an unlikely 3-1 victory by the Bruins in Montreal two weeks ago.
The prevailing theme was that Boston stood no chance of even being competitive in this fixture. However, December 9 gave Bruins fans a new lease on life and the belief of "hey, we can beat them."
What timing.
There's no better way to start the New Year off than a victory in the NHL's showcase event. Habs fans are sure to come to Foxboro by the thousands and bring their "Ole" chants with them. As a Bruins fan, nothing would be a better belated Christmas gift than silencing the Bleu, Blanc et Rouge supporters from Montreal one more time in front of a national audience.
Playoff Hockey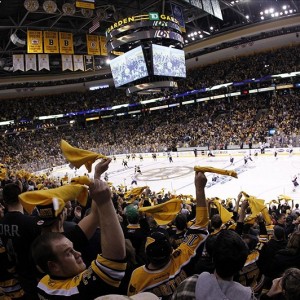 Last season, there was a noticeable void surrounding Causeway Street in mid-April. TD Garden would not play host to its hometown hockey club in the postseason for the first time since 2007. The bars were quiet. The streets were (mostly) empty.
It was a harsh reality check for those who had grown accustomed to playoff hockey and everything that comes with it.
Before the season started, not many picked the Bruins to be one of the NHL's Sweet 16 to play for the Stanley Cup. Indeed, the first few weeks of the season showed no signs of anything more than a team contending closer to a number one pick in the 2016 draft than a playoff spot. It looked to be a long, painful season for a team that was two games away from two Stanley Cup championships in three seasons.
Now, there's a renewed sense of belief. The thought of playoff hockey in Boston is one to savor. Bruins Nation would like nothing more than to witness some postseason puck aimed with the visions of another Stanley Cup run deep into the spring.