We're five games into the Mike Sullivan era in Pittsburgh and while the Penguins still have a lot of work to do, it's looking more and more like Sullivan is the guy to lead this team through an extremely difficult time. While he implements his system in bits and pieces, his approach and mindset are what stands out the most so far. The Penguins are a different team right now, which was very evident when they faced the Columbus Blue Jackets on Monday night.
The last time the Penguins met the Blue Jackets, Mike Johnston was behind the bench in what was a physical game, mostly dominated by the Blue Jackets in that aspect. That game also contained the controversial cross-check incident that occurred when Brandon Dubinsky broke his stick over Sidney Crosby in front of the Blue Jackets' goal. Despite a clear intent to injure, which eventually led to a one-game suspension, Dubinsky wasn't ejected from the contest and eventually assisted on the game-winning overtime goal. Those Penguins, a team with very little battle within them, were bullied. That isn't the case with Sullivan at the helm.
Over the last five games, the Penguins are a more physical team. I'm not necessarily talking about their willingness to fight, though Eric Fehr did drop the gloves with Dubinsky on Monday night, but rather their battle level in tight spaces and along the boards. They're playing with more speed, more aggressiveness and more bite. The most important part, is that they aren't sacrificing skill to do so. Sullivan is leaving room for creativity for his talented stars to flourish and as things progress, it looks like they'll begin finding ways to do so.
The Mike Sullivan Mindset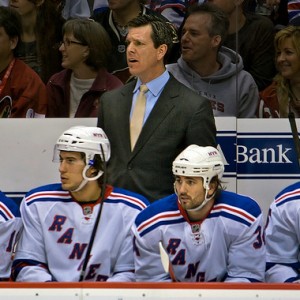 There was a mystery as to how Sullivan would approach his most recent chance at coaching in the NHL. During his time with the Penguins' AHL affiliate Wilkes-Barre/Scranton, he preached an attack mentality that led to an abundance of scoring but also relied heavily on their stellar goaltending. That mindset seems fitting for the Penguins but there was another piece of Sullivan's past that made things quite interesting, which was his time spent as an assistant alongside the fiery John Tortorella. Some compared their personalities and saw similarities, though Sullivan denied that they were cut from the same cloth.
When the two of them faced off for the first time on Monday night, you could tell that Sullivan wasn't planning on letting the Blue Jackets have their way physically with the Penguins. The undersized Penguins went with a pack mentality but never shied away from confrontation. After a lackluster first period, Pittsburgh began hitting on all cylinders through the final 40 minutes, which included a four-goal second period and Sullivan never took his foot off the gas. While Sullivan was right about the drastic differences between these two head coaches, most notably his personal ability to relate to his players and bring out the best in them, there is one undeniable similarity. Sullivan was going to keep hammering down on the Blue Jackets until the final buzzer, which is exactly the way Tortorella would have gone about it.
Following yet another cross-checking incident, this time being Dalton Prout and his attempt at assaulting Sergei Plotnikov after a clean hit, the Penguins were given a power play with just 58 seconds left to play. Sullivan deployed his top power play unit, which didn't take a passive approach at the opportunity at all. In fact, that may have been their best power play of the night, despite not scoring in that short amount of time.
The New Look Penguins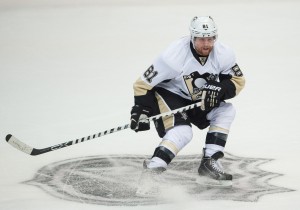 With Sidney Crosby sitting out due to a lower-body injury on Monday, it gave way for some line changes that may have truly sparked something for this roster. Despite the immense amount of talent in the Penguins' lineup, they've been unable to find a working formula that resulted in the type of production most expected. However, a small sample size of Phil Kessel and Nick Bonino may have paved way for the four-scoring-lines formula that Pittsburgh sought from the beginning. or, at least three scoring lines and a fourth line that can make opponent's lives miserable.
Kessel netted two goals against the Blue Jackets, with his second coming off a perfectly placed pass from Bonino on a two-on-one. Throughout the contest, Kessel looked to have more jump in his step and had multiple opportunities to hit the offensive zone with speed and puck possession, something that all of Pittsburgh has been waiting to see. One can argue that Kessel was a better player alongside Tyler Bozak than he has been with Evgeni Malkin or Crosby, so if Bonino can be his Bozak, why not go for it?
Spreading Pittsburgh's superstar trio throughout the top three lines is something that Sullivan is very willing to do and could provide matchup nightmares for opponents. Is it disappointing that he isn't on pace for 40-plus goals while dazzling us alongside one of the two best centers in the game? Sure. But, if Kessel can score 30-35 goals on what would be considered a third line, sign me up. With Sullivan at the helm, he'll likely have no issues deploying that setup either.